Ingredients:
2C (cups) gluten free flour (equal parts rice flour, arrowroot flour, and fine corn meal)
2 tsp (teaspoon) baking powder
1 1/2 tsp baking soda
1 tsp salt
2 1/2 tsp cinnamon
4 eggs
1 1/2 C vegetable oil
2 C sugar
2 3/4 C grated carrots
1 8 ounce can crushed pineapple, drained
3/4 C chopped walnuts
1 C flaked coconut
1 C raisins
Preheat oven to 325 degrees. Grease the cake pan with vegetable oil. In a mixing bowl, mix (with a spoon) the flour, baking powder, baking soda, salt, and cinnamon. Set aside.
In large bowl, mix (with an electric beater) the sugar, oil, and eggs. Once smooth, beat in the flour mixture until smoothness is reestablished. Stir in (with a spoon) the shredded carrots, pineapple, chopped nuts, flaked coconut, and raisins. Bake approximately 45 minutes. When cake slightly moves away from pan sides, check if done by inserting a toothpick into the cake's thickest point. If the toothpick comes out batterless, the cake is ready.
Cool on cooling rack. After about 20 minutes insert table knife around edge, turn upside down, and voila! your masterpiece.
Cream Cheese Frosting
2 8oz packages cream cheese softened at room temperature
1/2 C butter softened
2 C sifted confectioners sugar
1 tsp vanilla extract
Mix (with an electric beater) the cream cheese and butter until creamy. Mix in vanilla. Gradually stir in confectioners sugar. Voila!
Once the carrot cake is cooled to room temperature, and only then, spread a thick coat of frosting around the top and sides. If you won't be serving cake for a couple of days, keep frosting in refrigerator until ready to apply.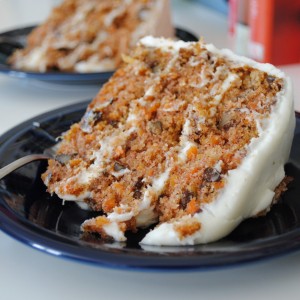 Follow soulfirefarm