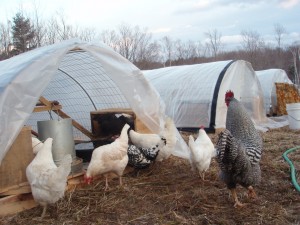 Your first CSA delivery will arrive on Sunday, July 3, midday. We are having a great time and working hard growing vegetables for you. Each week, your share will contain 5-7 varieties of seasonal veggies, plus your choice of a dozen eggs or a quart of sprouts. Nature determines which vegetables are available for you each week and we hope you enjoy aligning your diet to precisely what the local microclimate has to offer. Likely candidates for your first share include lettuce, sweet peas, mustard greens, arugala, garlic scapes, cilantro, and Chinese cabbage.
Our vegetables are very gentle on the environment. Seedlings were grown in a sun room heated entirely by wood and sun. Irrigation is used only when necessary, and when needed, is powered by 100% wind energy purchased from the grid. Except for the initial tractor till, all beds are formed and cultivated by hand. The soil is fertilized by locally made compost. We are proud to be Certified Naturally Grown and seek to exceed the standards for this certification.
Please read the rest of this message for some important details about how the deliveries will work.
We pick the produce Sunday morning and get it to you the same day. Your share will arrive midday each Sunday and be placed in the shaded area that you indicated on your application. We will knock or ring the doorbell to indicate that the share has arrived. The share will be in a reusable cloth grocery bag. The expectation is that you will leave the cloth bag in good, clean condition each week in the place where your share is left for you. You are also encouraged to leave out clean, dry plastic produce bags, paper lunch bags, and ziploc bags (not plastic grocery bags), as well as 12-hole egg cartons for us to reuse. That will reduce the overall quantity of plastic and waste in the world.
Summer is a busy time and it is likely that you will be away for one or more deliveries. If you are only out for the day, we suggest that you leave out a cooler with ice packs to preserve the freshness of your veggies.  If you are away for longer, please indicate where you would like your share delivered either in the Mansion/South End of Albany or in downtown Troy. A neighbor would be happy to keep your share for you, especially if you offer a taste. Alternately, you can let us know that you would like your share donated to the City Mission of Albany.
You will get a weekly CSA newletter by email, also posted on our website. It will include the contents of your share, farm news, and suggested recipes. Here is a tip to start you off. The best way to keep greens and other veggies fresh is to wash them just before using. Store veggies in the crisper of the refridgerator in a loosely closed plastic bag. You can also store rooted plants in a bowl of water in the fridge so that they last much longer. More on storing veggies without plastic http://www.washingtonsgreengrocer.com/how-store-vegetablesfruit-without-plastic.htm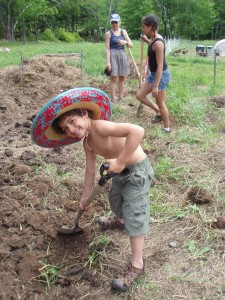 Follow soulfirefarm