!!!LEAVE YOUR BAG for us on your drop off day!!!

Share Contents This Week
Red Chard
White Russian Kale
Green Onions
Sugarsnap Peas
Shell Peas*
Chinese Greens – Chinese Cabbage, Bak Choi, and/or Pac Choi
Lettuce – 2 varieties
Scallions
Cilantro
*Shell peas have tough pods that are not edible. You take the peas out and eat those. Sugarsnap and snow peas have edible pods.
Washing Your Veggies
This may seem obvious, but we didnt want to make assumptions, so here's some notes about properly washing your produce.  We only do a very limited amount of on-farm produce washing. No, this is not because we are lazy or too busy or don't care. Actually, this means that your produce will last significantly longer.  While washing produce cleans off any residual dirt, it also washes away beneficial enzymes that keep your food fresh. It is still important to wash the produce thoroughly before eating it.  Here's it goes:
(1) Submerge veggies in water
(2) Swish around
(3) Drain
(4) Repeat with clean water two more times (total of three)
Recipe of the Week – Steamed Asian Greens with Sesame-Honey Dressing
Ingredients
1 1/2 pounds Asian greens (tatsoi, bak choi, cabbage)
3 tablespoons low-sodium soy sauce
1 tablespoon honey
1 teaspoon toasted sesame seeds, plus more for garnish
Directions:
Pour about 1-inch of water into a wok or pan and bring it to a boil over high heat. Put the greens into a steamer* and cover. Put the steamer into the wok or pan and steam the vegetables for about 5 minutes or until they are just tender. Meanwhile make the dressing by combining the soy sauce, vinegar, honey, oil, and 1 teaspoon sesame seeds in a small bowl. Put the cooked greens onto a serving platter, drizzle the dressing over them, and toss well to coat. Garnish with sesame seeds and serve immediately.
*Note – if you don't own a steamer, you can cook the greens directly in a small amount of water until they are wilted and tender. Keep the heat low and do not overcook.
News on the Farm this Week
Believe it or not, it's that time of summer to start thinking about winter. We spent much of Monday attaching heavy chains to trees that had been knocked down during last winter's ice storms and dragging them out of the forest in preparation for fire wood. Even with a tractor, its sweaty, demanding work. It's great to be down the road from Grafton Lakes for that after-work dip!
We move the chickens to new pasture at least once each week.  This is to optimize their nutrition and strategically manage the farm fertility. For some reason, this time around the chickens were especially resistant to walk to new ground. Maybe there's something in the water that makes us just want to resist around here.  We had several folks over for dinner, and true to form, asked them to help herd livestock before we all sat down to eat. The chickens were dodging their duty very successfully and even Rowe, our new 10 week old farm puppy, was unable to channel her herding instincts effectively.  Needless to say, we got the chickens in that night after rethinking strategy a few times, and just as darkness fell. Dinner is always well deserved around here.
There is also a new electric fence around the gardens to protect the produce. We seem to have done a very effective job of getting rid of resistance, because the fence tester read the voltage as beyond its range. Rowe wanted to test it out too, using her nose, and now we have no trouble keeping her away from trampling the young onions. She keeps a respectful distance.
If you didnt catch it before, we also welcome the newest member to our farm family, Rowe.  She is an English Shepard or farm collie, and our first family dog. One week into farm life she is doing great. Training is going well, though seeing that we have never had a dog before, we don't really know except that she listens to commands quite well. She loves walking the fields, cuddling, playing, wrestling, chewing on sticks, and is thrilled about her new diet of yogurt, fresh raw eggs, carrots and celery. She still has much learning to do, but will be helping on the farm soon.
And finally, Jonah is back from his last extended natural building teaching gig this summer. (Boy is it hard to manage a farm and kids and a puppy and work alone!)  He'll be around a lot more if you want to stop by during the week to check out what's happening or what we're planning for the future…
Come out and visit sometime!
Jonah, Leah, Neshima & Emet (& Rowe)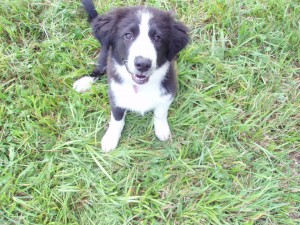 Follow soulfirefarm