Share Contents This Week
Eggs or Sprouts
Summer Squash (zucchini, yellow crookneck, and/or patty pan)
Cucumbers
Crazy Carrots (our tough clay soils force roots into interesting shapes!)
Purple Radishes
Bulls Eye Beets
Kale or Collards
Arugula
Lettuce
Recipe of the Week
Make this salad when you have a perfectly fresh bunch of beets with vibrant greens still attached. You can leave it simply dressed with a bit of olive oil and salt, or add lemon zest, chopped hazelnuts, or feta or goat cheese if you want to dress it up a bit for company.Note: Use a high-quality olive oil for drizzling at the end. If you happen to have some lemon, meyer lemon, or orange-infused olive oil, this is an excellent time to break it out.
Prep Time: 10 minutes
Cook Time: 20 minutes
Total Time: 30 minutes
Ingredients:
1 bunch spring beets with greens attached
1 tsp. olive oil
1 clove garlic
1 Tbsp. high-quality extra-virgin olive oil for drizzling (or more to taste)
Kosher or sea salt
Optional Garnishes:
Lemon zest or orange zest
Chopped hazelnuts
Crumbled feta cheese
Goat cheese
Preparation:
Cut off greens from beets. Trim beets. Very young and tender beets can be scrubbed clean, but you will want to peel most beets. Cut beets in half lengthwise, lay cut-side flat and cut into 1/4-inch-thick slices.
Heat a large frying pan over medium heat. Add 1 tsp. olive oil, 1/4 cup water, and beets. Cover and cook until beets are just barely tender, 5 to 10 minutes.
Meanwhile, rinse leaves and cut off stems. Cut stems into 2-inch lengths. When beets are just starting to seem tender, add stems to pan. Cover and cook 3 minutes.
Meanwhile, chop leaves and set aside. Peel and thinly slice garlic.
Add garlic to pan, stir until fragrant, about 1 minute. Add beet greens, cover, and cook until wilted, about 1 minute.
Divide warm salad between 4 plates. Spoon any pan liquids evenly over each serving. Drizzle each salad with olive oil and sprinkle with salt. Add any optional garnishes (lemon zest, orange zest, hazelnuts, feta, goat cheese) that you like.
Farm News
We are about to undertake our biggest sheet mulching project yet! Next year we will double the productive area of our gardens and we are going to do this without any tillage. Tillage destroys soil (especially marginal, fragile soils like ours) and releases carbon dioxide into the atmosphere. We are working on turning another 130 by 70 feet of pasture into productive vegetable beds using a sandwich method. The first step is to cut the pasture grass very short. The next step is to lay out giant kraft paper over the entire area. We then spread several inches of compost over the paper. Finally, a few inches of hay mulch complete the sandwich. By next spring the sod will be killed and the beds ready to plant – at least that's the idea. 🙂 Good thing we have youth from the Youth Organics project in Albany and from Collard City Growers in Troy coming next week to help. It's a big job. Here are a few pics of the early stages.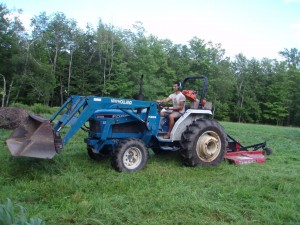 Follow soulfirefarm