Announcements
1. Next week is the last week of the veggie CSA!  Please scour your house for our reusable grocery bags and leave all bags out. We will deliver in paper/plastic on the last week.
2. Delicious, young, tender, pastured chicken meat for sale. Slaughter and pick up date Monday, October 10. $4 per pound, sold as whole birds. Reserve your bird(s) by email.
3. End of season CSA potluck, Sunday, October 2 at 2 PM. Bring your friends. RSVP appreciated.
4. Garlic for sale, $8 per pound. Certified naturally grown. We can deliver it with your veggies next week. Reserve by email.
Contents of share
winter squash
tomatoes
3/4 lb Brussels sprouts
1/2 lb cherry tomatoes
mixed variety tomatoes, incl. heirloom
kale
carrots
scallions
brassica mix (cabbage, cauliflower, and/or broccoli)
cucumbers or summer squash
sprouts or eggs
Recipe of the Week
Ingredients
3/4 pounds Brussels sprouts
3 tablespoons good olive oil
1/2 teaspoon kosher salt
1/4 teaspoon freshly ground black pepper
Directions
Preheat oven to 400 degrees F.
Cut off the brown ends of the Brussels sprouts and pull off any yellow outer leaves. Mix them in a bowl with the olive oil, salt and pepper. Pour them on a sheet pan and roast for 35 to 40 minutes, until crisp on the outside and tender on the inside. Shake the pan from time to time to brown the sprouts evenly. Sprinkle with more kosher salt, and serve immediately. Serves 4.
Farm News
We had our first frost this week, quite early and took us a bit by surprise. We were able to protect the tomatoes with row cover and the herbs with hay, so we will have those nice summer crops through the rest of the CSA season. We are busy getting ready for winter. Suddenly the urgency is upon us – wood to stack, gardens to mulch, birds to slaughter, infrastructure to take down. It is a blessing to be inexorably connected to the cycles of the seasons, knowing the precise moment of the sunrise as it creeps later and noticing the difference in the number of days it takes a squash to size up as fall approaches. We hope you are enjoying the food and wish you a peaceful week.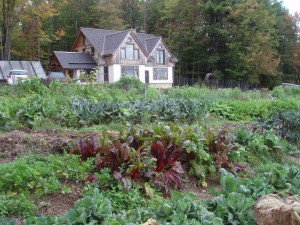 Follow soulfirefarm