Soul Fire Farm Share CSA (En Español)
20 weeks of fresh veggies from our farm, delivered to your doorstep mid-June thru early November 2017.
SIGN UP HERE FOR 2017 (Note: We are doing #solidarityshares for immigrants, refugees, and those impacted by state violence – full scholarships. Please help your neighbor fill out the registration.)
"The weekly deliveries of vegetables from your farm were an absolute delight in our lives this year. How lucky we are to enjoy food that is lovingly grown and harvested. There was never a time when I ate food from your farm that I was not 100% conscious of its life giving quality. And knowing that your family are the growers gave me complete comfort in eating. Thank you!" ~ Farm Share CSA member
Get an idea of what is in a weekly share.
How does a sliding scale work?
Soul Fire Farm Share, or Community Supported Agriculture (CSA), is in the spirit of ujaama, or cooperative economics. It is a collaborative relationship between us, the farmers, and you. The customer buys a share of the harvest up front and receives a weekly delivery of fresh produce throughout the growing season. Farm share membership is an excellent way to support local agriculture and to provide wholesome, affordable food to your family and friends, while supporting the larger mission of our farm. We are offering a total of 80-100 shares in 2017.
How do I Sign Up?

#1. Fill out our online membership form or mail printed forms to:
Soul Fire Farm
1972 NY Highway 2
Petersburgh NY, 12138.
Applications are accepted on a first come, first serve basis, though a percentage of shares are reserved for members using EBT. Returning members who apply by January 10th are given preference.
#2. Watch your email. We will send you a confirmation and invoice. Once you pay your first installment, you are officially a member of the farm share.
Why Join Soul Fire Farm Share?
Ujaama: Cooperative Economics: Participating in the Soul Fire Farm Share means you are partnering with a black led business to ensure the health of the farm business, the health of the earth for future generations, and the health of your family. We honor the spirit of ancestor Booker T. Whatley, a black farmer far ahead of his time who pioneered regenerative farming practices in this country (now known as sustainable or sometimes organic farming), as well as Clientele Membership Club, known today as CSA (Community Supported Agriculture).
Love Your Health: You will have access to fresh, nutrient dense food all summer long. Share healthy eating habits with those you love. With a Farm Share, you get a great value on good food. Additionally, our Farm Share is high protein – you get a choice of a dozen eggs or a quart of bean sprouts each week. Regardless of your income, our Farm Share has an affordable way for you to participate.
Steward Mother Earth: Support a farm where the farmers take care of the land, nurture the soil, and conserve energy. In addition to being Certified Naturally Grown and adhering to the Farmer's Pledge for sustainable agriculture, our farm practices are designed to minimize fossil fuel inputs such as tractor use. Eating local also means you reduce the number of miles your food travels to get to your plate.
Contribute to Social Justice: Soul Fire Farm is committed to making real food available to everyone, dismantling systemic racial and economic injustice in the process. We accept EBT, reserve a portion of our shares for low income families, and offer free educational programming for urban youth. We also share sustainable living skills, as far as Haiti and Brazil, and as near by as Troy, Albany, the Berkshires, NYC, and the Hudson Valley. Your participation supports this work for a just food system.
Convenient: Doorstep delivery is included for most neighborhoods in and around downtown and North Central Troy, and for the Mansion, South End, and Arbor Hill neighborhoods of Albany. See delivery map. Centralized pickup is also available at Woodland Hills Montessori School, North Greenbush, and at our farm, in Grafton. Inquire with the farmers to see if you are within the delivery route.
How does the Farm Share CSA Work?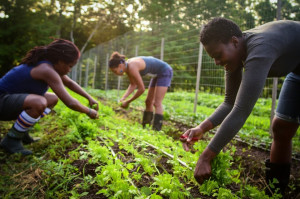 Wednesday Delivery: For customers living in the delivery areas of Albany and Troy, we deliver to your doorstep on Wednesday afternoons during the Farm Share season. All other customers can pick up at one of the centralized sites, or coordinate with another family. You will need to designate a safe, shaded place for us to leave your share in the event that you are not home when we deliver. Inquire with the farmers to see if you are within the delivery zone.
4 months of Food: Wednesdays, mid June – late October (20 weeks). Each share will contain your choice of eggs or sprouts plus 8-15 varieties of seasonal vegetables, enough veggies for a family of four or two vegetarian adults. We grow over 75 varieties of veggies. At peak harvest time your share will have enough to preserve some for the winter. See our 2016 harvest calendar to get a sense of what was in last year's shares.
Sliding Scale Fee: The full cost of a farm share is outlined below. This represents a range of $23-$50 per week. In all cases, the price is lower than what you would find at your local natural foods store for the same items, and essentially wholesale costs. We ask that you choose to pay according to access to financial resources. If you need help determining what level is suitable to pay, please read this excellent document on sliding scale and economic justice. We accept EBT/SNAP (food stamps). We do not offer half shares, but will help pair you with another family.
Newsletter: Our weekly email newsletter is packed with happenings on the farm, recipes for using food in your share, an article about food justice work, ranging from local to international, and photos from the week.
EBT/food stamps: $460 ($23/week)
Low-income: $500 ($25/week)
Middle-income: $560($28/week)
Upper-income: $660($33/week)
Support our work/contribute towards a low-income share: $800 ($40/week)
Soul on Fire/You love us!: $1000 ($50/week) (This cost represents approximate actual retail prices)
Optional Work Trade: Farm Share members who volunteer for 5 hours on the farm will receive a free fall harvest box of vegetables in November. Depending on season and weather conditions, this box will contain winter squash, potatoes, garlic, onions, cabbage, and other storage crops.
Gatherings: Throughout the season, we will have potlucks, community workdays, celebrations, shows, educational events, skill shares, and more. Keep posted for the latest.
Contact us with any questions you have about the Farm Share. Our email is love@soulfirefarm.org.
Follow soulfirefarm