Black-Latinx Farmers Immersion at Soul Fire Farm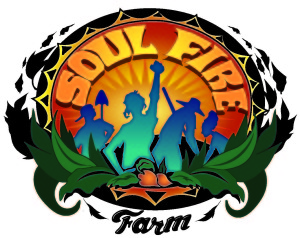 Purpose: The immersion program is designed for novice and intermediate growers to gain basic skills in regenerative farming and whole foods preparation in a culturally relevant, supportive, and joyful environment. By the end of the program you will have the knowledge to grow and prepare your own food and the tools to begin a comprehensive commercial farm training if you choose that path. It is our hope that you will also deepen your connection to land, heal from inherited trauma rooted in oppression on land, and take steps toward your personal food sovereignty. The advanced "Train the Trainer" program is designed for alumni of BLFI or growers with over 2000 hours growing experience to take their farming and food justice work to the next level through targeted skill development and mentorship.
Description: Soul Fire Farm is a family farm committed to ending racism and injustice in the food system. We live on 72 acres and intensively grow produce for 80 families in the Albany and Troy communities on 2 acres and meat and eggs on an additional acre. Participants will leave knowing how to plan a garden, prepare raised beds, plant from seed, transplant, harvest, make and use compost, properly use hand tools, work with micro-nutrients, manage pests without chemicals, wild-craft, process firewood, care for chickens, process chickens for meat, cook using whole foods, preserve the harvest, and select and utilize medicinal herbs. All of this takes place in a culturally relevant and supportive environment. Each day will include 5 hours of hands on work-learning, 2 hours of classes on sustainable living skills, and 1 hour personal reflection, plus optional evening cultural activities. Accommodations options include private tent camping or twin bed in a shared space. Participants have access to a comfortable naturally-built home for meals, bathrooms, and leisure. We will prepare meals and clean up together as a community. This is not a "retreat" but a community of mutual support and effort. Please see this link for a more detailed program description.
Cost: Sliding scale $100-1100. (Note that the REAL cost of the program is $900 so give more if you are able)
Application: Applications are now open for 2018. We will have five sessions on the following dates:
Session 1: July 1-6
Session 2: July 15-20
Session 3: July 29-August 3
Session 4: August 12-17
Session 5: October 7-10 (shortened program, Spanish instruction)
1/15/2018 – applications open
3/1/2018 – priority deadline (these applications are considered first)
3/15/2018- applications close at noon (applications after this are wait-listed)
3/25/2018 – acceptance letters emailed to applicants
4/5/2018 – enrollment commitments and deposit due
6/11/2018 – Accepted participants webinar "Safe and Sacred Space" 7:30-8:30 PM Eastern
Read about the immersion in YES Magazine!
Participants have described Black and Latinx Farmers Immersion as "a picture of what is possible in a healed world… revolutionary… the best thing that has ever happened to me." We are completely committed to making the program affordable to everyone. The REAL cost of one participant's attendance at BLFI is around $900, yet most participants pay much, much less than that. Because we have a generous community of volunteers, local businesses, and friends who give time, tents, and food, we are able to significantly reduce that cost. Please be in touch if you want to help, or just send us a check or PayPal donation at love@soulfirefarm.org or 1972 NY HWY 2, Petersburg, NY 12138. Thank you!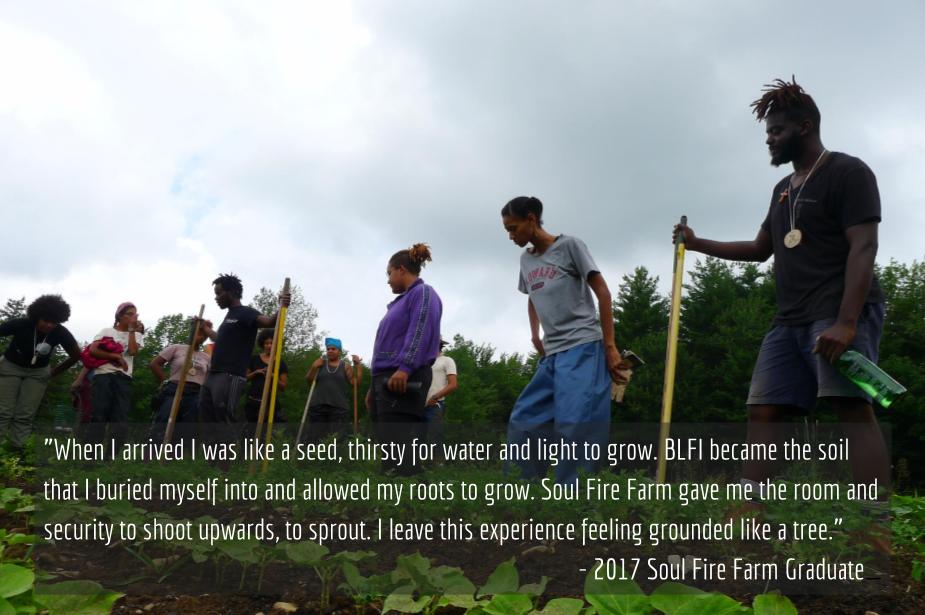 Follow soulfirefarm