PUBLIC SPEAKING ENGAGEMENTS – UPCOMING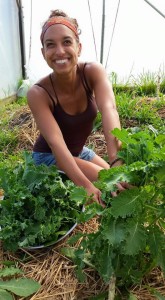 Stay tuned for Fall engagements after our busy on-farm programming season!
SPEAKERS BIO AND BOOKING INFO
Leah Penniman is an educator, farmer, and food justice activist from Soul Fire Farm in Grafton, NY. She is committed to dismantling the oppressive structures that misguide our food system, reconnecting marginalized communities to land, and upholding our responsibility to steward the land the nourishes us.
As a core member of the Freedom Food Alliance, Leah cultivates life-giving food for families living in food apartheid neighborhoods. She also runs an on-farm restorative justice program that is an alternative-to-incarceration for area teens and a training program for aspiring Black and Latino activist-farmers. In recognition of the truth that food sovereignty is a global struggle, Leah is a core collective member of Ayiti Resurrect, and coordinates an ongoing reforestation and sustainability project with farmers in Haiti, her ancestral homeland. She is a high school science teacher, project-based-learning coach, and uprooting racism facilitator. In these spaces, Leah joyfully and reverently connects learners to the intricate miracle that is this living planet and to their own power as agents of positive change in the community.
Leah holds an MA in Science Education and BA in Environmental Science and International Development from Clark University. She has been farming since 1996 and teaching since 2002. Leah's work as a farmer and educator has been recognized nationally by the Fulbright Distinguished Awards in Teaching Program, Presidential Award for Science Teaching, YES! Magazine, the Teaching Channel, Food First, New Technology Network, College Board, National Science Teachers Association, Edutopia, Center for Whole Communities, and Rethinking Schools.
She can offer presentations that stimulate the mind and heart on the following topics:
Youth empowerment through project-based learning

African-American agrarianism

Undoing racism in the food system

International farmer solidarity – Mexico, Haiti, Ghana

Restorative, carbon-negative, biodiversity-positive farming practices

Intersection of #blacklivesmatter and #foodjustice

Healing through connection to earth, ancestors, and Orisa

Training the next generation of activist-farmers

Land and food as tools to end mass incarceration
Leah, Jonah, and the Soul Fire Farm team can also offer customized workshops and trainings on the following organizational skills:
inclusive communication using movement and art

undoing racism and oppression

coalition building and cross pollination between groups

strategic planning – mission, vision, goals, strategies, and timeline

healing through connection to the earth and ancestors

curriculum design for engaging learners of all ages
Please understand that we are very busy farming, running programming, and feeding our people, so our ability to leave the farm for speaking engagements is limited. Almost all of our off-farm engagements are between November and March, the "cold season." Leah's also writing a book and will be cutting down on travel this year. We are a member of the Color of Food Speakers Collective and encourage you to also reach out to our colleagues. We also compiled a list of trusted consultants who may be able to support you.
Follow soulfirefarm