Please join us for our Community Farm Days – monthly from April-October. We work the land and learn together from 9 AM -1 PM followed by a potluck lunch and conversation, 1-2:30 PM. All are welcome. Check the weather report and dress appropriately. People of all skill levels are welcome for a day of joyful connection to land and one another. We are honoring the Haitian cultural practice of Konbit, cooperative work and mutual aid. PLEASE RSVP HERE.
2018 Dates: April 21, May 19, June 16, July 22, September 8, October 13, November 10
For those travelling from far away, please consider this list of local accommodations.
Here are the answers to some frequently asked questions about community farm days.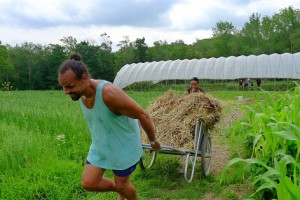 Follow soulfirefarm