Please join us for our Community Farm Days – monthly from April-October. We work the land and learn together from 8 AM -1 PM followed by a potluck lunch and conversation, 1-2:30 PM. All are welcome. Check the weather report and dress appropriately. People of all skill levels are welcome for a day of joyful connection to land and one another. We are honoring the Haitian cultural practice of Konbit, cooperative work and mutual aid. PLEASE RSVP HERE.
2017 Dates: April 22, May 20, June 17, August 26, September 3 (just added!), September 23, October 28, November 18 (No community farm day in July)
For those travelling from far away, please consider this list of local accommodations.
Here are the answers to some frequently asked questions about community farm days.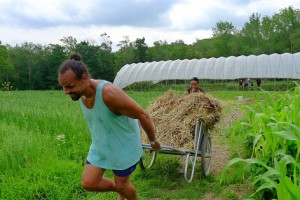 Skilled and Ongoing Volunteer Positions
For those interested in a deeper and ongoing relationship with Soul Fire Farm, we can use support in the areas listed below. Each position requires independent, self-directed work.
Ongoing Volunteer Application Form
Open Positions
Remote Office – proofreading, research, bibliographies, data sorting, phone calls
On Farm Program – setup, cleanup, and cooking
Local Driving – picking up participants and supplies
Local Outreach – attending local community events and talking about Soul Fire Farm
On Farm TLC – massage, energy healing, and personal support for Soul Fire crew
Donations – solicit and gather in-kind donations
Remote Art – make handwritten notecards and homemade gifts to use as "thank you's"
Positions are filled on a rolling basis. If you have other skills that you think might be helpful, let us know in the application. We will be in touch to interview you. Thanks for your interest!
_________________________________
Follow soulfirefarm