Caribbean Rice Recipe
1 tbsp Safflower or canola oil
1 tsp salt
1 tsp garlic powder*
1 tsp paprika
1 tsp cumin
1 tsp coriander*
1 tsp dried parsley*
1 tsp dried hot pepper*
1 tsp tumeric
2 cups white rice
4 cups boiling water
1 1/2 cup cooked pigeon peas
Cover the bottom of the pan with a thin layer of oil. Add spices and
saute. Add the dry rice and cook, stirring until coated with oil and
slight color change. Add boiling water and cooked pigeon peas. Cover
and simmer for 20 minutes or until rice is done.
*Dry the spices from the farm to make your own seasoning mix!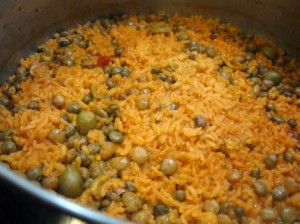 Follow soulfirefarm