(1) Contents of Share
(2) Announcements
(3) Food Justice News
(4) Recipe – Bok Choi over Noodles, and Drying Herbs
(5) Farm News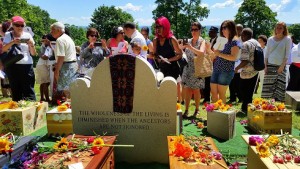 CONTENTS of SHARE
Lacinato/dino kale (1 bunch)

Cilantro (1 bunch)

Mesclun salad mix (⅓-½ pound)

Lettuce or bok choi (1-3 heads)

Green onions (1 bunch)

Sprout mix (brown lentils, green lentils, and mung beans) (~¼ pound) (for everyone this week!)

Strawberry jam (½ pint) (Please note: this is NOT shelf stable. Keep refrigerated and use within 3 weeks. Return the jars when you are done.)
ANNOUNCEMENTS
PASTURE-RAISED CHICKEN

.

We will be offering our delicious whole chickens three times this season. Chickens are raised on pasture, all natural, young and tender. They are $4.25 per pound. Birds dress out at 4-6 pounds. We will have 50 birds for sale in late June, late July and mid August.  Sign up soon, as they sell out quickly.

Signup HERE

.

EGGS and SPROUTS.

For those of you who ordered eggs with your shares, we expect them to be available in mid-July.

COMMUNITY DAYS. 8-1 Work and learn together. 1-2:30 Potluck lunch.

July 17, September 24, October 22, and November 12.  

RSVP here

.

You do not need to return your bags.  When we switch to boxes, please

RETURN YOUR BOXES.  

You can leave them where you get your delivery. If you break them down, please make sure not to tear or bend any of the tabs, or just leave the assembled box for us and we are happy to break it down.

WASHING YOUR VEGGIES.

 We DO NOT extensively wash veggies before delivering them to you.  We will do some washing if there is a lot of dirt on greens and we always rinse root crops.  In general, this allows the food to stay fresher longer. It also means you need to wash your veggies before consuming them. For greens: fill a bowl with cold water.  Soak greens in water for a minute.  Drain water and

repeat two more times

. Dirt will rinse to the bottom. Bugs should float to the top.

Summer SOULstice Party

.

THIS Saturday June 25

.

Celebrate with us! Performances and dance party! Some new things this year:

We are giving you all an opportunity to support our work with a $5-25 suggested donation.

There will be fresh new Soul Fire t-shirts for sale.

Food vendors and community cooks will be selling food with proceeds going to benefit our work

Ride sharing:

https://www.groupcarpool.com/t/g8vawt

Ayiti Resurrect

is seeking your support.  Leah and dear sister Naima are core organizers for this 7 year project in their homeland of Haiti.  

Delegates are in Haiti right now, installing a well that will be the sole source of clean water for over 1000 people in the rural Komye community.  

Please read more here

and donate what you can to this final year of a powerful project.
FOOD JUSTICE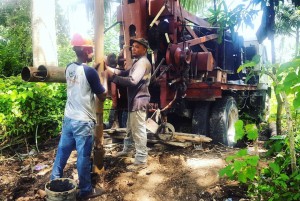 We are thrilled to have reports from Komye, Haiti that the well installation was a success!  Naima, Leah's sister, returned mid week after seeing this part of the Ayiti Resurrect project through.  The rural Komye community was at the epicenter of the 2010 earthquake.  The Ayiti REsurrect and loca community has worked trielessly to make this happen.  This well will serve over a 1000 residents with clean water.  Ayiti Resurrect seventh and final delegation will be this December and January.
In honor of this fantastic accomplishment, our food justice piece this week is more of a history lesson on the importance of land from Other Worlds about Haitian Land Rights History.
RECIPE – Bok Choi over noodles
Wondering what to do with that bok choi. This is a house favorite here a the farm.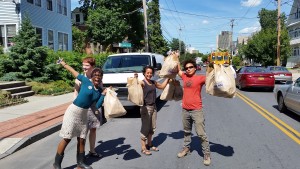 Ingredients
6 cups bok choi, chopped
3 cloves garlic, minced
3 tablespoons olive oil
1 tablespoon sesame oil
¼ green onion, chopped
5 tablespoons peanut butter
1 tablespoon white wine vinegar
1-2 teaspoons sweetener (eg. agave syrup) (optional)
2-3 tablespoons soy sauce
Black pepper (to taste)
Egg or rice noodles
Sesame seeds (to sprinkle on top)
Directions
Sauté oil and onions for 3-5 minutes. Add bok choi and sauté for 5 minutes or until tender but not over cooked. In a bowl, mix together peanut butter, white wine vinegar, and soy sauce. Pour over vegetables and fry for a few minutes. Serve over noodles. Sprinkle sesame seeds on top.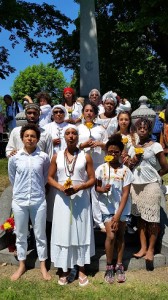 Drying Herbs
Your shares will be abundantly packed with herbs this season. Instead of feeling overwhelmed with having to use them before they go bad, try drying them so you can use them any time you want. Or better yet, in the middle of the winter when fresh herbs are scarse. Drying is one of the simplest and effective food preservation methods.
Find a dry place out of the sun to hang your bunch of herbs upside down.  We use a thumb tack from the ceiling and hang the bunch of herbs from the rubber band.  Make sure the bunch has air all around it, ie. dont hang it against a wall. You can lay them flat on a window screen.

After a few days the bunch will look as if they are wilting, browning and/or yellowing.  This is normal. Depending on drying conditions you herbs should be completely dry in 1-2 weeks. You know they are completely dry when they easily crumble off of the stem and literally feel dry.
If your herbs were properly dry and sealed and stored they will keep throughout the year, until fresh herbs are ready next year. Drying herbs this way not only is simple, but also retains the high nutrient content of these plants. The longer you leave them out after they are dry, the more of the nutritious (and tasty) compounds break down. The sun also breaks down the nutritious compounds in the herbs, so make sure to keep them out of the sun.
One friend who wants to dry medicinal herbs quickly to retain as much of their healing qualities as possible, lays herbs on a window screen and puts them in a car with the windows slightly cracked.  But out of the sun. Voila! Urban solar dryer. And lots of them too. Imagine how much food we could dry in the city, and leave them smelling wonderful when we're done.
FARM NEWS
We were reminded of the blessing of our community during last week's first farm share distribution.  This is why we work so hard.  We found ourselves literally dancing in the middle of the street with bags of food, laughing with shareholders, and even being invited to participate in a fashion show.  Many thanks to all of you shareholders for being part of our farm community and being patient with us as we work out our delivery route throughout Albany and Troy.  We are also excited about a new collaboration with Umana Restaurant, where Soul Fire food is being featured each week as they tailor their weekly specials to a local seasonal produce.  Go there!  Your whole being will be uplifted by their food!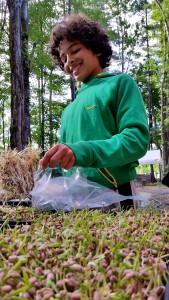 We are delighted to share some new things with you in the shares this week. We do not have enough strawberries to share with you all, BUT we made strawberry jam for you all to get a taste. And we infused it with the energy of the Strawberry Moon that fell on the summer solstice.  Last time a summer solstice and full moon aligned was in 1948, so use your celestial infused jam sparingly.  We also wanted to share our farm-special sprouts.  These are excellent for eating raw or throwing into a stir fry.  We always put a lot of love into the food we grow, but these particular things require us to tend to them with regularity and intention.  We hope you feel the love from all of us here at the farm.
Last weekend was a Juneteenth to remember.  Fourteen previously enslaved Africans from the 1700 and 1800s were re-interred by a reverent and joyful assemblage of community.  This was the culmination of the 10-year Schuyler Flatts Burial Project.  Their wake on Friday was held in the Schuyler Mansion, a house where many of these previous enslaved Africans would never have entered, and now were being honored inside, ironically below the looming oil portraits of the slave-holding Schuyler family.  That we continue to
celebrate such families as the Schuylers is testament to the entrenched legacy of white supremacy in this country and complacency with its continued perpetuation.  We have much work and healing to do.  This is one powerful place to start, led by descendants of stolen ancestors.  At the Friday event, Leah danced with the Congeros Afro-Cuban percussion troupe led by Aday Knolls, as part of a program of musicians, poets, and speakers in celebration of this historical moment.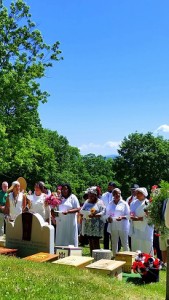 It was a beautiful thing to see hundreds of people come out on Saturday for the burial atop the highest hill in Albany rural cemetery.  You had to walk. Up. A lot.  And it was hot.  People came out with no inhibitions.  Elders, differently abled, children, families pushing strollers.  Nothing was keeping people from being there.  This was clearly a time for the local Black community to come together.  We watched a grandmother, her daughter and grandson take a "family portrait" with the ancestors, telling her young one, "We don't know if we are related to them, but we may be.  So this is a four-generation picture we have to remember."  This place is a piece of healing from the atrocity and legacy for those unnamed who died, suffered and toiled in slavery and lost the Trans-Atlantic slave trade.  As Leah offered for the tombstone engraving, "The wholeness of the living is diminished when the ancestors are not honored."
We celebrate the release of political prisoner Jasmine Abdullah.  Big shot out to all the organizing that freed our comrade.  Now, that energy can be redirected once again to doing the liberation work.
Finally, this week we have our heads down at full throttle, as we gear up for the beginning of our programming season.  Next week we welcome the first of three groups coming to the farm to participate in Soul Fire's week-long Black and Latinx Farmers Immersion.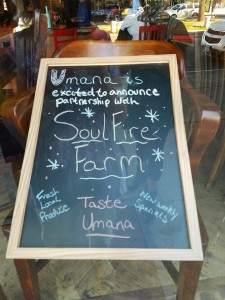 We are wholeheartedly excited to invite you all to this year's SOULstice Party, this Saturday, June 25.  Everyone at the farm has kicked into overdrive not only growing food and caring for animals, but also running epic afternoons of errands, calling for food and tool donations, supporting out-of-towners find rides to the farm, and even picking up a dance floor.  That's right.  This year's dance party will be in the new barn where we are temporarily laying down a dance floor.  The weather is also looking good, so performances will happen on our outdoor stage.  The lineup this year is rounding out to reflect the power and love of our community.  We welcome Tain Asili and Gaetano Vaccaro, Climbing Poetree (sisters Alixa Garcia and Naima Penniman), Leah on the aerial silks, and special guest Decora on stage and DJing.  Truemaster will be on the decks once again guiding us through an night of pure connection and celebration.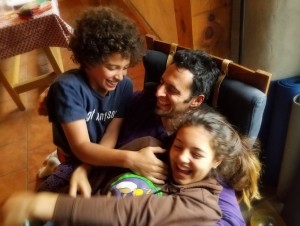 Blessings for your week!
By Jonah Vitale-Wolff
Follow soulfirefarm