Soul Fire Farm Love Notes #5, July 13, 2016
By: Leah Penniman
(1) Contents of Share
(2) Announcements
(3) Farm and Food Justice News
(4) Recipe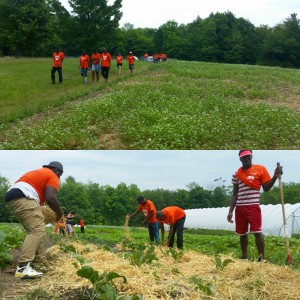 Bed Stuy Campaign Against Hunger Green Teens blessed Soul Fire Farm last week with their on point farming skills, performative interpretation of food justice issues in their community, and joyful engagement with one another. Our future is bright! We are not getting deterred or discouraged – keeping on track with the work of healing together.
(1) CONTENTS OF SHARE
Garlic scapes (1 bunch)

Scallions or green onions (1 bunch)

Red Russian kale (1 bunch)

Beets (1 bunch)

Rainbow Chard (1 bunch)

Chinese cabbage or bok choi (1-3 heads depending on size)

Dill or parsley (1 bunch)

Lettuce heads (2-4 depending on size)

Celery (1 bunch)

Optional – lentil sprout mix (1 bag)
(2) ANNOUNCEMENTS
PASTURE-RAISED CHICKEN. We have a few chickens left from our first batch if you are interested in ordering. We are also processing another batch of birds on July 27 and August 17. They can be picked up on the farm or delivered on our normal Wednesday farm share delivery route. You can pay using EBT/SNAP.  Signup HERE
Chickens are raised on pasture, all natural, young and tender. They are $4.25 per pound. Birds dress out at 4-6 pounds. We will have 50 birds for sale in late July and mid August.  Signup HERE.
COMMUNITY DAYS. 8-1 Work and learn together. 1-2:30 Potluck lunch. July 17, September 24, October 22, and November 12.  RSVP here.
RETURN YOUR BOXES AND JARS please. You can leave them where you get your delivery. If you break them down, please make sure not to tear or bend any of the tabs, or just leave the assembled box for us and we are happy to break it down.
WASH YOUR VEGGIES.  We DO NOT extensively wash veggies before delivering them to you.  We will do some washing if there is a lot of dirt on greens and we always rinse root crops.  In general, this allows the food to stay fresher longer. It also means you need to wash your veggies before consuming them. For greens: fill a bowl with cold water.  Soak greens in water for a minute.  Drain water and repeat two more times. Dirt will rinse to the bottom. Bugs should float to the top.
(4) FARM AND FOOD JUSTICE NEWS
This week please enjoy a photo essay in place of our poetic prose on the farm happenings. We are deep in the middle of our first Uprooting Racism Farmers Immersion (URFI), a program designed for people with inherited privilege and positional power who want to do their part to end racism in the food system in beyond. It's super full, intense, challenging, and important work and does not leave us with much office time. So please enjoy the captioned photographs that say more than words anyway! Much love!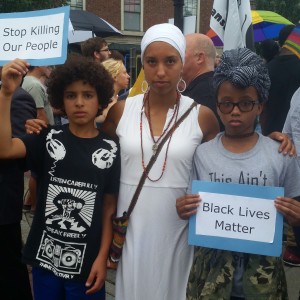 We are grateful to Black Lives Matter Upstate New York for organizing this community rally to honor the memory of Alton Sterling, Delrawn Rusell, Anthony Nunez, Philando Castile, and Pedro Erik Villanueva. A highlight was asking the children to come into the center of the circle to be surrounded by adults committed to love, protect, and listen to them.
Workshop on the history and manifestations of white supremacy led by Lissa and Ellen. URFI brings together a powerful team of 9 facilitators and 16 other learners from across the region for a popular/democratic education and action experience that we hope will push forward the work to end racism in the food system.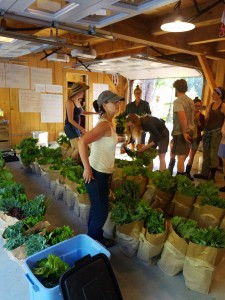 Packing farm shares with participants in Uprooting Racism Farmers Immersion. There are so many nutrients packed into each of these bags and we consider it a sacred duty to get this life-giving food to our people.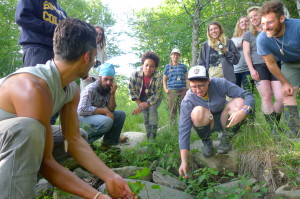 Forest walk and wild plant workshop led by Owen and Jonah. To listen and observe without naming is part of the practice of power with nature rather than power over nature.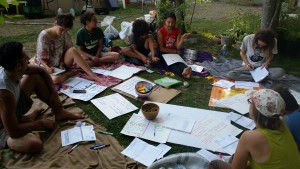 Soils workshop at URFI led by Jonah and Leah, where each participant engaged in deep learning on a particular soil parameter and shared out with the group. Turns out you can tell most of what you need about soil by listening, smelling, touching, and knowing through intuition. Lab soil tests are still fun and useful in addition to direct observation.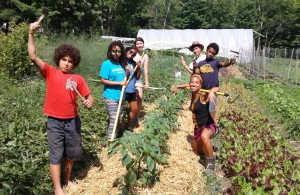 Emet leads a "hands on the land" work block teaching undergraduate students from Williams College how to use different types of hoes and about the three main purposes for using mulch. We are grateful to have young people on the farm just about every day this summer, outside of our farmer immersion programs.
(4) RECIPE – BEETS WITH DILL
6 medium beets with tops (about 2 pounds)

2 1/2 tablespoons red wine vinegar

2 tablespoons olive oil

1 tablespoon chopped fresh dill or 1 teaspoon dried dillweed

1/2 cup thinly sliced sweet onion
Preheat oven to 400°F. Cut off tops from beets and reserve. Wrap beets in large sheet of heavy-duty foil, enclosing completely. Cut off long stems from beet leaves and discard. Thinly slice beet leaves. Rinse leaves under cold water. Wrap leaves in small sheet of heavy-duty foil, enclosing completely.
Place foil package of whole beets directly onto oven rack. Bake 1 hour 15 minutes. Add foil package of beet leaves to oven and bake until beets are tender and leaves are wilted and tender, about 15 minutes longer. Open foil packages and let beets and leaves stand at room temperature until cool enough to handle. Rub beets to remove skins. Cut beets into 1/4-inch-thick slices.
Whisk vinegar, oil and dill in large bowl until well blended. Add beets, beet leaves and onion and toss to coat. Serve warm or room temperature.
Adapted from epicurious.com
Follow soulfirefarm