Love Notes #8, August 3, 2016
By: Leah Penniman
(1) Contents of Share
(2) Announcements
(3) Farm and Food Justice News
(4) Recipes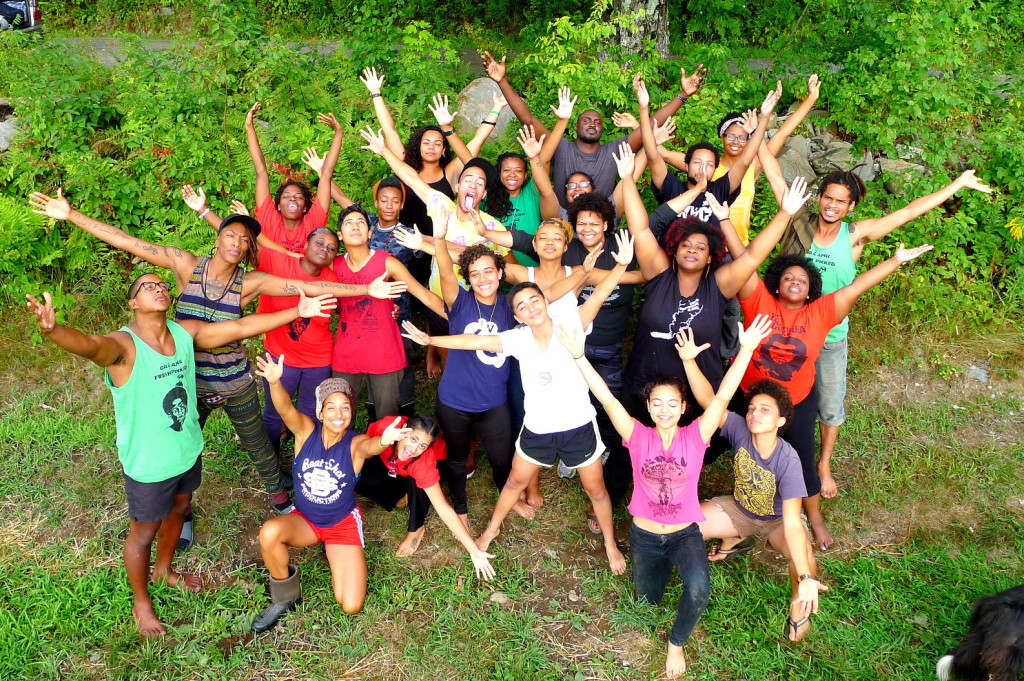 Melanin absorbs sunlight. WE LIT! Photo: Jonah Vitale-Wolff
CONTENTS OF SHARE
Cabbage (1 medium head)

Green zucchini, striped zucchini, or yellow summer squash (2-3 pounds)

Fresh garlic (2-3 bulbs)

Green or yellow string beans (~1.25 lbs)

Bok choi (1-3 heads)

Red Russian or Russian frills kale (1 bunch)

Salad mix (~¾ lb)

Carrots (1 bunch)

Italian basil (1 bunch)

Broccoli for almost everyone! If you didn't receive broccoli, don't fret! We know who you are will get you a special addition soon!

Optional: 1 dozen eggs

Optional: mung bean sprouts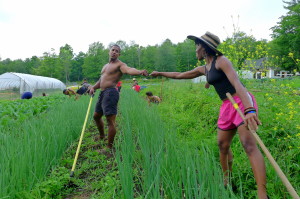 Amani and Kevin are taking care of those pathways so your onions can thrive. After experiencing Amani's brilliance as a "train the trainer" at BLFI, we were hooked and convinced her to come back and facilitate the next session. Celebratory pound. Photo: Jonah Vitale-Wolff
ANNOUNCEMENTS
PASTURE-RAISED CHICKEN. We have delicious chicken in our freezer for you. They can be picked up on the farm or delivered on our normal Wednesday delivery route next week. You can pay using EBT/SNAP.  $4.25 per pound. Birds dress out at 4-6 pounds. Signup HERE
COMMUNITY DAYS. 8-1 Work and learn together. 1-2:30 Potluck lunch. September 24, October 22, and November 12.  RSVP here.
RETURN YOUR BOXES AND JARS please. You can leave them where you get your delivery. If you break them down, please make sure not to tear or bend any of the tabs, or just leave the assembled box for us and we are happy to break it down.
WASH YOUR VEGGIES.  We DO NOT extensively wash veggies before delivering them to you.  We will do some washing if there is a lot of dirt on greens and we always rinse root crops.  In general, this allows the food to stay fresher longer. It also means you need to wash your veggies before consuming them. For greens: fill a bowl with cold water.  Soak greens in water for a minute.  Drain water and repeat two more times. Dirt will rinse to the bottom. Bugs should float to the top.
KEEP FOOD FRESH, EASY: Store leafy greens in a sealed plastic bag in the fridge. To revive wilted greens, dunk them in ice water and dry in salad spinner or with gentle toweling. To make it easier to use greens on the go, wash and chop them in advance and store them in a sealed plastic bag. Then you can just grab a handful to add to your eggs, smoothie, soup, or saute. Quick and easy.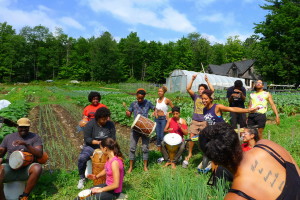 During the last "hands on the land" block in BLFI, we broke out the drums, shakers, and voices to let Mama Earth know how much we appreciate her. It got so high and joyful, when it was time to transition to the next thing, no one wanted to leave. Photo: Jonah Vitale-Wolff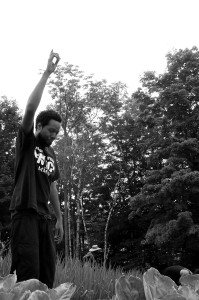 FARM AND FOOD JUSTICE NEWS
"All the way up…" Photo credit: Jonah Vitale-Wolff
You all know that without farmers there would have been no Civil Rights Movement, truth? Our elder, Civil Rights veteran, Baba Curtis Muhammad explained this to us. The independent Black farmers of the South were not domestic servants or sharecroppers, and hence, could not be fired by white landowners for the audacity to have a resistance meeting or to vote. So they led the organizing. They also fed, clothed, housed, and otherwise supported the thousands of activists that worked in the South. The Smithsonian put out a video on the role of these farmer-activists, called Seeds of Revolt. We are reviewing this history because RIGHT NOW we are in the midst of another Civil Rights Movement that includes the farmers. It's called the Movement for Black Lives and we just put out a comprehensive policy platform that provides a roadmap for reparations, economic justice, political power, etc. The farmers here at Soul Fire Farm were asked for our input (thank you Dara Cooper) and many of our suggestions are reflected in the economic justice and reparations sections. Please read it. Endorse it. Share it. Thank you.

The abundance of August has descended. The drought finally gave way to a deluge of rain… At this point in the summer, the weeds chill out a little bit and the crops reward our patience with full baskets of beans, squash, greens, and alliums. We are putting in our final plantings of carrots and onions, and turning our attention to fall. Ravonne, Cheryl, and Hannah, our brilliant crew of "farm managers in training" are stepping up to manage the farm in 4-week rotations. It's no small task. Farming involves as much intricacy, complexity, and attention to detail as medicine and law. Imagine if society valued it as highly!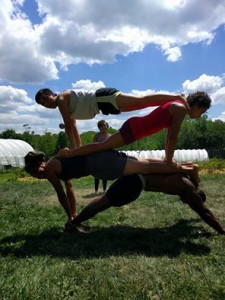 Hundreds of youth are blessing us with their presence this week and next. We welcome Albany Youth Leadership Academy, Produce Project, Soul Tribe Eats, Hartford Food System, STEM Kids NYC, and many others. Today, YouthGROW Worcester, MA visits, which is extra special, since Jonah and I helped start that program back in 2002! It's beautiful to see it evolve and some of the young folks we knew now in leadership positions. And speaking of leadership positions, Emet (age 11) has stepped up into full on co-facilitation of youth programs. He leads opening circle, tour, and "hands on the land." He also works with small groups on food justice theater. We are so grateful that his heart compels him to share his light with the community!
"I felt held, loved, seen, and accepted by my people. It hasn't always been this way… If I can be free here, why can't I be free out there?" BLFI 2 Reflections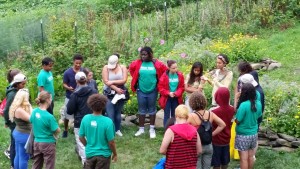 Produce Project, Troy NY circles up to share some gratitude at the end of a full day of barefoot mulching, aerial silk trapeze, and farm-fresh burritos. Photo: Emet Vitale-Penniman
RECIPES
LISSA'S STUFFED SQUASH
This recipe serves 30 people, our standard program size. We thought it would be fun to leave it like this so you get to practice division. Giggle.
Ingredients
~28 summer squash

5 cups brown lentils (dry)

9 cups brown rice (dry) (most of this rice is served as a side dish)

18 carrots – diced in small cubes

6 yellow onions – diced

Parsley- chop fine

Walnuts – chop

Lemon juice

Chipotle

Cumin

Grated cheese

Salt and pepper
Directions
Cut the squash in half the long way, massage with a little oil and salt, pre-roast in the oven on 350 for 10-15 minutes until soft.

Boil lentils in veggie stock (2 cups stock to 1 cup lentils).

Cook brown rice (1.75 cups water to 1 cup rice).

Sautee onions & carrots, and when tender, add to cooked lentils.

Mix 2 cups of cooked rice into lentil mixture. The rest of the rice is served as a side dish.

Toast walnuts and add to lentil mixture.

Chop parsley fine and add to mixture.

Add lemon juice, salt, black pepper, chipotle and cumin to taste.

Put filling in summer squash, lightly cover with grated cheese.

Bake at 350 until cheese melts, 5-10 minutes.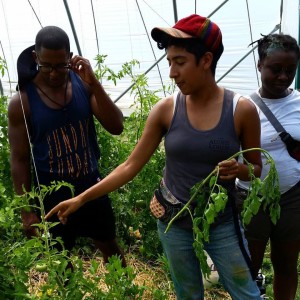 Personal life lessons from tomato pruning – we must cut off the suckers so that the apical meristem can thrive and fruit, directing energy to one central shoot, not getting spread too thin in too many directions, which could lead to disease and collapse. Photo: Leah Penniman
Follow soulfirefarm