"Revolution is based on land. Land is the basis of all independence. Land is the basis of freedom, justice, and equality." ~Malcolm X, 1963
Raise the Roof for Food Justice Update: 10 Days Left!
It is hard to believe we have only been home from Mexico for a month. We arrived to acres covered in waist high weeds and a pile of construction materials ready to be transformed into a barn. In just 4 weeks, my amazing love erected a barn frame and roof, working 13-hour days, every day, so that the participants in last week's Black and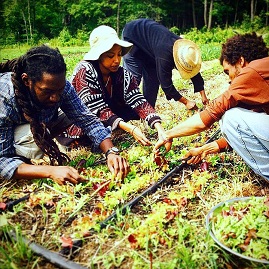 Latino Farmers Immersion would have a dry place to sleep. We prepped and planted the entire farm in that time as well, ¾ in cover crop and ¼ in food, and made arrangements for the whole season of educational programming. Leah's 13-hour days made that happen plus immense support from volunteers at our 2 community work days. All of this focus and sweat happened while staying close, connected, and loving as a family and with relatively low stress. Growing!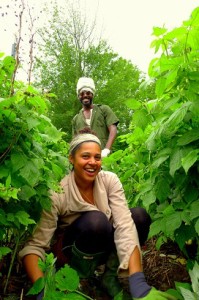 With immense gratitude, we have put every dollar donated by our community toward the frame and roof of the barn. We have 10 days left in our public crowdfunding campaign and need to keep up the momentum so we can finish the infrastructure – windows, insulation, plumbing, electric, kitchen, bath, heat, and packing/distribution area. We have a matching donor who promises to double everything that comes in from now until July 15, up to $5K. We will also have special gifts for donors every day for the next 10 days. Follow us on Facebook and Twitter @soulfirefarm for more info. If you have been waiting to support, the time is now. Please reach out to people whom you love and let them know what Soul Fire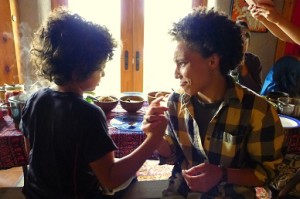 means to you. Monsanto is not going to fund this revolution – we need to make it happen from the grassroots! Let's do this!
SOULstice Party
We were on the roof of the barn installing a tarp over the unfinished sections even as guests began trickling in for our annual summer SOULstice party. A gaggle of freedom-thirsty children made up the early shift and could be seen on all corners of the land, burying themselves in hay piles, crawling between stacked logs, and leaping over beds of oat straw. Despite the cold rain and blustery winds, we huddled close in the open downstairs of the new barn for sunset musical performances. Gabrilla Ballard, Matt Feinstein, Victorio Reyes, Amani Olugbala, Alixa
Garcia, Naima Penniman… the energy rose and hearts warmed. Looking out over the group, I saw our NYC queer POC crew, our Republican neighbors, Zionists from the Jewish community, CSA farmshare members, local activists, and Black Lives Matter visitors on retreat from Massachusetts. Everyone, I mean everyone, was rocking out to Climbing Poetree's revolutionary love call, fists in the air, tears in their eyes. Disparate backgrounds unified!
The bountiful food table was completely cashed by 10 PM when we gathered inside for some aerial silks by Ribbon in the Sky, Amani and Bea Anderson on vocals. DJ TruMaster killed it on the tables and the dance floor didn't slow down once, rocking hard until after 2 AM. A late night van arrived from NYC carrying artists and activists who persevered in their commitment to be here, even after their first van was mysteriously vandalized and burned the night before (hmmmm….). At 2:30 AM (from my bed) I heard the Black Lives Matter chants fill the space then give way to a collaborative cipher of violin-drum-voice-guitar until dawn.
After 2 hours of sleep, I ventured down stairs, stepping over the 12 bodies resting on the living room rug, having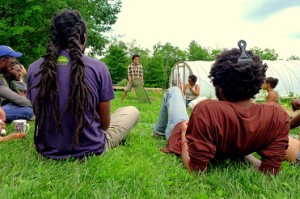 sought refuge from wet tents. The house looked like it had hosted 200 people, (it had!), and after 20 bags of recycling went out and a double mopping/scrubbing to remove the mud, we set to making brunch for 30. Maria Luna brought her magical tamale making hands and we shared food, play, and song. At the same time as the party crowd was dispersing, we welcomed participants for Black and Latino Farmers Immersion…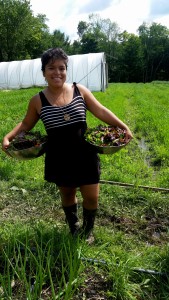 Black and Latino Farmers Immersion Session 1 (Check out this link to see a small glimpse of the immersion in photos.)
The farm is exhaling after creating sacred community with 25 Black and Latino aspiring farmers for a week-long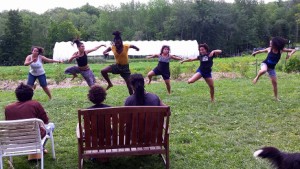 immersion experience in sustainable farming, cultural whole foods cooking, food justice, and dismantling racism, tied together with the thread of REVOLUTIONARY LOVE! We planted potatoes, prepped beds, built compost bins, cared for chickens – then took their life to feed self and others –  transplanted fragile seedlings, pruned and trellised tomatoes, prepared 500 plates of nourishing food… all while singing the songs of our ancestors, dancing the dances of our hearts, indulging the fullness of silence. In between the rain-kissed, thunder-song farm work, we offered healing movement and reflection spaces to one another. There was contact improv with faces close to the dewy grass, moving to the rhythm of collective breath and heartbeat. There were sacred herbal baths and fireside warming up, hands in hands, noticing brotherhood. We were welcomed by Junsan, only days returned from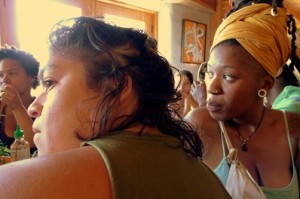 Japan, at the Grafton Peace Pagoda for a Japanese Buddhist drum ceremony to honor the Charleston families and others targeted by racialized violence. We made art and dance from the example of nature, sang chants into the night, pushed the limits of our physical strength with laden wheelbarrows, and stretched our minds and hearts wide to hold the pain of Haiti-Dominican Republic-Ferguson. We reclaimed our belonging to land and community.
Offered here is a word collage of participant reflections, "feeling safe and held… immensely electrifying… love is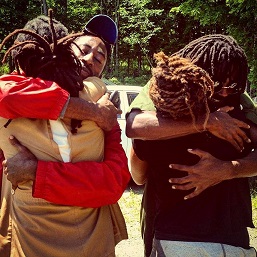 here… grateful to be a Black Man in this lifetime… individual and collective transformation… love you all wholeheartedly… to be right here right now in this place… there are no words… growth, healing, freedom, community… that you exist… I am grateful for what is coming… solidarity and love… we put this into motion and it can't be stopped… power and vulnerability… heavy with love, rising toward liberation… nourished and will pass that nourishment onto others… THE MOST FULL I HAVE EVER BEEN IN MY LIFE!"
The facilitation team this year was incredible! Gabriela Alvarez held down the kitchen with grace and flexibility. Don Lahens brought a gentle and attentive leadership to the brothers in the group and kept us on schedule. Cynthia Espinosa dropped serious agroecology and Latin@ farming knowledge. Cheryl DeSanctis inspired us with her deep farming and building skills, and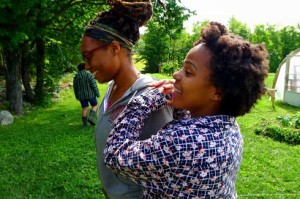 commitment to "seeing" people. Naima Penniman opened hearts with her poetry and cared for the physical and emotional needs of the group. Jonah Vitale-Wolff got a roof on the barn so we could have a dry place to sleep and made sure every system was ready and working. The community came out for us too! Honest Weight Food Coop donated lots of grocery and dairy items to feed the people and Placid Baker kept us awash in delicious baguettes. Jalal Sabur even came up on the last day with his van to take a crew back to NYC. Thank you family!
I am grateful to myself as well, for having the courage to take ALL that is sacred to me – my connection to land, knowledge of farming, love of my family, relationship to Spirit, commitment to justice, sacred bond with peoplehood, freedom in dance and song, comfort in stillness, skills in the whole kitchen, and heart smile – and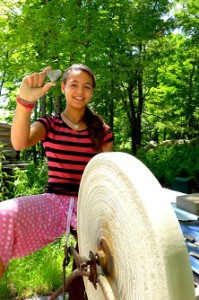 share it with the chosen family that came to this land. I notice that what we have created means a lot to people, and it's good, real good.
"It is our duty to fight for our freedom. It is our duty to win. We must love each other and support each other. We have nothing to lose but our chains." – Assata Shakur
Follow soulfirefarm