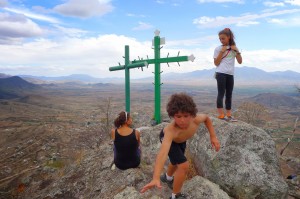 Welcome spring! On the official day of season's turn we joined agroecologist friends for a tequio (collective work party) in the small town of Huayapam, famous for its sacred water well and the birthplace of a frothy delicious almond drink called tejate. Together we cut terraces into the rocky hillside and sifted compost to prepare for transplanting, all the while engaging friendly farmer debate about the best soil preparation methods (Resulting in a side-by-side experimental comparison, outcomes TBD.) It was fascinating to listen to the stories of Erik, the landowner, about his 3 years of service in the Mexican army fighting against the Zapatista uprising. He told us that officials commanded the soldiers to dig mass graves for fallen servicemen and to bury them in the clothing of Zapatistas, so they could lie to the families that these men had defected and avoid paying out a pension. He witnessed this and many other horrors and from his experience became a supporter of the movements for the rights of Original peoples.
Spring has brought early rains to this parched and dusty landscape of Oaxaca and the thirsty fields are readying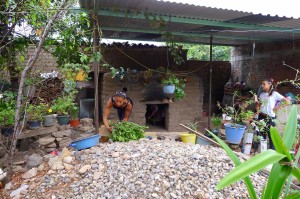 themselves for another season of life-giving. We attended Feria de la Milpa en Nochixtlan in the Mixteca region and engaged in a pre-season exchange of seeds and intercropping ideas with campesinos from 10 different pueblos. The Mixteca is a harsh landscape, notorious for its severe erosion and encroaching desert. These farmers are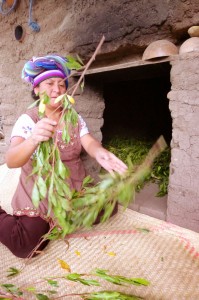 involved in massive reforestation, erosion control, and native crop breeding projects to preserve the resource base for their way of life. For example, they are reviving the ancient practice of cultivating amaranth. This grain is high in protein, tolerant of marginal soil and drought, and offers edible greens rich in nutrients. Its use was outlawed by Spaniards because of their fear of its role in traditional religion and their desire to control the population's food source. Farmers are also finding that chickens raised on amaranth produce eggs higher in protein and lower in cholesterol. Leah is working hard to document these and other best practices and finally completed a first draft of the curriculum, weighing in at 80+ pages!
Spring is bringing a transition of focus. In April and May we will be working with Afro-descendent communities in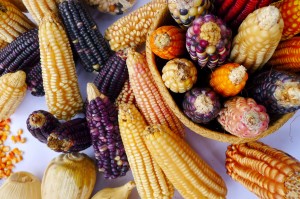 Haiti and coastal communities in Southern Mexico (Veracruz, Costa Chica in Oaxaca) to exchange ideas on agro-ecology and "convivir." We have just begun creating connections with Afromestizos, our entry point being music and dance. One evening in the park Leah was showing a friend some Afro-Haitian dance flow and was spotted by a drummer who pulled the whole family into an otherwise hard-to-find network of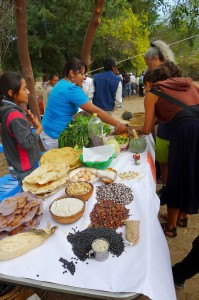 people connected to Mama Guinea. The past two weeks have involved full nights of dance and drum, in workshops and informally under the stars and the gradual fomenting of the relationships that will guide our deeper understanding of the Diaspora. Our last night in Oaxaca before a brief visit home involved a midnight Son Jarocho cipher, with improvisational singing so much like hip hop freestyle, and dancing so much like West Africa that the umbilical cord between the continents was visceral.
Before leaving this part of Oaxaca, we wanted to offer proper thanks to the land and prepare spiritually for the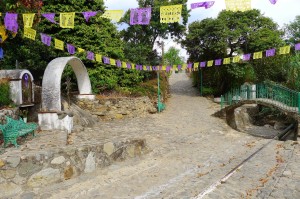 transition. We hiked up to the summit of the sacred mountain in Teotitlan to make offerings of tobacco, herbs, and soil from our land. We made our prayers in song and sweat (unrelenting sun!) and descended to participate in a temazcal with our Zapoteca friend and shero Pastora. She had been tending the temazcal fire all afternoon and when we arrived, we helped line the floor with plants collected from the mountain. She showed us the correct prayers and how to lie down facing the four directions in turn. We tossed water on stone to increase the heat and our focus. When we finished bathing in the steam, she received us in swaddling blankets to rest and regain equilibrium. All this, a generous gift of her heart.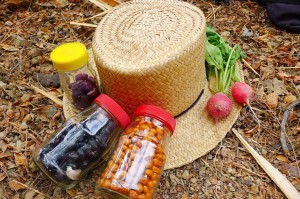 Generosity and abundance are salient themes of this new spring on the farm as well. We cried upon receiving photos of our friend Josh Boyle chipping away buckets of frozen potting soil to thaw so that we can plant our seedlings when we stop home. We cried more receiving an email that Andrew and Vicki plan to stock our fridge, fill our gas tank, and make our beds to welcome us home. Every week we have inspiring conference calls with our power team of angel-volunteers helping us with grant writing and fundraising, especially Jenn Baumstein, Raona Roy, and Corey Aldrich. We even managed to submit a few grants and our 501(c)3 application at long last. We had 150 people apply to be part of Black and Latino Farmers Immersion and carefully (painfully) selected a team of 40 participants and 4 facilitators. We are accepting as many kind offers for interviews and workshops as we can – Goddard College, UTVCO, Seedstock, Red Amaranto, Occupy TV– while ensuring that there's time to play chess with Emet and aerial silks with Neshima.
…And of course, most importantly, Spring has brought Aviv (Aviv means Spring in Hebrew). We are over the moon thrilled that our new nephew joined us this season – beautiful, strong, beloved new life. Welcome to the family dear one!
Follow soulfirefarm