By Jonah Vitale-Wolff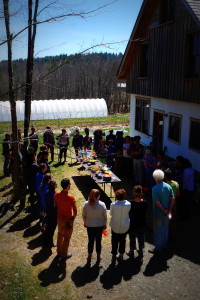 Spring.  We have been in snow and we have sun kissed shoulders and backs.  Weeks without rain and weeks without sun.  Fingers too cold to work and hot enough to be barefoot and shirtless.  It is a beautiful surrender to live this life so tied to the land.  We are patiently watching our plants take their first steps from tiny seedlings to robust harvests – crossing our fingers as we await the seeds' germination.  No matter how many hundreds of thousands of seeds we have planted, each time one breaks through the surface of the soil feels to be a miracle.  It seems only natural that farmers stand as alchemists of soil, air, water and hope at the crossroads of practicality and magic.
As you may expect, April and May have been packed to the brim.  So much so, we cannot write about all of it with enough detail to do justice to everything.  Truth is, we are not just farmers.  There is no perfect job description for what we do.  When asked what we call ourselves, we have, for the time being, settled on titles like farmer activists or farmer educators, or sometimes just spiritual activists that partner with the earth.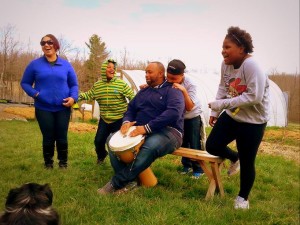 With our programming now over-full for the season, we have already had the honor to host multiple groups, and two community workdays.  One group, Gardening the Community from Springfield, MA, have been coming to Soul Fire since the very beginning of our youth programming.  Miracle on Craig Street, a grassroots community group from Schenectady, came with a beautifully intergenerational group – parents and children, elders and youth – coming to learn to tend soil and plant seeds.  They are working towards creating a community center and community garden farm in Schenectady.  We are beyond grateful to Rosa Rivera and the whole Craig Street crew for bringing into being a deeply inspirational model of true community and mentorship.  We look forward to continuing to build with Miracle on Craig Street through future farm visits and mutual support of our projects.  As one participant said, "I learned that we can do it. That it's possible. Not to let barriers get in our way."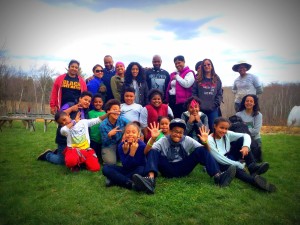 Leah was chosen as the Environmental Leader in Residence at Common Ground, a public high school in New Haven, CT.  She spent one week tapping all of her skills and dynamic talents facilitating organizational growth and transformation.  Leah did listening and focus groups with students, gave workshops for teachers, offered keynote addresses to hundreds of attendees, taught dismantling racism trainings, all the while holding space for spirit and connection.  One would think she would return home drained from her full days.  Quite the contrary.  Leah was inspired and filled by being part of and witnessing the powerful work that is possible in our schools.
Since we last wrote in April, Leah has been a keynote speaker at the New England Grassroots Environment Fund (NEGEF) RootSkills Conference in Providence, Cherry Bombe Jubilee Conference in NYC, as well as speaking appearances at Skidmore College in Saratoga, SUNY Adirondack, at our own Albany City Hall.  Possibly our favorite guest appearance yet, was on Beatshot Radio two weeks ago.  Our awesome farm crew has also been offering the occasional presentation, including at the Stephentown Library and Hudson Valley Cooperative.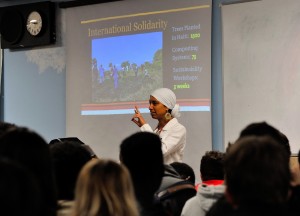 In addition to speaking Leah, published her latest article in YES!, weaving the story of black ancestors with current day black farmers.  Black Farmers are not extinct and on the rise!  Check it out here.  Look out for an upcoming book that Leah is co-authoring put out by Food First that further delves into the rich agricultural story of black farmers, past, present and future.
We were profoundly humbled to be featured in a theater piece, Good Dirt, created by Jeremy Davidson and Mary Stuart Masterson.  The piece took interviews from five Hudson Valley farmers word for word and gave them to actors to perform.  It was a powerful experience for all of us farmers there as we saw ourselves reflected back to us telling our stories.  As fellow farmer Justine Denison said best, "She played me better than I do."  Leah and I cried with every farmer's story, affirmation that we are undoubtedly in the right line of work.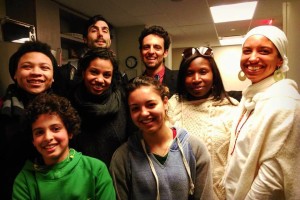 Each spring also brings the telling of our people's liberation story during the Jewish holiday of Passover.  We mark this with our annual Afro-Seder where we bring together the liberation stories of black people in America and the Jewish story of liberation.  While there are countless stories of liberation and resistance, we use the story of Harriet Tubman, known as the Moses of her people, not as a history lesson, but a duty to pass on to our children the conviction that drives our people.  We return to this one freedom fighter's story to inspire and guide us, and then tell our own stories of liberation, griot style.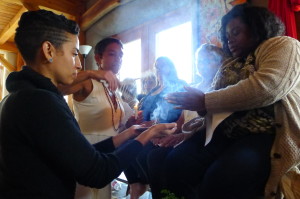 Usually board meetings don't spark the most excited of responses, but we are trying to shift that.  When the Soul Fire Farm Institute board gets together the room is hopping with energy and ideas.  We get together 15 people from over the northeast – seed savers, farmers, health care professionals, herbal and spiritual healers, engineers, prisoner justice activists, artists, poets, musicians – to grapple with big questions we have in this movement for justice and liberation.  That is not to say we also pour over budgets and documents.  It is incredible to be bathed in such wisdom.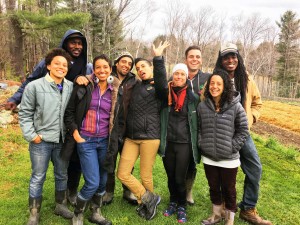 Hey y'all.  Gotta throw this in there.  We got our 501c3 status!  This is over a year in the making, and we can now officially and directly accept tax-deductible contributions.
We also mark new beginnings and precious passings.  We have welcomed 3 batches of baby chicks.  Some will be raised as an integral part of our farm fertility ecosystem before they are processed for meat, and some will be raised to lay eggs for our farm family and programming.
We mourn the passing of brilliant artists of our time, each one we honor appropriately on the farm.  We had purple day to honor the passing of Prince.  We listened incessantly to every Tribe Called Quest album for 5 days for the passing of Phife Dawg.  May their memories be a blessing, inspiration, and booty shaking.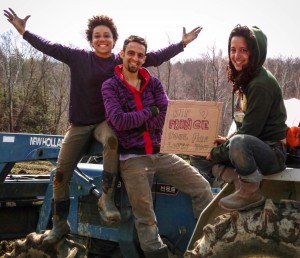 ANNOUNCEMENTS
Farm Share CSA: There are still a few spaces available for the 2016 season! Based on the African principle of ujamaa – cooperative economics, Soul Fire Farm Share is a partnership between the community and the farmer. We provide a weekly delivery of 10-15 nutrient rich, naturally produced vegetables directly the doorsteps of Capital District families living in communities affected by food apartheid, and to incarcerated people and their loved ones. Shares are sliding-scale based on income. We also directly accept EBT/SNAP.
Pasture Raised Chicken: We will be offering our delicious whole chickens three times this season. Chickens are raised on pasture, all natural, young and tender. They are $4.25 per pound. Birds dress out at 4-6 pounds. We will have 50 birds for sale in late June, late July and mid August. Sign up soon, as they sell out quickly.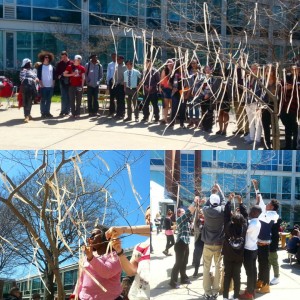 Complete Calendar with Seed Saving, Ancestor Healing, SOULstice Party and more… Keep checking back for calendar updates. We will be holding a number of workshops on farming, food justice, activism, and land-based healing.

Community Work Days and Volunteer Opportunities: We hold monthly public community work days on the farm for people to learn new farming skills, break bread together, and celebrate the abundance of the land. We also welcome ongoing volunteers in specific roles, such as graphic design, accounting, cooking, etc.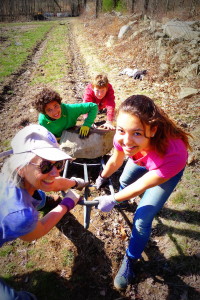 Youth Food Justice Empowerment: Focused on the needs of urban youth, especially those in foster care or trapped in the criminal injustice system, our programs forge powerful connections with the land and with self. Young people spend 1-5 days on the farm for an intensive, loving training.  Youth gain skills on farming and harvesting, cooking with whole fresh foods, leadership, business development, and food justice.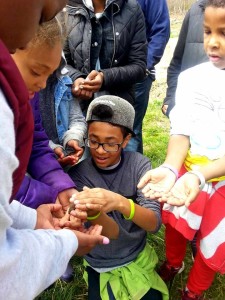 Public Speaking Events and Custom Activist Trainings: From prisoner justice to climate justice, our struggles for a world of dignity, empowerment, and sustainability are intertwined. Those of us on the front lines of social and environmental change understand the need to periodically step out of our everyday context to rejuvenate, strategize, learn, and connect. We offer facilitation in five focus areas: dismantling oppression, intersection of all movements with food sovereignty, inclusive communication, strategic planning, and cross pollination.
Message Board: Look here for opportunities for jobs, training, and land offered by people in our network. (Under construction)
Support Soul Fire: There are now even more ways to contribute your resources and talent to Soul Fire Farm. Thanks for your love and support!
Follow soulfirefarm