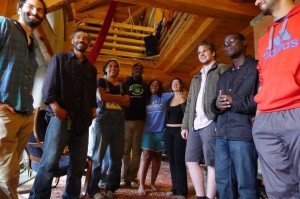 Contents of Share
Red Russian kale (1 bunch)
fennel (1-2 heads)
carrots (1 bunch)
basil or parsley (1 bunch)
arugula (1 bunch)
slicing cucumbers or japanese cucumbers (2 fruits)
tomatoes (6 red, 3 yellow)
cherry tomatoes or tomatillos (1 bag)
bell peppers (1 fruit)
jalapeño and ancho or cayenne hot peppers (1 bag)
garlic (1 head)
zucchini (1 fruit) or brussel sprouts (.5 pound)
optional: dozen eggs or sprouts
ANNOUNCEMENTS
Please read about our plans for Sabbatical next year, as we take the time to do some powerful reflection and development our organization, infrastructure and international networks of solidarity with farmers.
COMMUNITY WORKDAY/SKILLSHARES.  Last one of the season.  October 25 – garlic planting, firewood, building stone retaining wall, prepping high tunnel for spring planting.
Please RETURN YOUR BOXES.  You can leave them where you get your delivery. If you break them down, please make sure not to tear or bend any of the tabs, or just leave the assembled box for us and we are happy to break it down.

WASHING YOUR VEGGIES.  We do not extensively wash veggies before delivering them to you.  We will do some washing if there is a lot of dirt on greens and we always rinse root crops.  In general, this allows the food to stay fresher longer.  It also means you need to wash your veggies before consuming them.  For greens: fill a bowl with cold water.  Soak greens in water for a minute.  Drain water and repeat two more times.  Dirt will rinse to the bottom.  Bugs should float to the top.
If you are a shareholder, you have the option of volunteering 5 hours over the course of the season in exchange for an additional week of food in the fall.  Be in touch to schedule your work with us, or come to a workday.
All of our newsletters are archived on our website, along with lots more, including educational resources and more recipes.  Thanks!

Recipe – Roasted Tomato Salsa
2 cloves garlic, unpeeled
1 small onion, quartered
1 jalapeno chile pepper
1 1/2 tablespoons olive oil
1 teaspoon ground cumin
1/4 teaspoon salt
3 tablespoons fresh lime juice
1/4 cup chopped fresh cilantro
Directions
Preheat the broiler.
In a medium baking dish, place roma (plum) tomatoes, garlic, onion and jalapeno chile pepper. Drizzle with olive oil.
Checking often, broil 5 to 10 minutes, or until outsides of vegetables are charred.
Remove vegetables from heat. Remove and discard tomato cores, jalapeno stem and garlic skins.
In a food processor, coarsely chop the charred vegetables. Transfer to a medium bowl and mix in cumin, salt, lime juice and cilantro.
Food justice News

This Sunday, September 21 PEOPLE'S CLIMATE MARCH Organizers are projecting it will be the largest demonstration against climate change ever, with vibrant contingents of various sorts to call out our concerns and solutions to the climate crisis at our collective door.
Why now? On September 22, the UN is holding its next big Climate Summit and the leaders representing the major stumbling block to the past climate summits will be there: including and especially the U.S. Now's our chance to make our voices heard. We cannot be silent nor hopeful that others will represent us on this most important issue. The future is in our hands. Let's join together to let the world know that those of us in the US want to see a radical reduction in greenhouse gases, that we want to see a sane climate policy that will substitute renewables for fossil fuels, that will support local food systems and sustainable farming practices that conserve fossil fuels and sink carbon in the soil, and will create good jobs based on the needs of the people and the planet, not corporate profits. 

See you on September 21 at Columbus Circle (59th St. and Bway) in Manhattan!
Farm News
The essential work of caring for ourselves is more important than ever, so that we may all maintain the powerful work we are doing in the world.  Show up to each interaction with another human with our full selves.  What do you do to care for yourself?  Like rock cairns on the way up the foggy mountain, I strive to give myself short term goals along the way of a large project.  As you may well know, we have begun building of a new barn space.  Doesn't look like much yet, but there is a foundation!  With the completion of the foundation – my first cairn – I took a quick jaunt down to NYC to offer prayers of sweat, movement, connection and gratitude at my favorite dance gathering.  I am so grateful for all the hands that create that space, all the hands that care for the farm, children, animals, so that the realization of my own self-care can happen.
Dancing until 4 in the morning was all the rejuvenation I needed to return to a dedicated group of volunteers for our workday this past Saturday.  From familiar faces of my parents, to new friends, students from RPI, as always, our workdays bring together just the right group for the day.  The day held us in the hug of the cloudy sky as we transplanted hundreds of strawberry plants for our future strawberry patch, weeded and mulched the orchard, and started splitting our firewood.  I even taught Neshima to use a chainsaw!  Not to worry, while she proves to be competent at just about anything we throw her way, she will not be working with chainsaws with any regularity for at last a few years.  The cold and gloomy day did not deter our spirits, and the rains came just in time to usher us in to a warm home with food and community.
Leah has started working with colleague and dear friend, Jalal Sabur on writing new curriculum tying together food and prisoner justice.  We hope to be using this with our programming in the coming years as we continue to interweave all of these liberation stories.  I got to be a fly on the wall during the planning meeting, basking in the brilliance, but more than anything, passion, of these amazing souls.  I feel blessed to have collaborators with such fire.  Y'all are amazing!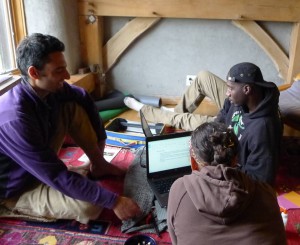 Leah also recently appeared on
Legacy of 1804
, a prominent talk radio show in NYC, to promote her farmer Haiti solidarity and healing project,
Ayiti Resurrect
.  I cannot find the exact radio show link, but check out the websites to learn more about this part our work.
Last week's newsletter was a big deal for us to share with you all.  And we were met with such incredible affirmation and support of our decisions about our sabbatical next year, and the big steps we are taking moving forward with this project.  When I write that "we could not do this work without YOU", I really mean it.  If you missed last week's newsletter, it is posted on our website
here
.
Finally, with my attention focused on expanding the infrastructure here on the farm, the farm has been largely in the hands of Capers, Crysbel and Lissa.  There is not enough gratitude to express the mountains of thanks that go out to this incredible crew who is responsible for harvesting, packing, delivering and caring for the food we grow.
Follow soulfirefarm