Conte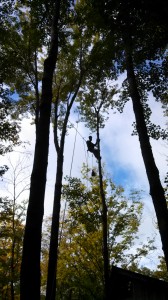 nts of Share
heirloom tomato mix (~3 pounds) – pinkish=brandywine, big red=cosmonaut volkov, small red=luci, yellow-orange=jubilee
green bell pepper
hot pepper mix – Thai hot/birdseye, cayenne (1 bag)
summer squash and/or zucchini (1-2)
brussel sprouts (7/8 pounds)
beet greens (1/3 pound)
lacinato kale (1 bunch)
collard greens (1 bunch)
carrots (1 bunch)
dill with heads (1 bunch)
dozen eggs or sprouts
ANNOUNCEMENTS
Final chicken processing of the year, September 21, 7:30am-1, followed by a hearty farm lunch.  We are looking for volunteers.  Please let us know if you are interested.
If you ordered chickens… Delivery of frozen birds will be coming with your share next Wednesday, September 25.  Please be prepared to freeze or refrigerate your birds immediately, or leave a cooler for us.  Those of you picking up can come to the farm anytime after 1pm.
We need volunteers to help put up our greenhouse.  Please email or call me to coordinate. (518) 229-1339
We are looking for your old bed sheets.  No more pillow cases please.  Any sizes. We harvest greens into clean, wet sheets for optimum freshness.  If you have ones you are getting rid of, we are happy to adopt them as long as they are not excessively ripped.
Fall Gathering for CSA shareholder and Soul Fire friends. Work morning and potluck.  Monday, October 14. 8-1: work time.  1-3: potluck lunch This is a day schools have off, so we thought we take the opportunity to invite you and your families to the farm for a morning of helping out with a project, and an afternoon potluck.  Meet some of the other folks that our food goes to. We will send out an email shortly with more details.
RETURN YOUR BOXES.  You can leave all these items where you get your share and we will retrieve them each week.
WASHING YOUR VEGGIES.  We do not extensively wash veggies before delivering them to you.  We will do some washing if there is a lot of dirt on greens and we always wash root crops.  In general, this allows the food to stay fresher longer.  It also means you need to wash your veggies before consuming them.  For greens: fill a bowl with cold water.  Soak greens in water for a minute.  Drain water and repeat two more times.  Dirt will rinse to the bottom.  Bugs should float to the top.
We are still looking for a delivery van for next season that will accomidate our continued expansion.  If you have any leads on something efficient, in decent shape, and affordable, please let us know!
If you are a shareholder, you have the option of volunteering 5 hours over the course of the season in exchange for an additional week of food in the fall.  Be in touch to schedule your work with us.
All of our newsletters are archived on our website, along with lots more, including educational resources and recipes.
Food Justice News – This is a beautiful feature interview Leah did for the Gastrognomes, the blog of Good Food Jobs, where we publicize our internship program.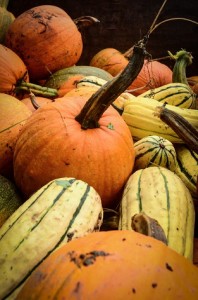 Leah's honesty takes our breath away. These days, even as the internet has allowed folks to pour their hearts out more freely than every before, nothing is more inspiring than hearing someone speak their truth. The real key to resonating with your audience is not only expressing honesty, but opening yourself up to vulnerability. Which is exactly what being a farmer means: doing what you love and being vulnerable to the earth.

When did you know that you wanted to work in food?
Being the only black kid in an all-white, rural town was tough. I found solace and meaning in my connection to the earth when the connection to peers was a source of disappointment. For as long as I can remember, I knew that I would grow up to become a "naturalist." Maturity helped that vision take a specific form. I am now an organic farmer and high school biology/environmental science teacher. I remember working for the
Food Project
as a teen farmer and feeling so grounded in that role – with so many uncertainties in our modern life, one thing that is certain is that a carrot seed will become a carrot and a carrot feeding someone is a good thing. I never stopped farming after that. Teaching at a high school allows me to connect many young people to the magic that is this living earth, as well as providing an income to sustain us as our farm grows.
How did you get your current good food job?
My husband and I created Soul Fire Farm from the bare earth. We purchased 73 acres in winter 2006 with the savings set aside from my teaching. There was no home, road, well, septic, and only 6 inches of topsoil. Over the years, we put in the hard work and tears required to build our solar, straw bale home and build the soil so it could sustain a crop. We are now in our 3rd market year, having doubled production each year. We have managed to stay "in the black" each year, with money to reinvest into infrastructure. In 2014, we look forward to being able to provide a modest income for two co-managers. 
How did your previous work or life experience prepare you for a good food job?
The essential requirement for being an organic farmer is grit. We are very hard working, hardy people who don't complain when the rain soaks through all of our layers of clothing and we still have hours of harvest left to go. It is hard to say what gives a person grit. In my case, a pretty rough childhood toughened me up and taught me self-reliance and the necessity of hard work to accomplish my dreams. My husband's childhood was gentler on him, but he is the only other person I have met who loves to work as much as I do – so, who can say?
What was the greatest obstacle you had to overcome in pursuing your Good Food Job dream?

I am my own biggest obstacle. My impatience, anxiety, and fear have been impediments to living fully actualized in each moment. I certainly have considered quitting – why work so hard for so little material gain? Why struggle when it seems like so many around us are relaxing and letting life pass by? Small windows into the difference we are making in the world have helped me persevere. A shareholder reminds us that if not for our vegetables that she bought with her SNAP benefits, her children would have nothing to eat. A child in residential foster care visiting our farm says, "Thank you for welcoming me into your home. No one has every done that for us before." My son hoes the soil to cover a furrow of lettuce seeds with great concentration and exclaims at the end, "This is a great day." That sustains.
What can you identify as the greatest opportunities in food right now?
The greatest opportunity in food right now is our apprenticeship program! (shameless self promotion here). Visit us at
www.soulfirefarm.com
. You will learn to farm, cook, live sustainably, and LOVE big.
If you could be compensated for your work with something other than money, what would it be?
Since I am not compensated in money, that is easy to answer. I am compensated with abundant, healthy, fresh food. Hard work in the elements that challenges me and makes me strong; meaningful connection with community and the Earth; the opportunity to pass on important values and skills to my children.
Recipe
– Zucchini Carrot Muffins (or bread)
Ingredients:
2/3 cup vegetable oil
2 large eggs
2/3 cup granulated sugar
1/2 cup light or dark brown sugar, packed
1 teaspoon vanilla extract
2 cups all-purpose flour (or substitute gluten-free equivalent)
1/2 teaspoon baking soda
1/2 teaspoon baking powder
1/2 teaspoon salt
2 teaspoons ground cinnamon
1 1/2 cups finely shredded unpeeled zucchini
1/2 cup finely shredded carrot
1/2 cup chopped walnuts or pecans
Preparation:
Grease and flour 12 muffin cups. Heat oven to 375°.In a mixing bowl, beat the oil with eggs, sugars, and vanilla extract.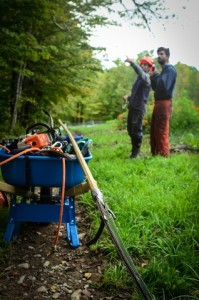 Combine the flour, soda, baking powder, salt and cinnamon; add to the wet ingredients; stirring until blended. Fold in the shredded zucchini and carrots.
Fill muffin cups about 3/4 full; sprinkle with cinnamon sugar or granulated sugar, if desired. Bake for 20 minutes.
Farm News
If this is shorter than normal, I apologize in advance.  I am so excited to get back outside to continue building our new greenhouse/high tunnel.  Its as if I'm brought back to my days as a child, spending hours in the tiny sunroom of my parents house, enduring the cold because there was no insulation in the walls, to assemble creation after creation of Legos.  I watch Emet do the same now, as if building with small plastic blocks is engrained in our DNA.  How the Lego corporation knew, I have no idea.  I haven't changed much, just the projects got bigger and with less instructions.  Timber framing and alternative green building has been a passion of mine that up until very recently I made a living at.  So, when I get a chance to put together a structure, my instincts kick in, and I am all systems go!
Our 5000 pound metal crate showed up last week containing all the parts to our 25×100 high tunnel that we will be growing winter retail crops and hot crops during the CSA season.  Under beautifully clear sunny skies yesterday, our farm crew, plus visitor Bill Kumpf, and shareholder Chritopher Messina struck a fine rhythm of laying out the foot print for the high tunnel, and assembling many of the 14 foot tall arches.  They lay in orderly piles awaiting their raising day, which will hopefully be this Friday.  If you would like to come help us this Thursday or Friday, or sometime next week, please let me know.
This means that this fall, winter, and spring we will be offering the first ever Soul Fire winter harvest.  We are planning to grow various salad greens, spinach, carrots, and scallions, and are also expecting our shitake mushrooms to be in production.  Fresh produce all winter!  Capers is primary project manager, so you can look forward to hearing from her in the coming months as produce is available.
Last week was also momentous, as we near completion of our first full season of our new soil fertility management.  Maybe this doesnt get you excited like it does us, but our lives are integrally intertwined with the health of our soil.  I guess maybe all of ours are, only so many people have lost sight of what it means to have healthy farmland to feed ourselves.  Why am I so excited?  We spread cover crops on fallow areas, followed by hundreds of pounds of micronutirents and amendments.  Cover cropping is a way to use specific plants to build soil fertility by adding organic matter and making beneficial nutrients available, such as nitrogen.  Cover crops also reduce erosion by holding soil in place with their roots, even after they have died.  We choose cover crops that will grow this fall, and then die in the cold of the winter.  In the spring they will be a light cover of rich mulch on top of beds that are ready to be planted in.  Eventually, they will be integrated to replenish and build soil for future plantings
Monday, while the farm crew harvested, shareholder and community activist, Andrew Lynn and I cut down some trees in preparation for renovating our barn into a woodworking shop this fall.  Some of the trees would have hit the neighboring buildings if we cut them down fromt he ground.  So Andrew put his skills to work, climbing trees with ropes and knots, and trimming them from the top down.  Consider adding that to your bucket list.  I know it's on mine.
On the home front, big shot out to Emet, who performed as a drummer to accompany Leah on trapeze for two shows at Soul Rebel Theater in Watervliet.  This was Emet and Leah's first collaboration, but I am sure only a first.  Thanks Jordan for being part of the drum crew too.  Soul Rebel theater was founded by Jean-Remey Monnay, an exquisitely enthusiastic, bright soul and Haitian native, to be a theater and performance space for people of color and youth.  And finally, Alicia has been away in Montana this week interviewing for a community organizing job that starts later this fall.  And she got the job!  We miss her even when she's gone for a few days, and look forward to her return tonight.
Follow soulfirefarm