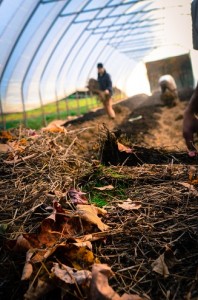 Contents of Share
tomato mix (~2 pounds)

hot pepper mix – Thai hot/birdseye, cayenne or Jalapeno (1 bag)

brussel sprouts (3/4+ pound)

red chard (1 bunch)


collard greens (1 bunch)

celery (1 bunch)

fennel or chinese cabbage


garlic (2-4 heads)

pumpkin or butternut squash (1-2)

dozen eggs or sprouts

ANNOUNCEMENTS

Fall Gathering for CSA shareholder and Soul Fire friends. Work morning and potluck.  Monday, October 14. 8-1:

work time.  1-3: potluck lunch

This is a day schools have off, so we thought we take the

opportunity to invite you and your families to the farm for a morning of helping out with a project, and an afternoon potluck.  Meet some of the other folks that our food goes to. We will send out an email shortly with more details.

RETURN YOUR BOXES.  You can leave all these items where you get your share and we will retrieve them each week.

WASHING YOUR VEGGIES.  We do not extensively wash veggies before delivering them to you.  We will do some washing if there is a lot of dirt on greens and we always wash root crops.  In general, this allows the food to stay fresher longer.  It also means you need to wash your veggies before consuming them.  For greens: fill a bowl with cold water.  Soak greens in water for a minute.  Drain water and repeat two more times.  Dirt will rinse to the bottom. 

Bugs should float to the top.
We are still looking for a delivery van for next season that will accommodate

our continued expansion.  If you have any leads on something efficient, in decent shape, and affordable, please let us know!


If you are a shareholder, you have the option of volunteering 5 hours over the course of the season in exchange for an additional week of food in the fall.  Be in touch to schedule your work with us.

All of our newsletters are archived on our website, along with lots more, including educational resources and recipes.

Food Justice News
Highlight this week on the Detriot Black Community Food Security Network
, a grassroots, community based group working towards
building a truly just world through community, culture and food.  I have included their mission here, but check out their website for more inspirational reading on their work, including recently recieving a multi-year Kellog grant.
DBCFSN Mission
DBCFSN works to build self-reliance, food security and justice in Detroit's Black community by influencing public policy, engaging in urban agriculture, promoting healthy eating, encouraging cooperative buying and directing youth towards careers in food-related fields.
DBCFSN's Vision DBCFSN's vision is to advance movement towards food sovereignty while advocating for justice in the food system that ensures access to healthy foods with dignity and respect for all of Detroit's residents.

Love: Love is the force that motivates our work. We love and are committed to black people in particular and humanity in general. We love and are committed to Detroit. We are striving to create healthy individuals, relationships, and communities.

African Self-Determination: We believe in and work to promote self-reliance, collective work, cooperative economics, and self-governance among African people. Towards those ends, we value and encourage initiative and purposeful work, be it manual or intellectual.
Integrity: We are working on behalf of our communities. In our organizational practices, we therefore strive to create transparency and a culture of critique. We are committed to acting in a manner that is principled and honest.
Justice: We believe in and work to promote racial equality, class-consciousness and gender equality. We are committed to fighting injustice and building community models of justice. We uphold good food as a human right.
Respect for Life and Nature: We honor and respect spirit, life and nature. We have the responsibility of good stewardship of the land and water.
Sustainability: We value and are developing an organizational culture of learning, growth and youth development. That culture is future focused, but informed by history. We advocate for human systems (food, energy, etc.) that are just, regenerative and earth friendly.

Recipe – Fermented Hot Sauce – Airlock Method

This recipe comes from blogger and share holder Gina Martin.  If you love hot sauce and you love fermented foods, then this is a must to try with the chilis in your share!  I have never used airlocks with live fermentation, but Gina certainly makes me want to.  This entire post as well as her pictures of the process can be found here.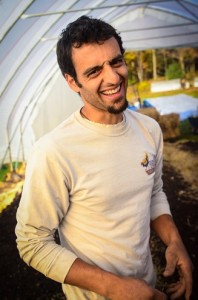 Last year I experimented with various veggie lacto-fermentation projects, like kimchi and pickles. I also ran a test to see if I could come up with a decent sriracha, and found the results exceeded my expectations. This year, I decided to try out using an air lock, instead of worrying about ziploc baggies filled with brine, or weights, or other pesky workarounds to keep oxygen out of the ferment. Once you try an airlock, you'll never want to go back to the other way – the fact that there's no spillage and leaking from the expansion of the brine over the rim of the jar is worth the minor hassle of tracking down the equipment. You also can get away with using much less salt, since no oxygen will be creeping in and causing mold. What's not to love?
The Equipment
There are a few different ways to approach using an airlock fermentation system at home. The first, most elegant, and most expensive, is to purchase the Pickl-It jars, which use all-glass Fido canning jars with a bail top and have a food-safe grommet lined hole in the top glass lid for an airlock. These are really nice, and should hold up for years with basic good sense and care.
If you want to save a few bucks, you can also try out the method outlined by Northwest Edible Life – use a ReCap lid with a #6 drilled rubber stopper for the spout opening to hold the airlock. This is the way I did things for some larger batches, and it worked beautifully.
Another option, which I'm using for a teeny-tiny batch of super hot ghost pepper sriracha, is to use a drilled rubber stopper with an airlock in a glass milk bottle. I stole the idea from Mr. Dave at the Ridiculous Food Society of Upstate New York's tweet about this year's pepper sauce making. It's simple, and quick to set up if you already have a bottle or two lying around. A size 7 ½ stopper worked on the bottle I used, but to be sure, you may want to bring your bottle to a brew store and try out a few different sizes in person.
If you are in the Albany NY or Boston MA area, I highly recommend the Homebrew Emporium for airlock and stopper supplies. I use the s-shape airlocks, but other people prefer the two part kind as they're easier to clean. I find the s-shape ones to be more cat proof, and I need all the backup I can get since I'm plagued by three felines who are incredibly nosy.
The Brine
For a 2% salt brine, use 5 grams kosher salt per 8 oz filtered water. I also like to add some sugar to kick start fermentation, at least a teaspoon, up to a tablespoon per 8 oz salt solution.  Pickl-It has a terrific calculator to figure out salt amounts to get different percentage concentrations if you want to experiment.
The Technique
Simplicity itself. Just round up your peppers, garlic and other fruits you may want to experiment with, slice and dice, toss in the jar and cover with brine. My favorite mild sauce this year has used 2 peaches, with the skin, about a pound of sweet red peppers, half a head of garlic, a couple of green jalapeños and a handful of red Thai bird chilis. You don't need to worry much about proportions, and there's a lot of wiggle room with pepper choices. My only caveat is to stick to mostly red ones, like ripe jalapeños, the Thai bird peppers, red or orange habaneros, and the like. In my experience, red Hungarian wax peppers and cayenne peppers made a gross, bitter, nasty hot sauce that was an abomination. Learn from my fail!
Once you've poured in your brine to cover by about a half inch to an inch, just close up the lid, set up your airlock and let things percolate on the counter, or in a dark cupboard. You'll see things get puffy, and there will be some separation of the veggies from the brine, but that is fine.
Fermentation takes a couple of days to get started on most kitchen counters at room temperature. You'll see the bubbles, and then the airlocks will start really chugging along. I let mine go for at least a week, more if we can hold out.
Making the Final Sauce
When you are ready for sauce time, strain out the veggies and reserve the excess brine. I like to puree the peppers directly in the jar (works if you use a hand blender in a wide mouth Mason jar), and add any brine if it seems too thick. This is purely up to you – some people like a really watery tabasco style sauce, while others, like myself, prefer a thicker one like sriracha or harissa.
If you want to be able to cap your sauce tightly in the fridge, you should heat it up in a non-reactive saucepan to about 170 degrees to kill off the active lacto bacteria and stop fermentation. Otherwise, if you put a ReCap on it, thinking it'll be a great pourable sauce, it may explode in your fridge once pressure builds up. Guess how I know! I prefer to keep the good bacteria alive, so NOW I just make sure not to seal the caps tightly. Living and learning! All versions, pasteurized or not, should be stored in the fridge.
Farm News


We planted the high tunnel.  Yay for us.  That's right.  Over 2000 square feet of greens, spinach and carrots speeding towards the sky, anxiously drinking up water and the fleeting fall sunlight.  We are so excited to have this new space to gorw throughout the winter and get a jump start on so many other crops spring.  The hihg tunnel will also allow us to up the quality of our peppers and tomatoes.
This week also was a fun farm field trip to the recording studios of WMHT.  All of us farm workers, Emet and Neshima joined the studio audience to watch Leah expound her educational wisdom in the recording of the TED talk inspired show WMHT Talks Education.  Leah was showed up with all of her phenomenal self, inspiring all those around her.  Check out the photo of her in the studio on the panel of speakers.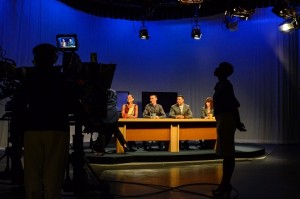 This Saturday is the 20th anniversary of the inauguration of our neighbor, the Grafton Peace Pagoda.  The Pagoda is a mile and a half away from our farm, yet brings a worldly presence of healing, justice, and diverse international community to our small corner of the world here in Grafton.  It was established by Jun Yasuda, affectionately known as Junsan, as a Buddhist temple and sacred pagoda.  Junsan is of an order of Japanese monks, the who literally walk, all over the world, pray, and work for peace.  Junsan's focus has been working with indigenous people of this land and intertwining her liberation stories with theirs.  Junsan has walked all over the world, including this country countless times, Europe, India and many parts of Asia, and one walk in particular that struck me as profound beyond measure, from Auschwitz to Hiroshima.
Over the years, our contact with the Pagoda has been intermittent and amicable, yet with a deep mutual support and understanding of each others work as liberatory.  We have supported the Pagoda when we can, participating in annual gatherings for peace, Buddha's birthday, and and healing ceremonies commemorating Hiroshima and Fukushima.  I have sat with Junsan in Lakota sweat lodge, immersed in the intensity of prayer.  We have also regularly hosted peace walkers that join Junsan on her walks.  We often strongly suggest that people visiting the farm take the time to visit the Pagoda.
For those of you that know the Junsan, you know that she will make you feel like the most special person in the world, dropping everything to bow three times to you, pray with you in the temple, and offer tea and crackers.  While Junsan lives a very simple life, depending on the unsolicited contributions of food, goods, and building materials, I found it futile to try to refuse her offerings, and almost inevitable leave with arm loads of food, insence, oragami peace cranse, and buttons.
This year is different. The ties between our farm and the Pagoda have strengthened significantly.  Many people working with us are regular visitors to the Pagoda, some residetns of the Pagoda have come to regularly volunteer on the farm, and we have staerted sending a box of food each week for Junsan and the other residents.  This has only intensified Junsan's already fiery generosity, as we now have Pagoda representatives arriving weekly with bowls of fresh made apple sauce, watermelons, rice balls, and vegetable rolls.  I am deeply humbled by the care, respect and attention that Junsan gives us.  Emet now asks, "Can we go visit Junesan's house?" and proudly displays his "No More Fukushima" button stating, "One small step."  This mountain top of Grafton has a special feel to it, one that I can only assume has to do with the decades of powerful healing energy that Junsan and the creation of the Peace Pagoda has brought.
Here is the invitation to the anniversary this Saturday, and even if you are not planning on coming, a piece of poetry worth reading.  All are wecome!
Since we first came to this land we have seen many snow-filled winters, many springs sweet with apple flower blossoms, and many autumns filled with the brilliant red of the changing maple leaves. Our lives too have seen many changes: children we knew as babies now have babies of their own; many of you are now grandparents who were young men and women when we first met.


All through those years we have organized countless peace walks, walking the earth and praying together for peace.  For nine years leading up to the completion of Grafton Peace Pagoda, so many neighbors, fellow peace walkers, and friends from around the world came to help with the construction. We worked together as one, using recycled wood and mixing concrete by hand, and the Peace Pagoda was finally inaugurated in 1993.   We will celebrate the 20th anniversary of our beloved Peace Pagoda at 11am on Saturday, October 5, 2013
In the 20 years since the inauguration, we have welcomed visitors from all over the world. People of all different faiths and ancestries have joined with us here for countless ceremonies and commemorations. Every day, friends come and go like the breeze.Twenty years also marks the cycle of one generation. As a new generation comes of
age, we want to transmit our message of peace to them and share the story of how the Peace Pagoda arose on this land. We invite you to join us as we celebrate the 20th Anniversary of Grafton Peace Pagoda together.

Bowing Three Times,
Jun Yasuda  
"Unless the United States is reformed peacefully, peace will not come to the world. As
the original inhabitants of this country, First Nation Peoples have a responsibility to
help change America's pattern of mistaking power for justice, which has created a
dishonorable history. As victims of the atom bomb, Japanese people also share this
Karmic responsibility to help change the way of thinking of the United States at this
time when humanity faces annihilation. Thus, we must join with First Nation Peoples
to open a new path of existence for the United States—a peaceful and sacred way
of life for all humanity. Let us rise together."              
                                    —(Venerable Nichidatsu Fuji, August 12, 1978)
Follow soulfirefarm