Contents of Share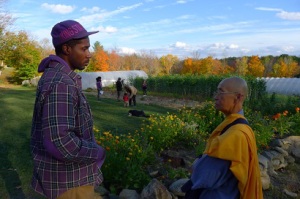 spinach (6 oz)
Red Russian or dino kale (1 bunch)
collard greens (1 bunch)
parsnips (1 bunch)
parsley or cilantro (1 bunch)
delicata winter squash (1 fruit)
yellow storage onions (3 bulbs)
red onions (1-2 bulbs)
tomatoes (1-2 red and/or yellow)
tomatillos or cherry tomatoes (1 bag)
hot peppers (5-6 cayennes, jalapenos or poblanos)
bell peppers (5 fruits)
Easter egg radishes (1 bunch)
optional: dozen eggs and/or sprouts
ANNOUNCEMENTS
We also have extra produce available for sale for general sales.  We can deliver if you are in our delivery route:
potatoes $1.75/pound
onions $1.75/pound
kale $3/bunch
cabbage (coming up in a few weeks) $3/pound
The official final distribution day is October 29.  That means 2 more weeks. We want to extend the abundance of the season to you, so are offering an extra week of shares, November 5.  The cost is your standard weekly charge.  If you have contributed 5 hours of time to the farm this season then this extra week is on the house.
Soul Fire handcrafted calendula-comfrey salve made with olive oil, beeswax and our own naturally grown herbs. Ample 4 ounce jars for only $9 (50% of retail). Show some love to your skin as autumn air advances. Free delivery with your CSA share on October 22 and 29. Order ahead. Limited availability.  Sign up form here.
We are retiring our current 18 months old laying hens, and offering them at $5 per bird.  Available first week in November.
Please read about our plans for Sabbatical next year in Newsletter #13, as we take the time to do some powerful reflection and development our organization, infrastructure and international networks of solidarity with farmers.
COMMUNITY WORKDAY/SKILLSHARES.  Last one of the season.  October 25 – garlic planting, firewood, building stone retaining wall, prepping high tunnel for spring planting.
Please RETURN YOUR BOXES.  You can leave them where you get your delivery. If you break them down, please make sure not to tear or bend any of the tabs, or just leave the assembled box for us and we are happy to break it down.
WASHING YOUR VEGGIES.  We do not extensively wash veggies before delivering them to you.  We will do some washing if there is a lot of dirt on greens and we always rinse root crops.  In general, this allows the food to stay fresher longer.  It also means you need to wash your veggies before consuming them.  For greens: fill a bowl with cold water.  Soak greens in water for a minute.  Drain water and repeat two more times.  Dirt will rinse to the bottom.  Bugs should float to the top.
All of our newsletters are archived on our website, along with lots more, including educational resources and more recipes.  Thanks!

Food Justice
Food Sovereignty is the solution to World hunger
The US Food Sovereignty Alliance Brings Leaders from the Frontlines in the Fight for Food as a Human Right to Iowa to Receive Global Food Sovereignty Prize.
 
Des Moines, IA – The US Food Sovereignty Alliance will bring the Union of Agricultural Work Committees (UAWC) of Palestine and Community to Community Development (C2C) of Bellingham, WA to Des Moines, Iowa to receive the 2014 Food Sovereignty Prize for their courage and commitment to community-led efforts to end injustice in their communities, at a ceremony to be held on Wednesday, October 15th at 7 pm CDT.
Representing communities whose human rights to food, land and life are in constant violation – farming and fishing families in Palestine's occupied West Bank and Gaza and indigenous Mexican immigrant farm worker communities in Washington State – these two organizations are being honored for their work to reclaim their human right to food through food sovereignty, the democratic recognition of full human rights, and for their commitment to the leadership of those most impacted by the policies that produce hunger.
"These organizations represent communities fighting for their rights and against the forces that make their struggles invisible. The Food Sovereignty Prize shows how food sovereignty is the path toward a just society," said Kathy Ozer, National Family Farm Coalition, member of the US Food Sovereignty Alliance.
By honoring these two distinguished organizations, the US Food Sovereignty Alliance and its 32 member organizations reaffirm that food sovereignty is the solution to end structural inequality and violence expressed in hunger and poverty and debunk the myth that growing more food will end hunger.
UAWC, a Palestinian small farmers' movement, was formed in response to the socio-political conditions that Palestinian farmers were facing and now continue to face. Because of Israeli occupation policies, Palestinian farmers are unable to sell produce at markets, cannot access the sea to fish, and face the confiscation and destruction of their land and water to make way for illegal settlements. Besides working for recognition of Palestinians' rights to food, UAWC also builds solutions in the communities, from seed banks to cooperatives to extension services for farmers, works for the rights of women, and coordinates humanitarian relief.
C2C, a food justice solidarity organization, is "led by women of color that have lived the reality that U.S. history reveals; that people of color, women, and poor and low income communities have been excluded from the promise of 'life, liberty and the pursuit of happiness' so eloquently expressed in our great country's Declaration of Independence." In particular, C2C works with migrant farm worker communities in Washington State whose families are indigenous to Mexico with deep agricultural traditions. They are using their skills, knowledge, and culture to produce food for the U.S., but face the structural violence of deportation, detention, firings, and poverty and whose rights to food, land, freedom, and respect are constantly violated.
"The honorees of this year's Food Sovereignty Prize should remind people that, as the farm labor leader Cesar Chavez said, 'Our struggle is not about grapes or lettuce, it is about people,'" said Alison Cohen, WhyHunger, member of the US Food Sovereignty Alliance. "This year's honorees also remind us that hunger exists because of an unjust food system that denies communities their basic human right to food, land and a living wage, not because people don't know how to grow crops or aren't working."
And there are hundreds, thousands, and millions of communities and organizations facing the same threats as UAWC and C2C.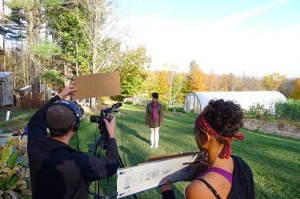 With a handful of international agribusinesses controlling 75 percent of the world's seeds, 20 percent of the world's food retail, and over 50 percent of the world's livestock, the almost 1 billion people that the United Nations estimates to be hungry are suffering because their livelihoods as food producers are in constant threat by land and water grabs and the corporate consolidation of seeds and fishing rights – not because the world isn't producing enough food.
"The goal of the Food Sovereignty Prize is to elevate the issue of self-determination and to bring public attention to grassroots struggles defending community autonomy. We all need to express our opposition to violent military occupation and corporate resource grabbing whether it occurs in Haiti, Palestine or Tanzania, as well as closer to home in south central Los Angeles, Detroit, or indigenous territories across the Great Lakes. These critical social justice and human rights issues are quite ignored by the 'powers that be' which created the World Food Prize," said John Peck, Family Farm Defenders, a member of the US Food Sovereignty Alliance.
The USFSA represents a network of food producers and labor, environmental, faith-based, social justice and anti-hunger advocacy organizations. Additional supporters of the 2014 Food Sovereignty Prize include Iowa Citizens for Community Improvement, the Women's International League for Peace and Freedom – Des Moines, Occupy the World Food Prize, and the Small Planet Fund, along with media sponsor EcoWatch.
The Food Sovereignty Prize ceremony will be held on October 15th in Des Moines, Iowa, at the Iowa Historical Building at 7 pm Central Time. For more information about the ceremony, event updates and registration, background on food sovereignty and the Food Sovereignty Prize winners, visit www.foodsovereigntyprize.org. Also, visit the Food Sovereignty Prize on Facebook (www.facebook.com/FoodSovereigntyPrize and https://www.facebook.com/events/1551480955073500/), and join the conversation on Twitter (#foodsovprize).
Recipe – Sarah P's Ground Nut Stew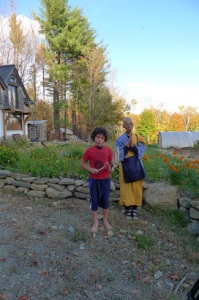 Ingredients
1 cup chopped onions browned in oil (coconut, safflower, or ghee)
1 head garlic
3 cups of fresh tomatoes (or 1 1/2 cup tomato sauce)
2-3 cups water or stock
2 cups of cubed sweet potatoes (or sweet winter squash)
1/2 cup peanut butter – mix with warm stock separately then add
1 tsp cumin
1 1/2 tsp coriander
dash of black pepper
salt to taste
Directions
Combine ingredients in soup pot and simmer until sweet potatoes are soft. Serve with rice and optional toppings… fresh diced onions, fresh diced tomatoes, toasted coconut, boiled eggs, oranges, bananas.
Farm News
We had so much fun filming for Soul Fire Farm's first crowdfunding video last Saturday.  Deeply grateful to shareholder and friend Andrew Lynn for holding down the filming and technical expertise.  Our dear friend Terressa, who, in addition to bringing high quality mics from NYC, is a professional sound engineer, and has quickly become a huge Soul Fire supporter since her participation at the first Immersion program this summer.  The many people who came out on the beautiful fall day to be part of our of this step towards building a just food system.  For your dedicated filming, truth-telling, praying, and laughing with us.  Junsan even came out despite her discomfort with reading cue cards in English.  After deciding we did not have time to translate our mission statement into Japanese for her to recite, she said, "Good English lesson for today."  She's always good for laugh.  We decided it would be most appropriate for her to offer her prayers for the video that she has offered around the world.  She offered prayers for the land.  She offered prayers for the ancestors.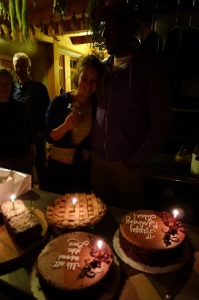 We also had the honor to host Lissa's birthday party.  If you are looking at teh photos and are like, "Wow! That's a lot of cakes!"  Well, that is what Lissa asked for and probably the only thing that could even come close to her won sweetness.  We also said our farewells to Crysbel, after being with us since late May.  Crysbel was a powerful presence on the farm.  She not only worked her butt off, but also brought a fierce commitment to earth liberation, her poetry and writing, Dominican cuisine, and connection to the land and broad ranging social movements, from NYC to Mexico to Texas to Oklahoma.  We are ever grateful to Crysbel for dedicating her past three and half months to building this project with us, and will keep learning from our experience together.
Also, please note that we are offering an additional produce for sale at wholesale costs, and an optional additional share delivery on November 5 for your standard weekly charge.  If you are not a current shareholder but are interested in sharing in any of this abundance, please let me know, and we will try to accommodate your order.
Follow soulfirefarm