Contents of Share
broccoli or cauliflower (2-4 heads) or zucchini (2 pounds)

red russian or winterbor kale (1 bunch)


easter egg radishes (1 bunch)

daikon radish (1-2)

salad mix (.8 pounds)

buttercup or butternut winter squash (1-3)


sweet potatoes (2 pounds) – Our first try at growing these delicacies.  Just a taste for you, but oh, so good!

onions (3-6 bulbs)

garlic (2-4 heads)

dozen eggs or sprouts

ANNOUNCEMENTS

Soul Fire Fall/Winter Offerings – Eggs, sprouts, salad greens, spinach, and maybe even shiitake mushrooms, carrots, scallions, and radishes.  Sign up here for your regular delivery of food from Soul Fire starting in November and running through March.  First come, first serve basis.  Some items are limited.
RETURN YOUR BOXES.  You can leave all these items where you get your share and we will retrieve them each week.

WASHING YOUR VEGGIES.  We do not extensively wash veggies before delivering them to you.  We will do some washing if there is a lot of dirt on greens and we always wash root crops.  In general, this allows the food to stay fresher longer.  It also means you need to wash your veggies before consuming them.  For greens: fill a bowl with cold water.  Soak greens in water for a minute.  Drain water and repeat two more times.  Dirt will rinse to the bottom.  Bugs should float to the top.
We are still looking for a delivery van for next season that will accommodate our continued expansion.  If  you have any leads on something efficient, in decent shape, and affordable, please let us know!


If you are a shareholder, you have the option of volunteering 5 hours over the course of the season in exchange for an additional week of food in the fall.  Be in touch to schedule your work with us.

All of our newsletters are archived on our website, along with lots more, including educational resources and recipes.
Recipe – Sarah's Ground Nut Stew
1 cup chopped onions browned in oil
(coconut, safflower, or ghee)
1 head garlic
3 cups of fresh tomatoes (or 1 1/2 cup tomato sauce)
2-3 cups water or stock
2 cups of cubed sweet potatoes (or sweet winter squash)
1/2 cup peanut butter – mix with warm stock separately then add
1 tsp cumin
1 1/2 tsp coriander
dash of black pepper
salt to taste
Combine ingredients in soup pot and simmer until sweet potatoes are soft. Serve with rice and optional toppings… fresh diced onions, fresh diced tomatoes, toasted coconut, boiled eggs, oranges, bananas.  For extra protein, soak chick peas for 24 hours, food process, and add to stew for 30 minutes.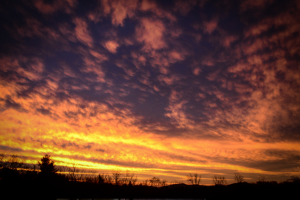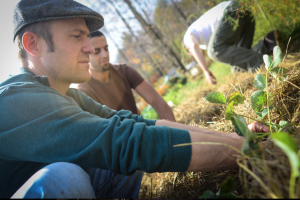 Farm News
I cannot express enough gratitude for all of you who were part of the magical work party on Monday.  Yes we accomplished so much, but moreso, the support, excitement and community is powerful beyond measure.  It must have been you all that brought the magic.  The skies were supposed to be cloudy with showers.  They were sunny and clear.  Our list seemed overambitious.  We checked most everything off the list, especially the biggest projects.  We were suppose to end work at 1.  Some of us worked well past without notice.  We massively expanded our strawberry patch.  By almost three times, actually.  Removed all the tomatoes and trellising.  Setup hoops for winter low tunnels full of greens and spinach.  Spread compost on hundreds of feet of beds.  Probably moved close to 20 cubic yards.  And all that before a delectable potluck lunch.  Lounging on the green grass in the low fall sun.  New faces and familiar faces.  All ages.  Many walks of life.  We have been building community around this farm for several years, and Monday was a powerful affirmation of what that means.  Some folks have been coming to the farm regularly to help out this season.  Some for the first time.  We have found eachother and meet to share and work together that is nurturing and fulfilling   I like to say that each person that sets foot on this land is part of the story here and our story is constantly being written.  Each person leaving their own unique piece of this great novel!
With the regular CSA season coming to a close after next week's shares, I want to take this moment to unabashedly solicit donations from you.  We deeply believe in the work we are doing at Soul Fire as a farm and organization.  Everything we do was built from scratch.  This house was not here.  This farmland was barren of nutrients from many generations of unsustainable farming practices.  The road you drive in, the high tunnel, hoophouse, the walk-in cooler, the barn.  But even all the physical aspects of this farm seem meager compared to the people who fill these spaces.  They are what makes this place resound so deeply in our hearts, and drive us to keep creating.  We are fueled by passion and great food, but what we do also takes significant financial resources.  In the coming years we will continue to expand our free youth and apprenticeship programs, increase the number and reach of our farm shares, produce food year-round, and host more reflective retreats for organizations to grow and mature intentionally and sustainably.  If you are a shareholder, you are integral to this place, and could not do this without you.  If you feel the food you have received over the course of the season is worth more than you paid, or you want to contribute to support the furthering of our work, please consider making a donation.
You can donate directly to the farm, which means we get all of the money, and you know we will make ever penny count.  Or, you can make a tax deductible donation through the Social justice Center, who acts as our fiscal agent, and we get 90% of your donation.  Social Justice Center, 33 Central Ave., Albany, NY 12210.  All checks should be made out to Soul Fire Farm.
Abundant gratitude to you all for writing this evolving story together.
Follow soulfirefarm