green string beans (1/2+

pound)

yellow string beans (1/2+ pound)

cucumbers and/or Japanese cucumbers (3-5)


lacinato kale (1bunch)

broccoli (1-2 florets)

beets (1 bunch)


celery (1-2 heads)

carrots (1 bunch)

lettuce (2-3 heads)

salad mix (1/2 pound)


sweet or lemon basil (1 bunch)

scallions (1 bunch)

dozen eggs or sprout mix (green lentil/mung bean and french lentil/zesty mustard mix)

Please RETURN YOUR BOXES, JARS, BAGS and clean egg cartons.  You can leave them where you get your share and we will retrieve them each week.


WASHING YOUR VEGGIES.  We do not extensively wash veggies before delivering them to you.  We will do some washing if there is a lot of dirt on greens and we always wash root crops.  In general, this allows the food to stay fresher longer.  It also means you need to wash your veggies before consuming them.  For greens: fill a bowl with cold water.  Soak greens in water for a minute.  Drain water and repeat two more times.  Dirt will rinse

to the bottom.  Bugs should float to the top.

We are still looking for a delivery van.  If you have any leads on something efficient, in decent shape, and affordable, please let us know!

If you are a shareholder, you have the option of volunteering 5 hours over the course of the season in exchange for an additional week of food in the fall.  Be in touch to schedule your work with us.

Pasture raised poultry for mid summer and fall is available for pre-sale here.

Remember that you are always welcome to visit socially and/or to volunteer. Give a call to schedule a time.

All of our newsletters are archived on our website, along with lots more, including educational resources and recipes.

Food Justice News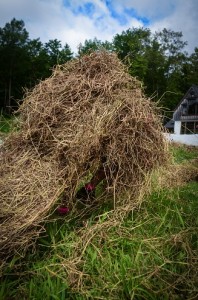 Youth Nationwide Declare Violation of Rights from Farm to Table
Hundreds Rally to Demand Policies Promoting Fair, Local, and Healthy Food
When: Saturday, July 27, 2013 at 4:15 pm
Where: Mercado la Paloma, 3655 South Grand Ave.
(LOS ANGELES – Saturday, July 27) A network of youth leaders representing more than 30 communities throughout the U.S. will rally for a press conference to call for a transition to a food economy that upholds their rights to healthy, affordable, and sustainable food. Part of the annual Rooted in Community leadership summit that entails trainings in permaculture farming, social enterprise, advocacy, and creative messaging, the Summit will culminate with a press conference. Young leaders will demonstrate their personal transformation through creative arts performances, music, street theater and poetry. Those attending will be invited to grow the Youth Food Bill of rights campaign in their communities. Youth presenters will shine light on the rights violation in their communities and will declare their commitment to understanding (research) the issues and addressing them (action) through a community-led research praxis.
The Center for Disease Control predicts that 50% of children of color born this decade will develop diabetes in their lifetime. Experts say that these astounding rates are due to a disparity in access to affordable, healthy foods. Many of the youth involved in creating the Bill say that they can not even access healthy food in their schools. "Without nutritious food at school, we can't perform. Then we get into trouble" says 16-year old Solomon Potter of Los Angeles-based Community Services Unlimited..
The Youth Food Bill of Rights declares rights to fair, local, and healthy food for all schools and communities, while demanding a halt to the use of genetically modified organisms and pesticides. The bill affirms their rights to be a part of a fair and sustainable food system that is supportive and nourishing for consumers, socially disadvantaged farmers, farmworker families, and all food chain workers.
"We urge you to take action in order to convince Congress that these issues are important and that we need an equitable and sustainable Food and Farm Bill." Ayisah Yusuf, Rural Coalition DC. The youth are calling on Congress to revamp food policies in light of the recent $19 billion cut to nutrition assistance and education programs. Each of the youth leaders are striving to change the conditions in their own communities by reversing trends of obesity and diabetes through gardening, farmers markets, and increasing access to affordable, healthy food. "As youth, we are on the frontlines of our broken food system – that's what motivates us to make real change. Like all movements for justice in our country's history, we believe youth are the catalyst for systemic change", says 20-year old youth organizer and 2012 Brower Youth Award winner Maya Salsedo from Oakland, CA. Alongside thousands of youth across the nation, Saturday's youth presenters have taken the issues into their own hands; now they are urging elected officials and community members to join them in creating an equitable food system.
For more info: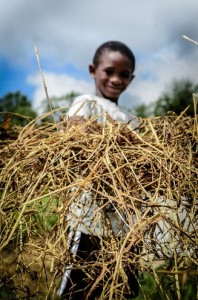 Recipe – Quick Vinegar Pickles

1 cup distilled white vinegar
1 tablespoon salt
pickling mix
2 cups sugar (optional)
6 cups sliced cucumbers
1 cup sliced onions
4 whole cloves garlic
hot pepper(optional)
In a medium saucepan over medium heat, bring vinegar, salt, spice mix and sugar to a boil. Boil until the sugar has dissolved, about 10 minutes.
Place the cucumbers, onions, garlic, and hot peppers in a large bowl. Pour the vinegar mixture over the vegetables. Transfer to sterile containers such as glass canning jar, tightly cover with lid, and store in the refrigerator.
Ready after 24 hours, but they will get better with time.  Taste them periodically to see how you like them.
Farm News

Sometimes I sit down for this brief moment to reflect on the past week of happenings and blessings on the farm and cannot believe that yet another week has passed – with all its fullness and surreal groundedness in connecting with mama earth.  So it would seem ironic that this first reflection is about our time in Harlem this past weekend.  A huge loving shot out goes to Leah's sister, Naima, and her artistic partenr Alixa Garcia, who together make up Climbing Poetree.  We were honored to be part of their historical 10th anniversary celebration at the National Black Theater in Harlem this past Saturday.  We gathered with our blood and chosen families to celebrate what these women have brought into this world.  Using their creative expression to build towards healing this world, and birthing a new reality from a place of love and abundance.  Their work as multimedia poets, hip hop artists, visual artists, teachers, authors has brought them all over the world, through multiple tours, collaborating with people such as Vandana Shiva, Angela Davis, Cornell West, Dead Prez, and so many more.  The evening was an elevating experience for all who were there, and all kicked off with the breathtaking aerial poetics of Leah on trapeze.  Surrounded by 200 people, candles, white cloth with backdrops of calabash and etched glass.  Never have I seen Leah perform to complete silence.  As if we were all in prayer together at this shrine of gratitude, awaiting a culminating AMEN at the end.  The evening continued to build with music, poetry, and even a fashion show of their hand made fashion line.  And yes, Leah and I did walk the runway.  Here is a video of her collaborative performance.
Why share all this with you?  Well, because this is our family.  This is the close Soul Fire family that we share, and feed to and from.  That we move through this world and the work we do with mutual inspiration for those around us, spreading love with every moment and movement.
So with tired eyes but nourished spirits we welcomed three groups of young people this week.  Monday, Gardening the Community from Springfield, MA came for thie rsecond visit to Soul Fire.  Such a joy to host a group that is doing real food justice work in their community with a critical eye and the abiolity to work.  We harvested all th onions and hung them for curing, cooked lunch together, ate lunch together, of course, and made our own television commercials for healthy foods.
Tuesday, yesterday that is, we welcomed our unexpected youngest group of little people we have had.  A group of 5-7 year olds from the Albany Boys and Girls Club joined us for the morning and part of the afternoon.  We scrapped the curriculum for 10 year olds that we had planned, and watched Leah work her educator magic on the fly.  First, each child sat in a spot in nature for 15 minutes.  The enthusiasm of young people is so vibrant and palpable, still so close to their instinctual connection to nature.  Upon seeing that many of us here on the farm were not wearing shoes, they kicked off their own shoes and socks and sat, silent, taking in the different  feelings, sights, smells and sounds that nature has to offer them.  While silence does not always come easy to 5-7 year olds, these young people were ushered into the space that we hold here.  None of them had prophetic verse to share after their time sitting with nature, but to set this time apart from the sights, sounds, smells, and feelings of the city.  We hope that they carry this with them through their lives as a piece of who they are, as connection to nature and land is in all of our blood.  We shared raspberries with them, and literally tackled a giant 5 foot diameter hay bale until it disappeared into mulched patheways and bed coverings.  Never have I seem a hay bale disappear so quickly and with such delight.
Finally, the Albany based Youth FX crew visited Soul Fire for part of the day.  Youth FX has a historical year themselves, with 28 young people taking part in their summer programming.  One of the eight films they will be producing this session is on food justice – an idea by and from the youth participants.  We are honored to be part of such dynamic programming and creativity.  Cannot wait to see the film!
Follow soulfirefarm