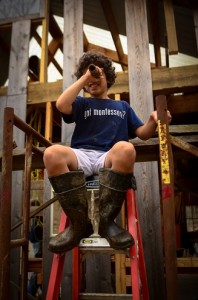 CONTENTS
Farm news
Announcements
Farm News
Truthworker youth command our attention at a small theater in Downtown Brooklyn.  I watch a scene from Bar Code – a youth created performative analysis of the school to prison pipeline directed by our dear sisters Samara Gaev and Alixa Garcia.  Young people in bright orange prison uniforms on one side with lunch trays.  Young people to the other stage side dressed as students with the same lunch trays.  They are separated down the middle by a cafeteria table.  The stark reality that there is such a small margin, if any, that separates the myriad ways oppression is woven into the veins of our society.  Prison on the inside and prison on the outside.
The food in prisons is one stark reminder of how society values our young people of color, our schools, AND the lives of those imprisoned.  Food often comes from the same distributors and of similar low quality, and low health standards.  And food is only one aspect of the story.  At the end of the show, the youth proclaimed, "My uncle wore green.  My father wore orange.  My brother wore blue…" and on.  So many of their communities and families have been torn apart by losing a loved one to prison.
Later, I watch a screening of Ira McKintley and Bhawin Suchak's, The Throwaways – the story of homeless filmmaker and ex-felon, documenting the struggle to bring positive changes to his Albany community of those living on the margins.  Poverty.  Mass incarceration.  Police brutality.  Ira's voice echoed over and over, "We need to be growing our food."  Ira has set his sights on healing our communities through building a just food system.
Why do I tell you about these artistic works? Because planting a seed, weeding the carrots, fixing the tractor, all are a seemingly insignificant contribution in and of themselves until we acknowledge the interconnectedness of all of our work as activists, and I might venture to say, our work as spiritual activists.  Sometimes our worlds intersect with a profound spark.  It is these intersections, where the movements for justice have no confines except for the ones we give them and our work comes together to heal this world.  Lawrence Kushner, a scholar of Jewish mysticism and Kabbalah, speaks beautifully to this interconnection: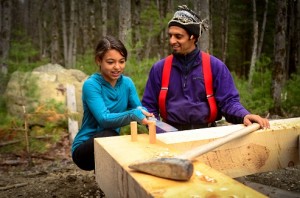 In none of their systems did the Kabbalists fail to stress the interrelation of all worlds and levels of being.  Everything is connected with everything else, and this interpenetration of all things is governed by exact though unfathomable laws.  We have the knowing suspicion in our generation that everything is connected, and every now and then we are given a glimpse, a tickle, a whisper that maybe it indeed is.  And that's what people seem to be most interested in doing, which is finding more and more connections, so it is impossible to do anything independent of something else.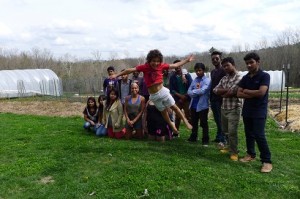 This month we have been busy filling empty spaces in the soil with food.  If you have sent an email in the last month and not promptly heard back from me, I literally have been covered in mud too much to answer a phone, and certainly am not sitting in front of a computer.  But we are constantly refining our farm systems.  This year it feels like we are closer than ever to creating efficient systems for growing fantastic food in the context of teaching and sharing with many people.  The farm is about 85% planted.  The strawberries and blueberries are flowering, asparagus is being consumed daily.  Our garlic is giant with the promise of harvests to come!  Both the high tunnel and the hoop house are planted with tomatoes and summer squash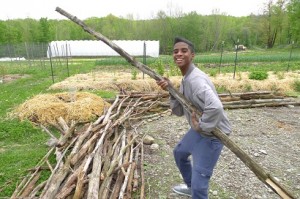 respectively.  Not sure about you, but I love numbers.  We have planted this season over 150 flats of seedlings.  This does not include seeds we directly sow in the garden which are countless.  Many of those flats have 55 plants, and about a third have over a hundred.  That means we have cared for, loved, handled, watered, planted, and now are tending over 10,000 babies.  Easy to get overwhelmed on my end, but at least they do not get up in the middle of the night.  That would be a different story.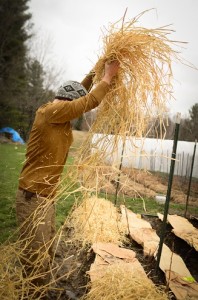 This month was also the beginning of hosting youth groups for our day-long programming.  A group of youth from Albany High spent a day at Soul Fire.  During gratitude circle we heard, "I fell in love with this place.  It feels like family.  I loved being in the forest, trying new things…"  After our opening tour, we harvested spinach in the high tunnel for everyone to take home to their families.  We then prepared beds for tomato planting.  Together, the young people made a delicious vegetable pasta meal and tried their strength at aerial fabrics.  Our food justice activity was "The Media Does Not Have My Mind" where we analyzed corporate media then made our own healthy food media.  The skits were hilarious!  We ended with a quiet nature sit, where we saw a porcupine in a tree and bear skat! We realized that we need to evolve our program to better meet the needs of non-English speakers. Our guests were newly from Bangladesh, Thailand, and Puerto Rico and we had to confront how English-centric our offerings really are. Always learning and growing!.
Brother Yusuf Abdul-Wasi and his group of youth from Albany visited the farm early this week. We made hugel mound herb beds from rotten forest wood – lots of shouts and laughter moving the giant logs. Other highlights were fresh rhubarb sauce over vanilla icecream, fresh lemon balm water, and good discussions on why natural farming is an act of community survival and radical resistance.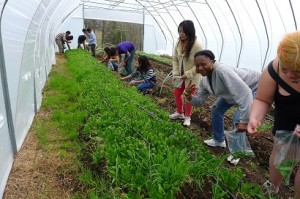 Earlier this month Leah was a speaker at the Sustainable Foods Institute put on by the Monterey Bay Aquarium in Monterey, CA.  Yup.  They flew her out there and all.  The event was a multi-day educational event, as well as fancy plate fundraiser where Leah was rubbing elbows with the writers from Martha Stewart magazine and such.  She also was able to learn from the country's food experts, including talking with the research director from World Resources Institute, and gaining a profound understanding of what it will take to feed 9+ billion humans.  Learning about the land grabbing crisis and the imperative that we all understand the 3rd National Climate Assessment.   Leah is looking forward to sharing with her Tech Valley students and young learners who come to Soul Fire.
At the beginning of the month we also had our monthly work party where we raised the timber frame addition to the barn, and mulched all of the new orchard plantings and other perennials fruits.  These workdays are wonderful for all those who join, and an incredible help for us to get done in a morning what would take our crew days.  We are so grateful to all of you who were able to make it, and all of you who are eager to come out and help in the future.  If you cannot make our Saturday workdays, but still want to come get a taste of farm life, please dont hesitate to be in touch to schedule a time to come during the week.
There is also new life on the farm.  Our baby chicks who will be our next flock of laying hens arrived and are cozy in their brooder home.  They will live in there for about 6-8 weeks until they are big enough to be put in the pasture.  We also have 50 new chicks that we will raise for meat.  They will be available as whole frozen chickens in August.  We are only doing one run of meat birds this year, so they will sell out quickly.  Sign up here to reserve yours.
A proper welcome is in order to Lissa Vanderbeck, who joined our farm family at the beginning of this month.  Lissa is originally from Pougkeepsie, and just moved back from Oakland, California where she worked at a food and economic justice organization called People's Grocery.  She is thrilled to be back home in the Hudson Valley and involved in stewardship of the land, coming together in community around healthy food, making connections with so many other realms of community work, and the soul that flows through it all.  She loves to dance, be outside, laugh, and plays well in the dirt and with others!  Lissa will be with us all season.
We have also had old friends come visit us, tangibly reminding us of how extensive our Soul Fire family has grown.  We go nothing but love for you Sarah Purgus, Jordan Taylor, and Kristin Reynolds.  And thanks also to the wonderful Ellie Markovitch for being a dedicated contributor to this year's Black and Latino Farmer Immersion through her magical alchemy in the kitchen, as well as writing this piece about our eggs!  Thanks for for your powerful presence in our lives and everywhere you spread love.
While we are eating the first harvests of asparagus and rhubarb with our household and youth programs, spring has been hard on the early plantings of veggies.  Plants need good soil, air, water, love AND a little bit of warmth.  We have all those we can control, but the warmth this spring has been illusive.  It may not feel like it now, but those first few weeks of April when it felt like winter instead of spring, well, that means many of our seeds sat in the ground and did not germinate until it warmed up.  Plants are wonderful like that.  They know what they need and will choose a life of warmth and prosperity over a harsh cold struggle.  So, the first harvests will be delayed a bit.  We are anticipating starting the CSA Farm Share one week later, June 25, and continuing one week later in the fall.  But keep posted.  Nature works her surprises in wonderful ways.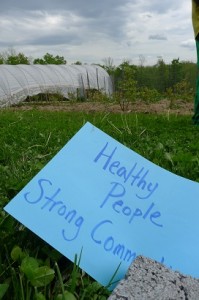 Announcements
Monthly Skillshare Workdays and Potlucks, Saturday, June 7, July 26, and August 16.  (Fall dates TBA).  Work: 8am-1pm.  Potluck: 1-3pm.  Come work with us for the morning, followed by community potluck.

Farm Share CSA tentative start date is June 25.  This is a change from the original June 18 start date due to the cold spring.  If you are a shareholder, we will communicate all farm share details with you as they solidify.
Farm Share CSA is FULL.  We are taking waitlist, as some additional shares often open up early summer.  Online signup form is here.  If you are interested in supporting us with talking to your community please let us know and we will share informational materials with you.

Egg and sprout deliveries.  There are spots in our currently running weekly egg and sprout deliveries.  Signup here for monday deliveries through mid June.

Black & Latino Farmer Immersions are FULL.  Session 1: June 30-July 4.  Session 2: July 28-August 1.  These sessions are both near full.  Cost is on a sliding scale $90-360.  You will not be turned away for lack of funds.

Youth Programming .  FAQ and signup form can be found on this page if you are interested in our youth programming.

Summer SOULstice Party.  June 21, 7pm. Performances in the woods. Dance party. Music jam. Bring friends and family. Bring a tent to stay over. BYOB. Leave your dog at home.  We got a lot to celebrate with you!

We have some extra seedlings if you are interested.  We have several kinds of tomatoes, melons, chinese cabbage, tatsoi, and will most likely have extra hot peppers of several kinds.
Follow soulfirefarm