Pre-season newsletter #1
March 19, 2013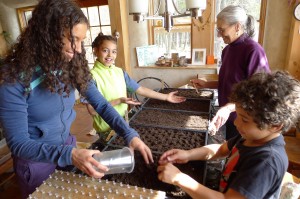 I am not writing to announce what is in your share this week, or that I need you to return your boxes.  You will have to wait another three months for that.  Instead I am writing because we are bursting at the seams with activity and need to let it spill onto the page to share with you all.  (And its snowing outside right now, so as grateful as I am for the water that replenishes our aquifers, I would rather be inside writing than moving snow.)
We are readying ourselves for the beginning of the season, like a child anxiously awaiting the arrival of a large wave to plunge into.  We see it coming, but cant jump in until it arrives.  April 1 the digging and planting begins.  However, we have learned a valuable lesson this winter that the "off-season" for us as farmers is kind of a misnomer.  Or maybe we missed that part of the farmer training.  Whatever the reason, we have had one full winter.  You can read our previous post about the winter here.  But now there's more…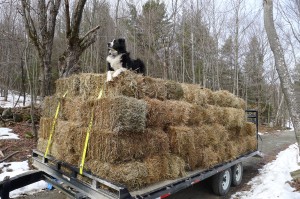 Our planning, ordering, fixing, building, refining systems, is now in motion.  Our seedlings are off to a great start.  This year we are using artificial light for the first time, and what a difference!  This has always been a place for improvement, and I think we nailed it.  We will be able to get things in the ground sooner and with less shock from transplanting.  Overall, healthier plants, less pest pressure and MORE FOOD.  Next week I am planning to put the plastic on our greenhouse so the first of the seedlings will move out there to get accustomed to outdoor temperatures.  If you are interested in helping for a day, let me know.  I could use it.
We are also welcoming the first of our interns in a week and a half.  We had an amazing pool of applicants from all over the country.  Those of you that visited the farm last season probably couldn't keep track of all our helpers.  We hosted a total of 15 folks live with us over the course of the season.  As wonderful as it was to see the farm energy shift with each new person and transition, we decided to prioritize having less people for longer periods of time, including Capers, who will be here the entire season and maybe longer.  Read the interns' bios here. We will be sharing just as much as we will be learning.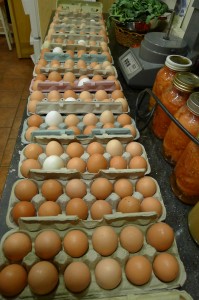 In the last week, the snow has melted enough for me to get outside and cleanup the what the snow has been hiding.  The brooder is clean, and ready for our first batch of baby chicks to arrive next week.  These are birds we raise for poultry with signups now available here.  Fruit trees, bushes and vines are all pruned, and enough hay is stacked and covered to get us through the first months of the season.
We are excited to continue to grow Soul Fire as a multifaceted educational institution.  We offer education in three ways that many of you know or have participated in, and growing our fourth:
(1) Hosting on-farm youth programing.
(2) Our live-in internship
(3) Community education and presentation
(4) NEW! Leah and I offer strateic planning and retreats for organizations, and are brainstorming how to design something for individuals.  This spring we are looking forward to welcoming the Troy Bike Rescue collective to Soul Fire to guide them through a process of organizational reflection, growth and strengthen their focus on building a anti-oppression, justice based organization.
Certified Naturally Grown featured us on their website, with a deeply introspective interview.  I wrote it, so it should be pretty accurate. Read the CNG interview here.  Leah and I ran a young farmer circus for the young people at the Northeast Organic Farming Association winter conference, though from the looks of it, more grown ups want to be involved next time.  It was a blast, with Leah leading the dancers and acrobatics, and Jonah and Emet leading the drummers.  Nothing like having the attention of 500 farmers in the dead of winter.  It was great!
This winter we also have been making appearances at community meetings across Troy and Albany to further our educational mission and outreach for the CSA in communities that do not have accesss to fresh produce, typically low income communities of color.  To complement that, we helped found the Albany Food Justice Coalition, with who we will be conducting a community food security assessment in target neighborhoods, as well as organizing educational meals for community members.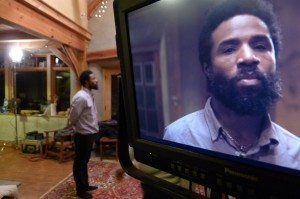 This Friday, March 22, 5pm, Soul Fire Farm is featured in a photo exhibit, Connecting With the Land at The Sanctuary for Independent Media.  It is part of a wonderful collaborative project between Capital District Community Gardens, Agricultural Stewardship Association, Sanctuary for Independent Media, Soul Fire Farm, and some wonderful individuals, including Ellie Markovitch and Tolu Fashoro.  One visit from youth last summer yielded this great video.
Speaking of videos.  We wrote about this in our last blog, but if you havent had a chance to see the latest Cody ChesnuTT music video, Till I Meet Thee, filmed at Soul Fire late last fall, it is definitely worth checking out.  What a joy and blessing for our creative work to be the backdrop for others to manifest their creative visions.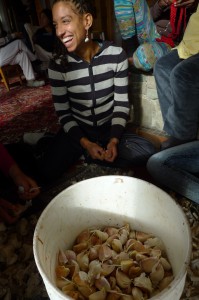 Finally, but definitely not least.  Leah organized a delegation of her high school students, her mother, sister, Naima, and our two kids, Emet and Neshima to Haiti.  They returned to the community that Leah and her Naima did healing work in last winter.  Only this time, the goal was to plant 500 trees in an effort to rebuild the forest as well as booster the local agricultural economy.  When all was said and done, the group planted 999 trees, helped build a house, grew tight community bonds, and changed countless lives, especially those of Leah's students.  If you read none of the other links in this epic post, just don't miss these.
Leah's school's blog: http://tvhshaiti.blogspot.com/
Ayiti Resurrect – healing delegation started by her sister and collaborative partner: http://www.ayitiresurrect.org/reforestation-initiative-2013/
So where was I, you ask?  Well, I was living the life of a dancer for 6 days in NYC.  Attending 15 classes in 5 days, practicing at night with friends and at clubs, and connecting with community as I stepped into and through many fears.  It was a life changing time for me as well, and one that will most certainly live on in our daily lives of creating the world we want to see.  One of beauty, creative expression and justice.
Have a wonderful week.
Jonah, Leah, Neshima and Emet
Announcements
Your full CSA payments are due Friday, April 12.  REMEMBER paying through Paypal is optional. You can pay with a check or cash and avoid the Paypal fees.
If you are a shareholder, you can volunteer 5 hours over the course of the season in exchange for an additional week of food in the fall.
Pasture raised poultry is available here.
Remember that you are always welcome to visit socially and/or to volunteer. Give a call to schedule a time.  The house is cozy and the land is beautiful.
All of our newsletters are archived on our website
Please also like us on Facebook.  There are larger picture albums there, and more being added each week.
Return your boxes.  Just kidding.  That will come later.
Summer Solstice Party is June 29.  Dancing, trapeze, fire, food.  Mark your calendars.
Let me know if you would like to be removed from this list and I will gladly do so.
Follow soulfirefarm