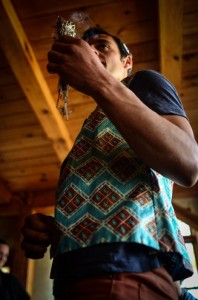 I stand in patient meditation while watering our newly planted trees and bushes.  On the steep hillside that was once pasture, now transformed into the beginnings of a mixed orchard, I have a good vantage point to see the breadth of our work.  I cannot help but be overwhelmed by what we have accomplished this season.  In this moment, my blinders drop, my shoulders soften, and I notice I have emerged from my stressful winter anticipation of working this land – land that was covered with a foot of snow only four weeks ago – into an ease of partnership and surrender to Mama Earth.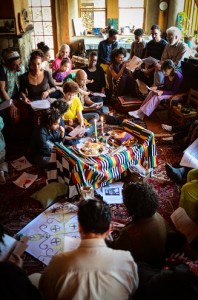 This spring has been abundant beyond measure.  On the Jewish holiday of Passover that appropriately falls in the spring, we chant in gratitude for our liberation: Dayenu – It would have been enough.  This spring is evoking just that – prayer of connection and gratitude.  Our work day on April 5 was nothing short of amazing.  Close to 40 people showed up in rainy, even snowy, close to freezing conditions to work on establishing the terraces and planting areas for the new orchard.  People shoveled compost, hauled brush, talked, met new people, connected with old friends, and everyone, I mean everyone (except me of course cause I was stuck driving the tractor all morning) was covered in mud.  Afterwards, we shared warm food and technical conversation about establishing an orchard.  An incredible shout out goes out to all of you who came out to be part of this magnificent day, that looked gray on the outside, but we turned brilliant.  It would have been enough.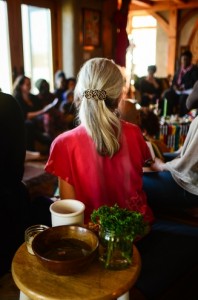 That same night, our farm crew traveled into Albany to co-facilitate and host the latest Albany Food Justice Coalition community meal in the basement of the First Church of Albany.  Soul Fire farm shareholder Reverend John Paarlberg, the pastor of First Church, so graciously made the space available for 10 youth from Arbor Hill to cook, prepare and serve a meal to Arbor Hill residents alongside renowned chef Yono Purnomo of Yono's in downtown Albany.  Farm Shareholder Gwenndolynn Chappell mc'ed the night, with Leah offering a food justice conversation piece for meal time on the food service industry.  Countless others from AFJC were integral to making this night happen.  Let me say, we slept well that night.
We were also honored to host the annual gathering for our regional sustainable farmer network.  We hosted 30 farmers and their families shared a farm tour, and the educational focus of working with land as a healing entity to work with our communities.  We talked long into the evening about seeds, soil fertility, greenhouses, biochar, sourcing supplies, and so much more.  It never ceases to amaze me how much farmers can talk about lettuce varieties.  Me included.  I guess I found my calling.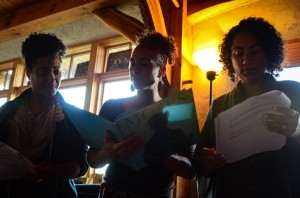 Unfortunately, that evening our wonderful dog Rowe was injured when her left leg was run over by a car.  She did not break anything, but her recovery has been slow.  Coupled with a powerful onset of Lyme disease, and our loyal farm companion has had a tough month.  She has one of those funny looking dog radar dishes on for another few days, but soon will be chasing deer and barking at coyotes to her heart's delight, and back to her joyful frolicking self.  Don't hesitate to give her a little extra love when you come to visit.  We are grateful for her recovery.  It would have been enough.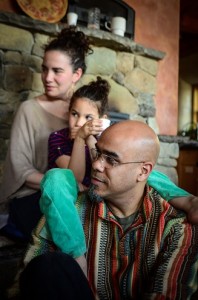 Leah and I taught in prison at Woodburne Correctional Facility in Sullivan County early this month as part of a new Bard Prison Initiative (BPI) pilot program on sustainable agriculture, food justice, sustainability and health.  On our trip there, we drove through one town after another in rural Hudson Valley, each one seemingly more depressed, less resourced than the one before.  Until we arrived in the town of Woodburne.  Almost abandoned.  A small row of houses that would look empty were it not for the occasional laundry hanging on the sagging front porch.  The painful irony of the prison perched on a knoll in the middle of what was once productive farm land.  A place that takes the lives away from the people within, prisoners and workers, draining resources from our country, and tearing apart our communities.
There is no justice in locking up humans – predominantly black and Latino men – in cages to be forgotten about.  In a forgotten building with outdated everything.  The first thing I noticed upon walking in was the striking smell of an old house.  Mildewed old wood absorbing the countless seasons of stories.  No computers, paint peeling from the walls, printed encyclopedias from the 1970s, and humans spending their lives there.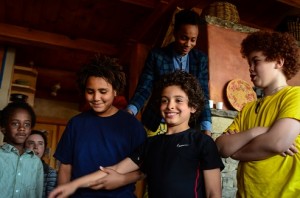 Thirty men attended our class.  We were welcomed with smiles, handshakes, deep gratitude.  How could we not feel the same for these men bearing the burden of our broken society.  We asked them to introduce themselves and recall a memory of being connected to land.  Nearly every one of them told stories of gardening with their mothers and grandmothers, climbing in their grandfather's mango trees… and then "coming here when I was 16," from a man well into his 30s, from a man well into his 40s, 50s.  We shared about why we do the work we do, and then the details of starting and running a farm.  Their questions were ravenous, not taking a moment for granted.  Soaking up everything we had to offer.  Our two hours flew by.  Leaving the classroom,  I had not realized now much of a sanctuary it had been, connecting with these men, before being whisked back through the mazes of tunnels, security checkpoints and eventually through the razor barbed fences.  The guards that led us around also spending their lives in prison – lifeless, lightless concrete and tunnels.  This is not a place fit for any humans.
Even if the prison system was racially blind (which we clearly know could not be farther from the truth), then yes, these men may have made a mistake that landed them there.  If you are interested in reading more about the overt racism in the prison system and the story behind the staggering statistics of who is locked up, I would highly recommend Michele Alexander's The New Jim Crow.  In contrast, my life of privilege has allowed me to choose to enter a prison, share stories about my privileged life, and even reflect right here on my experience.  While they were locked up, I started a family.  While they were caged, I built a house.  While they were caged I started a farm.  It is too much to bear.  But their lives should not be defined by that mistake.  If we as a community and country cannot support individuals through these hard times, then it is not the failure of the individual, but the failure of us as a culture.  As we are taught as central to Jewish culture, no one is free unless we are all free.  I will be back there as many times as I possibly can.  Not out of guilt.  But out of love.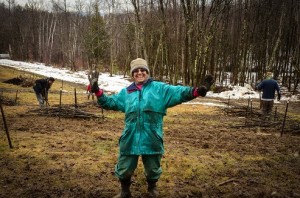 I told this story of being in prison with tears streaming down my face at our Black-Jewish Liberation Seder – coming to be fondly known as the Afro-Seder.  It was one of many profound stories that come to tell our new story of liberation.  Thank you so much for all who attended.  Blessedly incredible.  We welcomed Spirit and Ancestors in Hebrew, English, and Kreyol.  We told the liberation stories of our hearts with tears and laughter.  We shared the incredible food of our traditions.  Children drummed, played recorder and harp, and asked questions in verse about fate and the eternity of G-d. We washed in sage and cool water, sang the spirituals and Civil Rights songs of our heroes, and recommitted ourselves to universal liberation. If the photos in this newsletter are not enough, here are more photos from the event.  Gratitude.  It would have been enough!
Late last month we also welcomed the board of the Oakwood Community Center in Troy.  They used our space to do their own strategic planning.  They left behind a driven spirit for working within our community, that feeds us all.  We are grateful to be able to host groups doing such powerful work.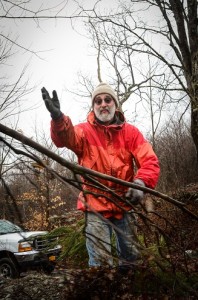 And how could we not mention…  Leah was awarded an educator's Fulbright for January-May 2015!  Yay!  The purpose of the project is to create a project-based learning curriculum exploring the sustainability of food production in Mexico, Cuba, and Haiti.  The work will be designed for high school students and made available for free online in both English and Spanish.  We will be in Mexico for three months at the beginning of next year, followed by three weeks each in Ayiti and Cuba.  Not to worry, the farm will go on.  I will be able to do a significant amount of administrative work from afar, and Capers will be running things for the beginning of the season.  We are currently looking for recommendations on where to set up in Mexico and Cuba to meet the diverse needs of our family as farmers, dancers, and activists, as well as Leah being connected to a university.  Please pass along any suggestions or contacts you have.  It would have been enough.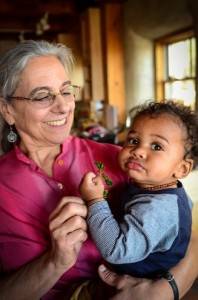 Finally, we welcomed Melissa Elie to the farm in early April to join the crew as an apprentice.  Melissa comes from Trinidad via New Mexico and Chicago.  She is an inquisitive solid presence on the farm, musician, dancer, great cook, and so much more.  She fits right in.  Melissa will be with us until early June.
Any one of these things would have been enough, but together they evoke nothing less than abundant gratitude for this blessed life and every one of you who is connected to us, supports us, and the opportunity to carry on this work from our hearts.
Announcements
Monthly Skillshare Workday and Potluck, Saturday, May 3.  (Future dates TBA).  Work: 8am-1pm.  Potluck:1-3pm.  Come work with us for the morning, followed by community potluck.  If all goes as planned we will be raising the timber frame addition to the barn, preparing beds for planting, and planting the last of our trees.
Farm Share CSA is FULL.  We are taking waitlist, as some additional shares often open up early summer.  Online signup form is here.  If you are interested in supporting us with talking to your community please let us know and we will share informational materials with you.
Egg and sprout deliveries.  There are spots in our currently running weekly egg and sprout deliveries.  Signuphere for Wednesday deliveries through early June.
Black & Latino Farmer Immersions are FULL.  Session 1: June 30-July 4.  Session 2: July 28-August 1.   Cost is on a sliding scale $90-360.  You will not be turned away for lack of funds. Please sign up for the waiting list.
Youth Programming

 

.  Youth programming is almost full for the summer, so act now. FAQ and signup form can be found on this page if you are interested in our youth programming.
Summer Solstice Dance Party.  June 21, 7 PM.  We got a lot to celebrate with you, so put it in your calendars now, and please bring drinks and appetizers to share.
Follow soulfirefarm