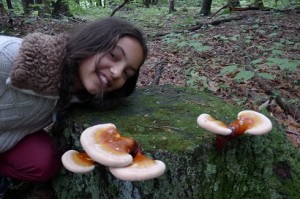 Storms.  Mama earth is sending us her fury, and blessing.  There is never one side to any story.  She is powerful in her ways.  Wash us away, or cleanse us.  Slowly drown us out, or feed our roots.
This season has been beyond wet.  The abundance of water is overwhelming our small hillside farm.  Shortly after sending the last newsletter, we watched a torrential thunderstorm literally send sheets of water across our field.  The house had water creeping up its side.  But we never sit idle.  My mind clicked, "big problems call for big fixes."  So naturally, I geared up in layers of waterproof clothing and jumped on the tractor.  Just behind were Neshima and Leah.  We ventured out to amazement at the abundance of water flowing across what we have so carefully sculpted on this land.  I sat befuddled atop 45 horse power of diesel moving whatever I could, only to watch the water continue to effortlessly flow under me.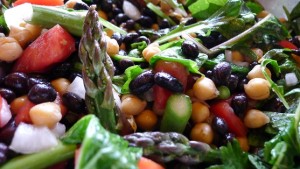 Twilight.  It is a magical time.  Especially a magical time to be in a lightning storm dropping inches of water, each dappled flash easing its way through the gauntlet of trees.  Especially magical to share with my most loved ones.
I tuned out sitting there.  And to my delight, Leah and Neshima returned with shovels.  Fool proof and fail proof.  They work every time exactly as you ask them.  Leave it to my earth mamas.  Direct line to that tuned in earth energy.  I quickly stored the tractor away and joined my loves in diverted a small stream that had recently formed from the deluges of water, now dumping water onto our fields.  We worked by the waning light.  Our waterproof clothing now serving only to hold as much water in as it did out.  All of us soaked head to toe.  But something profound happens in the presence of love, and community and hard work.  A silent powerful connection where each raindrop feels like a blessing.  Under the influence of adrenaline I felt the blade of my shovel bend under the weight of my foot with every plunge into the earth.  But the stream was moving in the direction we asked her to.  Neshima stacked rocks as Leah and I filled them in with clay soil, creating a new path for the water to flow towards the pond.  Completely tuned in now.  Completely present.  Completely in love.
As the storm passed, the day's light continued to wane, but enough to take in the power of water.  Small drops congregating more and more as they move down a hill, eagerly disregarding any desire to resist gravity.  The upper part of the road near the yurt was washed out.  Where there was once a small footbridge across the stream there is now a small cascade.  And the following day, we found some of our beds washed out., several crops of beets, carrots and peppers gone.  All this on our farm where we pride ourselves on our attention to soil management and carefully moving water to be a nurturing rather than destructive force.  This storm came after days of rain.  Falling onto already saturated soil.  In the midst of what has now been weeks of rain.  Hard for our plants that like it warm and dry.  Hard to see our delicate soil washed down the hill.  But seeing the massive loss and destruction of some of the large monocrop farms of Rensselaer County that I regularly drive past, I am reminded that we are doing as good as we can possibly do.  No matter what, nature will do as she pleases and we can only work with her.  There is much healing to do.
Our crew is working in the rain far more often than sun.  We are striking a fine balance of keeping just ahead of the weeds.  They love this weather.  The farm is almost entirely planted, as we are already looking to start planting crops for fall harvest in a  few weeks.  We have welcomed dear friend Tonya Abernathy three days a week with her rambunctious spirit, roaring infectious laugh, and rock-my-world voice.  And new intern Sade Bruce from Maryland, getting her first dose of farm life and quickly picking up the fine points.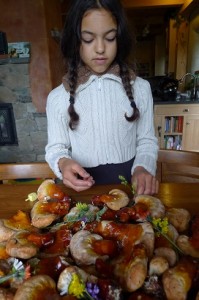 So, when Sunday morning two weeks ago came, many of us were pleased to be processing chickens rather than kneeling in mud for hours on end.  Our chicken day was one filled with reverence for life, and all of its cycles; for the joy of being together.  We welcomed old friends from Albany, as well as new friends from my hometown of Hartford.  Our morning prayers were graced by the impromptu trio, drumming of Emet, flute playing of Richard, and the magically captivating singing from Margeaux.  We hold this space in utmost of reverence, taking life to give life.  Such a joy and blessing it is to be sharing food and work.  We laughed, cried, joked, discussed, learned, taught.  And by 11 in the morning, the last chicken was processed, bagged and we were cleaning up for lunch.
This past week we were also featured in EcoLocal magazine.  Tracy Frisch wrote a beautifully reflective and honest piece about us.  We are grateful to be held in such light and respect.  Please check out the digital article here on page 16, or it can be found many places Metroland is distributed.
Finally, as you may have read in  previous newsletters, we are expanding our operations significantly this year.  This means we are growing more vegetables for our shareholders.  It also means we do not have the capacity to produce enough eggs for all the shares.  So we are partnering with a Grafton egg producer – Shady Acres Poultry – to make sure you get delicious nutrient rich eggs as part of your weekly bounty.  It is wonderful to deepen our connections with producers in our immediate vicinity.  They also produce duck eggs, which we will offer occasionally throughout the season as an optional extra item if your are interested.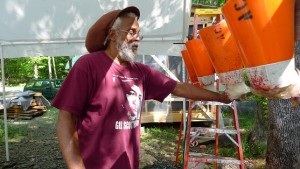 This is the final preseason newsletter.  Boo!  Because the CSA starts next week!  Yay!  Which means weekly newsletters packed with more, including seasonal recipes, food justice news, and farm happenings.  Yay!  I have been in touch with almost all of you regarding your pickup or drop off locations.  Any more details that need to get ironed out we will address as the deliveries get underway.  Please contact me if you have any questions, clarifications or additional instructions.  For those of you that do not receive shares from us, you will continue to get the newsletter.  To all of our seasonal egg shares customers: Thank You!  And all of you who have our chickens in your freezer or bellies: Thank you too!  It is a joy and blessing to share food with you all.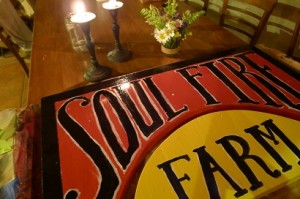 Many of you have been part of our CSA before, so understand what this is all about.  Some of you are brand new to our farm and the concept of Community Supported agriculture, so I thought I would take a moment to share a bit.  You are integral to the work we do.  Without you, none of this would be possible.  YOU are part of a community that supports a farm.  US.  What that means is that this farm is dedicated to you, and we hope you are to us.  It means that the abundance and the losses are carried by all of us.  When it rains for 4 weeks straight in the spring, we give you food that grows in cold wet springs.  When we have more food than we know what to do with, we give it to you.  I'm sure both will be the case this season.  You are investing in our farm and with that trusting our sustainable farm practices that ensure a nutritious, diverse, abundant, seasonal farm diet.  And we like to add here at Soul fire: with a lot of fun, beauty and love.
Not much more to report from here.  Water and weeds.
Follow soulfirefarm