Recipe – Roasted Winter Squash

Ingredients
1 butternut squash or equivalent of other squash
Seasonal root vegetables (potato, carrot, beet, parsnip)
1 large onion (optional)
Cooking oil (safflower, canola)
salt
freshly ground black pepper
2 teaspoons finely chopped fresh herbs like thyme, rosemary, or sage, (optional)
honey or maple syrup, for drizzling (optional)
Directions
Preheat the oven to 400°F.
Slice the stem off of the top of the squash and remove the bottom. Slice into rounds. Remove the seeds. Remove the skin of the squash with a knife.
Slice the flesh of the squash into 1/4-inch dice and place on a baking sheet.
Dice root vegetables into 1/4 inch pieces. Add to baking sheet.
Chop the onion. Add to baking sheet.
Liberally drizzle with oil and season with salt. If desired, sprinkle with the herbs and drizzle with the honey or syrup. Toss to combine.
Roast for 40-50 minutes until its very soft and beginning to brown.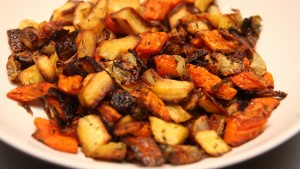 Follow soulfirefarm