I don't follow a recipe… In a large pan heat together a little bit
of water and butter (1 tbsp per cup oats) and lots of cinnamon.
Add brown sugar and maple syrup to taste. Add nuts & seeds and stir. Remove from stove.
When cool add oats and coat them. In greased cookie tins lay a rather thin layer of the oats mixture. Bake at c.225 degrees. Check after 25, 30 minutes, turning with spatula if necessary. Put in large bowl & add whatever dried fruits you like. Bravo.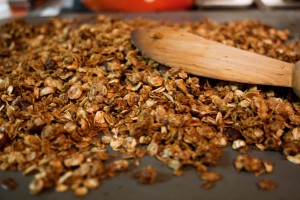 Follow soulfirefarm