Ujaama Farm Share CSA Week #3
We feel blessed to bring you these gifts of the land! Thank you for being part of the Soul Fire Farm family.
CONTENTS OF YOUR SHARE
Collard greens (1 bunch)
Lettuce (1-3 heads)
Green Goddess Mixed Herbs – recipe below! Includes some or all of these: chives (the dried flowers are edible and add flavor), oregano, parsley, mint, and dill (1 bunch)
Garlic Scapes (1 bunch) – Chop and use cooked like crisp, milder garlic, or blend into sauces and pestos.
Baby Beets with Greens (1 bunch) – The greens are edible and can be pan fried or used in salads and juices.
Sugar Snap Peas (¾ pound) – These are the lighter green peas. Eat the whole thing – pod and all – raw, or lightly stir fry.
Shell Peas (⅓ pound) – These are the darker blue-green peas. They have a tougher shell than snap peas that you don't eat. Open up to reveal the peas inside and eat raw or cooked. Great for snacking!
Green Onions (1 bunch)
Optional: 1 dozen eggs
Optional: Mung Bean Sprouts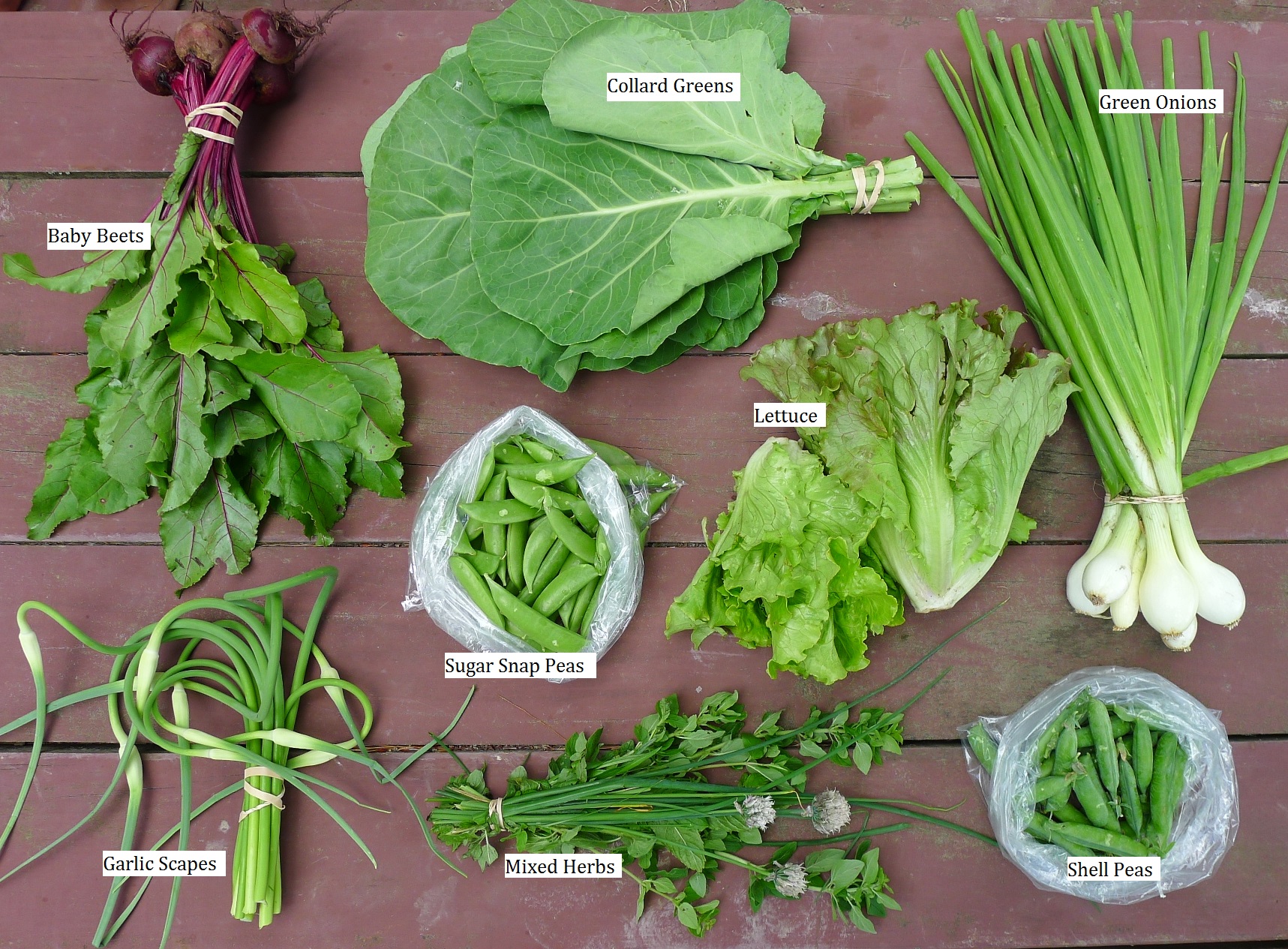 RECIPE – Green Goddess Dressing (Dairy-free and Egg-free Version)
Ingredients
1 bunch Green Goddess mixed herbs
1 teaspoon finely chopped garlic scapes
3 Tablespoons apple cider or other vinegar
½ cup olive oil or any mild oil
½ teaspoon honey or maple syrup, or a pinch of sugar (optional)
Salt and black pepper to taste
Directions
Wash herbs and strip the leaves from the stems into a blender or food processor. Add remaining ingredients. Blend well until herbs are finely chopped and incorporated.
RECIPE – Baked Rice with Sugar Snap Peas
Adapted from Feeding a Family by Sarah Waldman. Serves 6.
Ingredients
4 Tablespoons olive oil or other oil
1 bunch green onions, finely chopped
1 Tablespoon finely chopped garlic scapes
2 cups white rice (you can also use brown, and add a little extra liquid)
4 cups vegetable broth, chicken broth, or water
2 handfuls sugar snap peas, strings removed (bend an end and pull it down the length of the pea to string it)
4 Tablespoons unsalted butter or non-dairy spread
2 handfuls Parmesan or other cheese (optional)
Salt and black pepper to taste
Directions
Preheat oven to 400°F.
In an oven safe pot that has a cover, heat the oil over medium heat, and add the chopped green onions and garlic scapes. Stir and cook until soft but not browned, then add the rice, stir to coat with the oil, and cook for a few minutes.
Meanwhile, bring the broth or water to a boil in a separate pot. Pour over the rice mixture and bring back to a boil.
Cover the pot and put it in the oven. Cook for 20 minutes or until the liquid has been absorbed and the rice is tender.
Take the pot out of the oven and add the snap peas, butter or non-dairy spread, and Parmesan or other cheese if using. Add salt and black pepper to taste and stir to combine.
ANNOUNCEMENTS
EVENTS: COMMUNITY DAYS. 8-1 Work and learn together. 1-2:30 Potluck lunch. August 26, September 23, October 28, and November 18. RSVP here.
WASH YOUR VEGGIES: We DO NOT extensively wash veggies before delivering them to you. We will do some washing if there is a lot of dirt on greens and we always rinse root crops. In general, this allows the food to stay fresher longer. It also means you need to wash your veggies before consuming them. For greens: fill a bowl with cold water. Soak greens in water for a minute. Drain water and repeat two more times. Dirt will rinse to the bottom. Bugs should float to the top.
KEEP FOOD FRESH, EASY: Store leafy greens in a sealed plastic bag in the fridge. To revive wilted greens, dunk them in ice water and dry in salad spinner or with gentle toweling. To make it easier to use greens on the go, wash and chop them in advance and store them in a sealed plastic bag. Then you can just grab a handful to add to your eggs, smoothie, soup, or sauté. Quick and easy.
CHICKEN FOR SALE: Farm-fresh, pasture raised chicken available for order. Please reserve your birds today.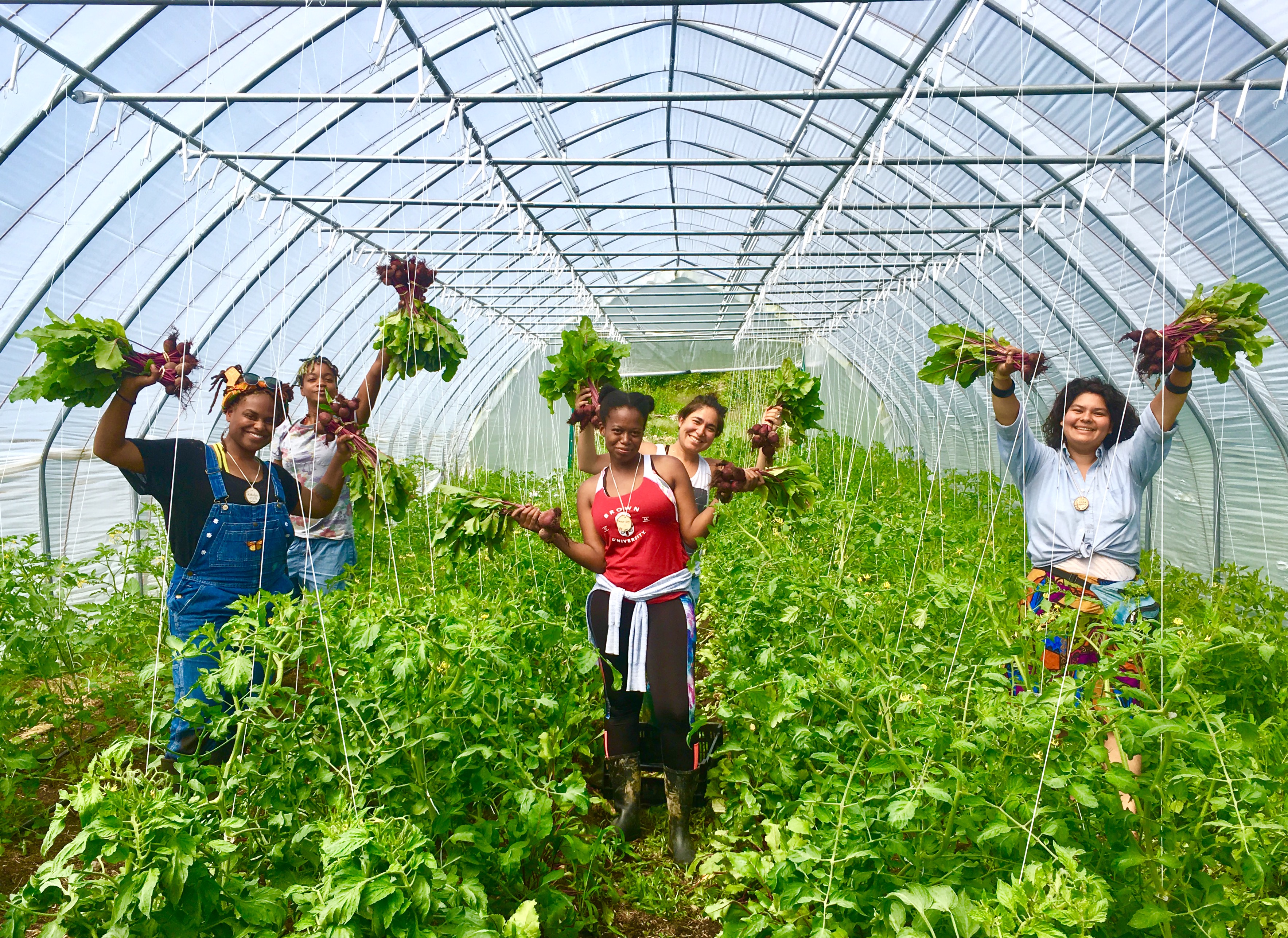 "Red beet, gold beet, striped beet, heartbeat, taste the love from every seed!" Farmers in Black and Latinx Farmers Immersion harvest beets for you in the high tunnel. Our hearts are full this immersion week with shared learning, song, and healing on the land.
Follow soulfirefarm