1 cup water
3/4 cup uncooked whole wheat berries (or quinoa, buckwheat, oat groats, or any other whole grain)
2 teaspoons baking powder
2 tablespoons brown sugar
2 eggs
dash of salt
Fresh fruit or syrup, for serving
Instructions:
1. Pour water and grain into the blender and let it soak for 2 hours or overnight. Then, blend contents for 2 minutes on high.
2. Add baking powder, brown sugar, eggs, and salt to the blender. Replace lid and blend for 1 minute on low.
3. Spoon batter onto a hot greased griddle. Flip pancakes once during cooking (pancakes are ready to flip when bubbles on top stay open). Cook pancakes for several minutes, until done. Serve with fresh fruit or syrup!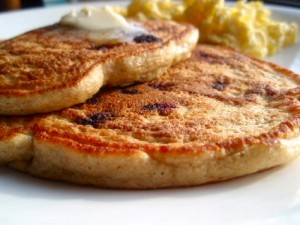 Follow soulfirefarm