A Bag of Nails and a Bundle of Rope
Building a Community Healing Space at the Ciclovida Encuetro 2012
The Backstory
It has been a month since I returned from Brazil. I have hesitated writing this because I could not boil down the profoundness of the experience into a simple written account. I will try now as I have integrated more of my connections and lessons into my life here.
It started last May when I arrived back home at one in the morning to my house full of activists, poets, artists, and farmers. It was the northeast US tour of Ciclovida – a powerful documentary of two subsistence farmers', Ivania and Ignacio, 10,000km journey on bike to build community and networks in the face of corporate agribusiness, and collecting natural seeds. We spent the next few days working and playing together, making music and discussing social movements. Despite not knowing any Portuguese at the time, our connection was instant and deep. I fell in love with Ivania and Ignacio, not only because of the work they do, but because their work is infused with love and joy. Each moment an opportunity to rejoice despite the constant struggle.
One topic of discussion we labored thru in broken Portuguese, Spanish, English, and a lot of hand gestures was the need for farmers to not only disconnect themselves from the fossil fuel dependent food system, but also the fossil fuel dependent, corporate means of building. Clearly these means of building with local resources is nothing new, but there is a need for revival and excitement as a sound alternative. Problem is, natural building education in Brazil, like much of the world, is not financially accessible to peasants, and remains exclusive through means of class, race and cultural segregation. Thus, I was asked to come and facilitate a project to begin reviving these traditional ways of building.
The Encuentro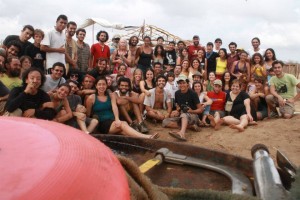 Fast forward to January 2012. Months of organizing and logistics, 60 plus people coming together at the Ciclovida settlement in Barro do Leme, in the state of Ceará,Brazil. The event was called an encuentro, or encounter. An opportunity for people from all over Brazil and the US to join in sharing their stories, skills and work in social movements, while collectively working on a handful of projects. These projects included building a water cistern, bike powered generator, large scale water filters, a windmill, and my project, the healing hut. There was also skill sharing on herbal medicine, social movements, media, and organizing.
I arrived in the large city of Fortaleza after closeto 24 hours of travel from my home in upstate NY. The group that had come from the US was spending the next five days touring land-based struggles in the region – indigenous people's struggles, urban squats, and resistance to the massive displacement of communities because of the World Cup development.
I joined them at the first, the indigenous community of Jenipapo Kaninde. This community has been under intense pressure over the last years from the government and developers to leave their land. Sometimes physical pressure and threats. When you see their land, you understand why. It is beautiful rolling sand dunes right down to the Atlantic Ocean. Unscathed by any homes, roads, or developments. They have finally gained official recognition as owners of the land. There is a school and vibrant community led by a matriarch. There are regular programs of passing on traditional knowledge and culture, including herbal medicine, dance and ritual and leadership. Jenipapo has been the butt of ridicule of indigenous communities around Brazil because they are led by a woman. However, that shifted following their official recognition.
I awoke the following morning to experience the sunrise at the top of a 500 foot sand dune. Traditional gardens below to the west, reservoir for swimming, irrigation and fishing, and the ocean to theeast. "I have arrived," I thought.
I left the US group that afternoon to travel several hours inland to Barro do Leme, the rural community in which is the Ciclovida settlement. We gathered my collaborators, Ace Mcarelton and Janell Kapoor from the airport, loaded the car with about 400 kilos of food and were off into the Brazilian night.
Arriving
I arrived at one in the morning after mazes of city streets, turned to battered highways, turned to dirt roads. I welcomed the familiar wet smell of the tropics – plants rotting the way they do only in the tropics. So lush in my lungs! A bare backed figure emerged as we approached to lead us into the compound. Ignacio! The same big smile as always. The same giant hug. Ivania waiting in the house. "It is really you!" she said as she embraced me. Not sure what to say, I just melted into the embraces. My companeiros. They had been on my farm, and now I was on theirs. It just felt right, no matter how far, to join in solidarity of our love for the land.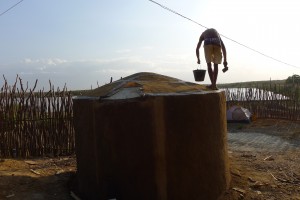 They moved to that farm with a few other people six or seven years ago. It was an abandoned cotton farm whose soils had been depleted by conventional growing practices. When the soil could grow no more, the farmers and families left. Homes and all. Fortunate for Ivania and Ignacio, the land in Barro is not attractive to development or agriculture, with the hard clay soils and parched climate. But they know well the struggles of their landless worker brothers and sisters who have had to fight for their right to stay on land.
Ignacio was so excited to show me around. By moonlight we toured the work they've been doing before going to the asude for a swim. The life giving reservoir, a short walk away. The stars open and expansive in all their mystery of a different world.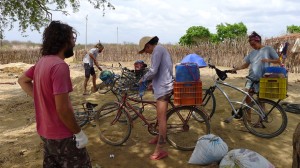 There were another 25 or so young activists from São Paulo who had come up to build a water cistern. They raised all the money for materials and plane tickets. Even took out a loan to be there. They had been there over a week, and were well underwayby the time we arrived. Several people waited up for us to welcome and unload. The house was filled with people sleeping on the floor and a gauntlet of hammocks strung between the walls. I found a spot on the floor amongst the peaceful sleeping bodies, and slept deeply feeling so comfortably at home.
Building a Community Healing Space
I spent the next 11 days at the farm. I was there to facilitate building a healing space for Ivania to practice in and share with the community in Barro – massage, homeopathyand herbal medicine. We arrived to find a circular trench 16 feet in diameter and a foot and a half deep. The mud from the trench was thrown into a pit of water for soaking that would later be our walls. This was to be the beginning of a magical project of creative use of local materials, knowledge and energy.
The local vernacular is of woven saplings and a loose infill of earth. The buildings are often not plastered and therefore become a home for vermin. So much so, natural buildings are not legal in more populated areas. We set out to create something beautiful, safe, functional, and with a story…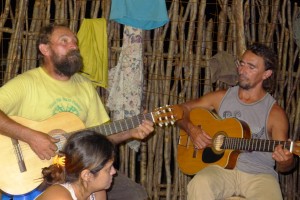 Many people came in and out of the project over the course of the encuentro. Some worked from start to finish. Some came for a day, some for 20 minutes. There were times of great collective work, and times of a smaller more intimate group work. There were times offast progress and times of dedicated patience. We would work by lamp light after the sun had set. There is a word that stands out in Brazilian Portuguese that does not exist in English: mutirão. It means something along the lines of a collective work party, but the feeling of it cannot be translated. When we needed it. People showed up. Mutirão de pedras (rocks). Mutirão de palmas (palm fronds). Mutirão de madera (wood) . Mutirão de fibres de cana (sugar cane fibers). Say the word, and it happened.
My main collaborator Ace Mcarelton and I designed the hut to have a circular wall system and a gable roof. Ivania had specified she wanted a piramido roof. "A pyramid?!" we thought, "How are we gonna do that?!" but later clarified the translation as a simple gable. Our conversations on design were nothing short of comical as we compared notes about timber frame beam sizes and snow loads, and tried to figure out how the hell it translated to using round saplings from the local forest. We kept reminding ourselves, it's just got to hold up palm fronds.
We designed a rectangular roof system covering the circular walls, with a small veranda off the front as a perfect place for a few hammocks. Got to have a place for a hammock. Our careful study of the local vernacular yielded our conclusion that hammocks are the best places to be during siesta, and the more the merrier. I even found them to be the best for sleeping at night; the gentle comfort of an enveloping hug.
We worked before breakfast and then until lunch. The heat was dry but too much for even the locals to work in. Siesta was a beautiful thing. No matter where you were, people just dropped and feel asleep – the floor, the closest hammock, a cool patch of earth. The shade of the single tree would offer a natural gathering space for those not napping to gather while the sun burned too hot to work in. Each day under that tree was a different story, learning a song, singing together.
Not once while at Barro do Leme did I look at my watch. I rarely knew what day it was. Yet I had a rhythm held by the cycles of the earth and the community. I awoke at sunrise and knew it was time to get up when I would hear Ignacio coming to the main house, often in a vibrant and chipper conversation despite being up late the night before. There just wasn't enough time for sleep. Each evening after dinner we would work for several hours, sometimes by lamp light. Many evenings turned into music and playing. Everyone seems to know the same songs. And everyone especially knew Ignacio's music. One night turned into a live forro band and dance, a traditional music of northeast Brazil. And to my heart's delight, almost every night transformed to a capoeira roda, in which I got to play my heart out, and live the capoeira love.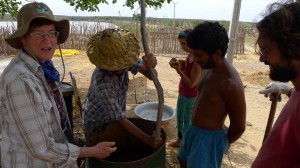 I'd like to take this opportunity to remark on my collaboration with Ace. It was one of intentional communication, honesty, emotional and personal support, technical creativity, and a lot of fun. We both were fully present and fully honored each other's humanness at every step. We laughed hard and took breaks to check in when things got difficult. We sang whole albums of old-school hip-hop and danced to rhythms in our heads. It stands out as one of the greatest collaborations I have been part of.
The Structure
First, the foundation was a rubble trench, basically meaning the circular trench was filled with rubble and a short knee wall was built for the structure to rest on. The rubble trench drains water away from the structure to maintain a stable and solid base that will not shift over time, potentially causing structural problems. Even in a climate without freezing temperatures, having a solid foundation is a must for the longevity of a structure.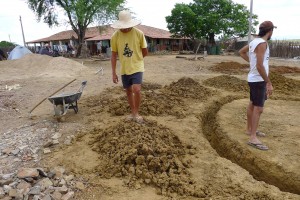 The rubble was sourced from a nearby demolished building. Perfect collection of varying sizes of chunks of bricks and concrete. With all the other projects going on, we juggled using a single working wheelbarrow to cart the rubble. I think Ignacio fixed the tire on that at least once a day. You could almost come to expect that if you were looking for Ignacio, that's what he was doing. Or sometimes asking the question "Where is Ignacio?" would yields laughs at acknowledgment of the esoteric absurdity of the question.
The foundation was dry-stacked rocks from the nearby stream bed. But when I say rocks, I mean we used pry bars and sledge hammers to break smaller pieces of sandstone off the stream bed and walls. Our group of three propped up each of three barbed wire fences, used to keep the free ranging goats from eating people's gardens. The next morning before breakfast was a mutirão de pedras with bicycles and a plastic crate strapped to the front of the wheelbarrow, 10 people humped the stones from the river bed to the building a quarter mile away.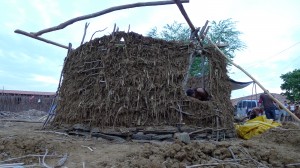 A day later the foundation was done, the skeleton up and the floor being leveled. The pace of work was stunningly fast at times. How amazing to move thousands of pounds of earth to a level surface. We found a modified version of a water level to be the most useful means to leveling the building. The walls started as basically a large woven basket. Smaller saplings woven between larger supporting posts.
It rains so little in Barro do Leme – and we came at the end of the dry season – that even the living trees had trouble bending without snapping to conform to our circular structure. But little by little the basket took its shape.
With the wall structure complete we were scouring the landscape for fibers. Turned out the agroforest they have been planting for years had a healthy stands of sugar cane, and with them, the dropped dry leaves. Instead of a traditional wattle and daub mix, we dipped the cane leaves in a sandy mud mix and wove them into the walls. When dry, it was rock hard. Like the ground. This earth was so strong!
A Fishing Interlude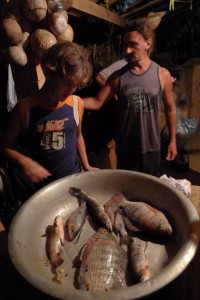 Ignacio's brother Bosco was a hardworking, humble man. He was there at his brother's place with his whole family for 4-5 weeks. Sleeping in a tent. Fishing every day, and working his ass off. He had a lot of knowledge of local building systems and was the one to teach us thatching. He invited me to go fishing with him one evening. And we set off with nets in hand as the sun set. The reservoirs are large and shallow. Without them life would not be possible here. There is one for drinking and fishing, and one for swimming and bathing. We arrived at that time of day that is in between. The limbo between worlds. The time when the birds come alive, the owls, the bats, even the bells of the cattle seems to play in perfect harmony with the flapping of wings and bird calls. We stepped into the water. I had four two-liter bottles tied together as my flotation. Bosco an old inner tube. We swam and waded through the skeletons of flooded brush and trees, occasionally casting the net we were carrying. It was cold. There were three nets each about 100 feet long. We would check one, wade to the other casting the net. Collecting the fish as we went. I was the holder of the bag of fish. Our prize. Our food. I held so tight, I felt if I died with that bag in my hand you would not be able to pry it from my grip. I went between sheer terror of what I might step on next. Of shivering to the point of not being able to talk straight, and the grandeur of the universe. It's utter perfection. G-d is so close. The simplest of lives. Bosco the carpenter and fisherman immersed in a world of connection and spirit just by living. For me what was so profound was every day for him. We returned to the house well after dinner time. No food left, we jumped into gutting and frying some fish, and salting the rest for later.
Back on the Roof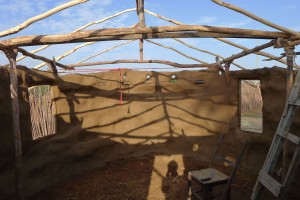 Weaving took a lot of people several days. I shifted my focus to working on the roof system, getting it ready for palm fronds. We deconstructed an old outdoor theater pergola for the materials, and made an early morning trip to the forest to harvest saplings. Our planning had paid off. The roof system went up in a day, complete with kingpost trusses. This is where the majority of our budget came in as well. A bag of nails and a bundle of rope. That's all we bought besides gleaning some sand from the cistern project. All in all, about $40.
With me on the roof, natural builder extraordinaire Ace, and mud mama Janell Kapoor focused their attention to the walls below to sculpt a beautiful, flowing structure of niches, shelves, sexy undulations, integrated bike cogs, and sprouting seed relief work. The woven cane fibers proved impossible to get flat, so we adapted to make the structure reflect the eclectic experience and its inhabitants.
It was not until the night before leaving that we started putting the palm fronds on the roof. Rental van stacked high from the excursion that evening, they rolled in by the soft dusk light. Set up the lamps, quick tutorial by Bosco, and we were off, thatching the roof by the sounds of Fela Kuti and Antibalas bumping from an iPod. The roof was finished after I left, so I am yet to see the space completed. Ivania was delighted. Always a dream for her, and we became part of that dream that seemed to have no particular script. Just what the universe brought together at the moment and it was perfect.
The first rains came the morning we left. As if the sky was crying tears of joy and sadness, mimicking our tears in our final hugs and well wishes. I learned another word that could not be more perfect. You can say muito obrigado, which means, thanks a lot, or, some people say gratidao – a deep spiritual gratitude that acknowledges the full being of that person or moment. Upon leaving, Ivania cried, and Ignacio, the man of many words, said, "there are no words." I trust we will be together again someday.
Follow soulfirefarm