Announcements
Please remember to leave your brown bag for us each week!
In two weeks, your share delivery will be on Saturday, August 13th (not Sunday, August 14th). Thank you for your flexibility.
Share Contents this Week
Dozen eggs (or quart sprouts)
summer squash (zucchini, yellow crookneck, or patty pan)
cucumbers
green leaf lettuce
chard
kale
garlic
green onions
herbs (basil or parsley)
arugula
cauliflower
Tip of the Week
The garlic you received this week is fresh (not cured). To store it properly, tie the stalks together and hang the bunch in your kitchen. Garlic likes to be warm and dry. Stored properly, it will keep for about a year!
Recipe of the Week – Fiesta Chopped Salad
Ingredients
1 medium sweet red pepper, chopped
1 medium sweet yellow pepper, chopped
1/2 cup chopped cauliflower
1 medium cucumber, seeded and chopped
1 small zucchini, chopped
2 green onions, chopped
2 tablespoons minced fresh parsley
2 tablespoons olive oil
1 tablespoon red wine vinegar
1/2 teaspoon sugar
1/4 teaspoon salt
1/4 teaspoon pepper
1 large ripe avocado, peeled and chopped
1 tablespoon lemon juice
Directions
In a large bowl, combine the first seven ingredients. In a jar with a tight-fitting lid, combine the oil, vinegar, sugar, salt and pepper; shake well. Drizzle over vegetables and toss to coat. Toss avocado with lemon juice; sprinkle over salad. Serve with a slotted spoon.
News on the Farm
Holding a vessel for people to come together in real ways is at least as important to us here at the farm as growing the food itself. We are so pleased, honored, blessed, and excited to have 25 members of the extended McCullough-McIntyre-Smith family here on the farm this weekend for a reunion. Hailing from California, Boston, D.C., and NYC Leah's cousins, uncles, and aunties are converging for camping, smores, swimming, and laughter. Here is a photo from 6 AM this morning of some family members helping with the harvest. For some of the children, its their first time experiencing nature wild and free, In these days of "nature deficit disorder" we feel especially blessed to be those crazy cousins on the farm that get the children gathering eggs. So much fun!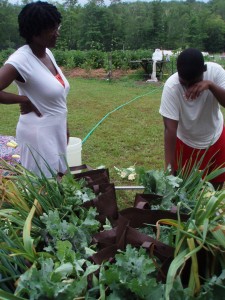 Follow soulfirefarm