Reparations Map for Black-Indigenous Farmers
The food system was built on the stolen land and stolen labor of Black, Indigenous, Latinx, Asian and people of color. Members of the Northeast Farmers of Color Network are claiming our sovereignty and calling for reparations of land and resources so that we can grow nourishing food and distribute it in our communities. The specific projects and resource needs of farmers of color are listed here. We are so excited about this powerful opportunity for people to people solidarity. It's simple. If you have resources, contact the farmer directly to share. Please contact us at love@soulfirefarm.org with your reparations success stories so we can celebrate this healing work with you.
You may also email us to request inclusion of your project in the map. The criteria to be listed are (1) Project is led by majority Black, Latinx, Indigenous, Asian, and/or People of Color (2) Project is directly related to land, agriculture, and/or food justice (3) Project/person is connected to NE Farmers of Color Network, National Black Food and Justice Alliance, Soul Fire Farm, or can provide a reference from a POC-led farming organization. We will send you a short application upon request. Should you desire to receive funding without sharing your contact information publicly, there is a fiscal sponsorship option for you.
Please note that there is a larger, national effort for reparations being coordinated by the National Black Food and Justice Alliance http://www.blackfoodjustice.org/, and the map is complementary to that effort and not a substitute for it.
Please also support the following well-established Black-led farming organizations.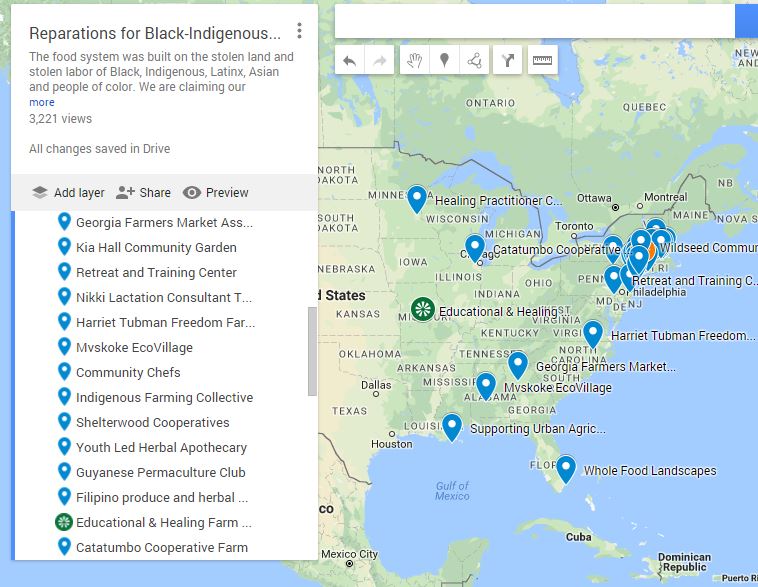 Link to map – long: https://www.google.com/maps/d/u/0/edit?mid=1YvB3PuH8jeR_yoFCLvrKOTQQ3p_5NmkK&ll=35.226181801033185%2C-70.90789418320321&z=4
Link to map – short: http://bit.ly/2DXz290
Follow soulfirefarm