Love Notes #10, August 17, 2016
By: Leah Penniman
Contents of Share
Announcements
Farm and Food Justice News
Recipes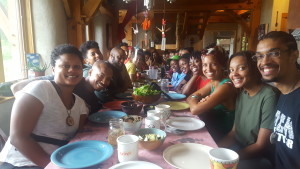 Too bad there's no beauty, power, joy, passion, or abundance around this lunch table at Black and Latinx Farmers Immersion Session 3. (Just kidding.) Look at this week's amazing crew! Photo: Naima Penniman
CONTENTS OF SHARE
Scallions – 1 bunch

Toscano Kale – 1 bunch

Green and/or yellow Beans – just under 1 lb

Zucchini – 3-4 fruits

Crookneck yellow squash – 2 fruits

Cucumbers – 2-3 fruits

Tomatoes – 4-6 fruits

Italian Basil – 1 bunch

Dill – 1 bunch

Rainbow Chard – 1 bunch

Optional: 1 dozen eggs

Optional: mung bean sprouts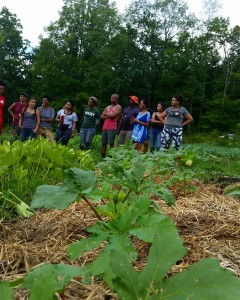 Did you know that living mulch and dead mulch play a similar role in the agroecosystem? In some places we undersow dwarf white clover and on other beds we spread straw mulch – to regulate moisture, increase organic matter, and suppress weeds. Here we are discussing the appropriate uses of each method. Photo: Leah Penniman
ANNOUNCEMENTS
PASTURE-RAISED CHICKEN. We have delicious chicken in our freezer for you and are processing our last batch of fresh chickens today! We will be delivering on Wednesday, August 24 or you can pick up on the farm anytime. We accept EBT/SNAP.  $4.25 per pound. Birds dress out at 4-6 pounds. Signup HERE
COMMUNITY DAYS. 8-1 Work and learn together. 1-2:30 Potluck lunch. September 24, October 22, and November 12.  RSVP here.
UPCOMING EVENTS: We will host Harriet's Apothecary healing village on Sunday, September 4, an on-farm seed keeping workshop with Owen Taylor on Saturday, October 8 and an ancestor healing workshop with Enroue Halfkenny on Saturday, November 19. Please join us!
RETURN YOUR BOXES AND JARS please. You can leave them where you get your delivery. If you break them down, please make sure not to tear or bend any of the tabs, or just leave the assembled box for us and we are happy to break it down.
WASH YOUR VEGGIES.  We DO NOT extensively wash veggies before delivering them to you.  We will do some washing if there is a lot of dirt on greens and we always rinse root crops.  In general, this allows the food to stay fresher longer. It also means you need to wash your veggies before consuming them. For greens: fill a bowl with cold water.  Soak greens in water for a minute.  Drain water and repeat two more times. Dirt will rinse to the bottom. Bugs should float to the top.
KEEP FOOD FRESH, EASY: Store leafy greens in a sealed plastic bag in the fridge. To revive wilted greens, dunk them in ice water and dry in salad spinner or with gentle toweling. To make it easier to use greens on the go, wash and chop them in advance and store them in a sealed plastic bag. Then you can just grab a handful to add to your eggs, smoothie, soup, or saute. Quick and easy.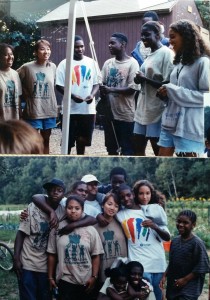 Flashback to 1996, Leah's first year as a farmer on youth crew with the Food Project, Lincoln and Roxbury, MA. She fell in love and never stopped tending the land. This marks her 20 year Farm-A-Versary. Ayibobo! Photo: The Food Project
FARM NEWS
Last week we got invited by Trinity Alliance and the Refugee Community Health Partnership to teach a hands-on composting workshop at this garden in Albany's South End. Karen people with refugee status steward this land. They grow bountiful Burmese sourleaf, tomato, beans, maize, amaranth and other crops in tidy raised beds and share the harvest with their families.
We constructed a simple single bin, cold composting system in this community garden in Albany's South End. The workshop was held in Karen and English. Photo: James from Trinity Alliance
On Friday, our crew spent the morning volunteering at one of our regional sister farms, Rock Steady Farm and Flowers. Due to farmer-owner injuries they were a bit behind on their work and reached out for extra hands. Grateful to be reasonably on top of our workload, we made the trip and enjoyed harvesting and curing onions alongside Maggie. She let us in on their business strategy as a worker-owned cooperative farm committed to providing good jobs to local folks. We left with a renewed commitment to visit other area farms to exchange ideas and mutual aid.
From Rock Steady we headed to a full weekend at the NOFA Summer Conference, where Leah gave the Friday night keynote and facilitated a follow-up panel with Karen Washington and Diana Robinson. In case you missed it or are just interested in our "10 Steps To End Racism in the Food System," the slideshow is linked here and the video will be online soon. Having been raised up in the NOFA community, then taking time away to invest in projects with racial equity at their core, it was good to be invited back for this necessary conversation.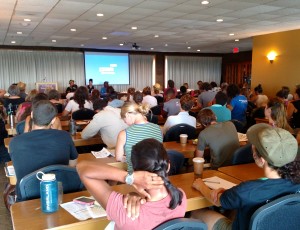 "Emerging Solutions for a Racially Just Food System" panel at NOFA with Diana Robinson, Karen Washington, and Leah Penniman. Here we discuss the HEAL alliance campaigns for food worker rights. Photo: Jenn Baumstein
Back on the farm Saturday evening, we rolled up our sleeves ready to support our kitchen goddess Gabriela Alvarez in prepping food for the final summer session of Black and Latinx Farmers Immersion. The sky had other ideas, though, and a powerful thunderstorm rocked our mountainside. The power went out and the lightning struck simultaneously to the thunder clap. Trees fell throughout the forest. As the storm subsided late night, we shut off the backup generator and assessed the damage. Jonah asked Neshima to pick up the landline and check for a dial tone. "What's a dial tone?," she asked sincerely. (Wow.)
We are now in the thick of BLFI, and one of the most powerful things about this cohort is how many local leaders are present. We want to highlight and shout out Rosa Rivera, Sheila Rivera, and Rae'shalle Frasier from Miracle on Craig St. Schenectady. They are reclaiming a community center that was shut down and building a community garden and intergenerational educational program. Rosa is here as a "train the trainer" to uplift her already existing leadership skills and increase capacity to serve her community. We also have Amani Olugbala back in leadership for the 3rd BLFI. She is the founder of Soul Tribe Eats urban farm and food project in Albany, NY. There are not even words for how exciting it is to be building our local food sovereignty movement.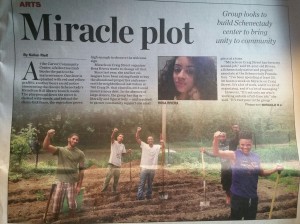 One of the powerful themes emerging from this BLFI session is "nature as teacher." We already let you know how pruning tomato suckers and letting the apical meristem receive more energy is a model for how we need to focus as humans. This week we are meditating on the interspecies cooperation between different trees and the fungal mycelium under the forest floor. The forest is one intelligent super-organism that shares food, information, resources, and support. Imagine if we decided to emulate! Check out the science behind it here.
Have a beautiful week!
RECIPE – Simple Cucumber Salad with Dill and Scallions
Ingredients
4 large cucumbers, sliced

1 onion or small bunch scallions, thinly sliced

1 bunch fresh dill weed, finely chopped

½ cup honey
1/2 cup white vinegar

1/2 cup water

1 teaspoon salt
Directions
In a large serving bowl, combine cucumbers, onions and dill. In a medium size bowl combine honey, vinegar, water and salt; stir until the everything dissolves. Pour the liquid mixture over the cucumber mixture. Cover and refrigerate at least 2 hours before serving (the longer this dish marinates the tastier it is!).
Follow soulfirefarm