Love Notes – June 22, 2017
Chamomile, Mindfulness, and Speaking Truth When It's Hard
Announcements
Unity Tables is hosting a "Bearing Witness to Land, Food, and Race" mindfulness retreat at Soul Fire Farm this fall. We will be facilitating some of the sessions. Please join us. http://www.unitytables.org/

The Summer SOULstice Party is this Saturday with DJ Truemaster, performances by Climbing Poetree, Katani, Taina Asili and more, live drumming, food vendors, and beautiful community.

Check out our latest media shout outs – this article in Alternet, an interview on Contemporary Black Canvas, and our presentation at the Holyoke Food Justice Conference. Thanks of uplifting our story!
The deluge of cool rains and persistence of overcast skies have given way to the generous sunshine of summer. And the plants are reaching up for Her, both the crops and the weeds. Our hard-working farmer team – Keidra, Jas, Larisa – have been putting in long hours to get the seedlings into the ground, harvest the crops for the Ujaama Farm Share that started this week, and protect the tender young leaves from hungry insects. We give thanks to everyone who has been showing up for community farm days to pitch in with the weeding, fencing, and clearing necessary to keep the farm ecosystem intact. Here, we liberate the bean crop from ambitious grasses.
"We have to remember the importance of eulogizing people while they are alive." Yesterday's visit from the Drive Change team was just that – making space in ceremony to honor these citizens returning from incarceration who are part of a culinary training program in the food truck industry. We offered land, food, healing spirit bath, drum, and song. They offered one another stories of what each means to each, how their brotherhood has inspired wholeness. Lots of tears were shed in the sacred space. Here, we ponder the parallels between the tenderness shown to young seedlings and the tenderness that we need to offer one another in the human family.
Part of our sovereignty is learning and practicing self-healing. Here, Emet teaches our guest how to harvest chamomile and it's power to help with sleep, colds, and skin ailments. One of our visitors, Jaquim, took extra time to save one chamomile plant that was entangled with weeds, staking and tying it with grass to give it extra support. He named this plant Jaquim-omile and will be checking up on it's thriving.
Ayiti Cherie! We are bursting with excitement that our sister farms in Komye, Haiti are coming back stronger after the devastation of Hurricane Matthew, which wiped out almost all their crops. When we were there in January, we supported them in installing irrigation for dozens of farms to allow replanting in the dry season. We also helped catalyze a peanut growers seedsaving collective. They just sent us this photo of the peanut growers picking up their allotment of seed and preparing to plant. Ayibobo!
This past month, we had the opportunity to speak at the Community Food Funders annual gathering as well as to the New York State Health Foundation. It's both a challenge and a sacred duty to learn how to speak in truth and integrity in spaces where resource and privilege are concentrated. Here we are all calling our ancestors for guidance as we do the work of uprooting oppression in the food system.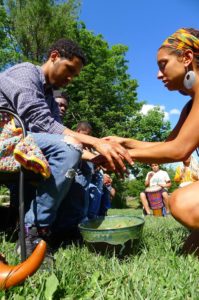 The land's heart is thawing as it is kissed with the bare feet of children's steps. Our youth food justice program is in effect with recent workshops for Albany District Links, Albany Juneteenth, and Carroll Hill Elementary School. Check out this video of the Troy elementary school students singing about seeds: https://www.youtube.com/watch?v=ejROXqB_sVo
Committed food justice activists gathered at Soul Fire Farm for a training and strategy session on uprooting systemic racism in their organizations and it society at large. Each participant experienced embodied, historical analysis of the problems and worked on solution-oriented action plans. Accountability partners will check in with one another to support the implementation of these plans. At the center is the altar, built by guest facilitator Nailah, where we offered maize, gratitude, and intentions.
Farmers Jonah and Jas enjoy some sweet, cold bubble tea after delivering 83 bags of vegetables to people's doorsteps in Albany and Troy. Thank you for the blessing of being your farmers! We pray that the food nourishes you body and spirit.
Follow soulfirefarm