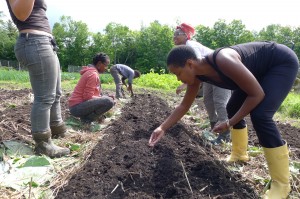 Contents of Share
garlic (1-2 heads) – still green so leave them out on counter to cure for another week if you plan to save it
carrots (1 bunch)
dino kale (1 bunch)
green cabbage (1-2 heads)
summer squash (1-2 fruits)
zucchini (1-2 fruits)
basil or dill (1 bunch)
green string beans (1.25 lbs)
yellow string beans (0.85 lbs)
lettuce (1-3 heads)
Optional: dozen eggs or sprouts
ANNOUNCEMENTS
BOXES. The abundance of the season means, your shares are being delivered in produce boxes this week.  and will come that way for much of the remainder of the season.  At the beginning of the season we purchase close to 300 of these boxes.  They are a big expense for us, so please RETURN YOUR BOXES.  You can leave them where you get your delivery.  If you break them down, please make sure not to tear any of the tabs, or just leave the assembled box for us and we are happy to break it down.
We have some extra produce for sale if you are interested in getting more with your share for a party, preserving, or you just can't get enough.  Extras on the farm right now are string beans, kale, and green cabbage.
Pasture Raised Chicken is now available for pre-order.  Chickens are raised on pasture, all natural, young and tender. They are $4.25 per pound. Birds dress out at 4-6 pounds. We will have 50 birds for sale ONLY ONCE this season.  They can be picked up fresh or frozen. Please sign up HERE.
WASHING YOUR VEGGIES.  We do not extensively wash veggies before delivering them to you.  We will do some washing if there is a lot of dirt on greens and we always rinse root crops.  In general, this allows the food to stay fresher longer.  It also means you need to wash your veggies before consuming them.  For greens: fill a bowl with cold water.  Soak greens in water for a minute.  Drain water and repeat two more times.  Dirt will rinse to the bottom.  Bugs should float to the top.
Workday. Saturday August 16 – Chicken processing.  8-1.  1-3 Potluck.
If you are a shareholder, you have the option of volunteering 5 hours over the course of the season in exchange for an additional week of food in the fall.  Be in touch to schedule your work with us, or come to a workday.
All of our newsletters are archived on our website, along with lots more, including educational resources and more recipes.  Thanks!
Recipe of the Week – Zucchini Hash Pancakes
Modified From: http://www.runningtothekitchen.com/2012/10/zucchini-fritters/
Ingredients
2 tablespoons olive oil
1 onion, diced
¾ lb (350 g) zucchini or yellow squash (about 1 medium), grated and squeezed to remove excess liquid
2 large cloves garlic, crushed in a mortar and pestle with 1 teaspoon salt
4 large eggs
4 tablespoons all-purpose flour
½ bunch fresh parsley, minced
Pinch of freshly ground black pepper
Canola oil, for frying
Heat the olive oil in a medium skillet over medium heat; add the onion and cook until it starts to soften, about 5 minutes, stirring occasionally. Add the zucchini and cook until softened and the water has evaporated, about 8 minutes, stirring occasionally; add the garlic and cook 1 minute more, stirring constantly. Cool slightly.
Lightly beat together the eggs, flour, parsley, and black pepper in a medium bowl. Stir in the zucchini mixture.
Add enough canola oil to a large nonstick skillet to lightly coat the bottom; heat the oil over medium heat.
Drop the batter into the hot pan using a small (about 2 tablespoon) or large (about 4 tablespoon) scoop. Fry until set and golden on one side, about 2 minutes; flip and cook until set and golden on the other side, about 1 minute.
Transfer the cooked fritters to a paper towel-lined plate to drain any excess oil, and cook the remaining egg mixture the same way, adding more oil to the skillet as necessary.
Food justice News
A beautiful gathering of aspiring Black and Latino Farmers is filling our every moment here on the farm. Last night we screened the documentary Homecoming about the history of Black land loss and the role of the USDA in the decline. In the teary conversation that ensued, we discussed the importance of linking the struggles of Black farmers to the struggles of farmers of all backgrounds everywhere. To that end, we want to encourage attention to the work of the Coalition of Immokalee Workers who are waging a promising campaign to get restaurants to sign on to standards around fair treatment of migrant farm workers who are harvesting tomatoes and other vegetables. They are currently pressuring Wendy's and looking for support. Please read more about the campaign and do you part here: http://ciw-online.org/wp-content/uploads/Wendys_Campaign_Background_One_Pager.pdf
A few poetic highlights of the Black and Latino Farmers Immersion #2 on the farm…
*Picking beans in the pouring morning rain and discussing how apt the Haitian Kreyol term "kale pwa" (to pick beans, also – to gossip) is given that inevitable intimate conversation demanded by proximity and repetitive hand motion.
*Training aspiring growers to harvest tomatoes and seeing the math teacher have an "a ha" moment when she realized that the suckers, which are removed, are essentially angle bisectors of the stem and true leaf.
*Watching the transformation of the young people visiting last week from Schenectady's Liberty Partnership Program – at the beginning of the day folks were coaxed into circle and still sat face outward, earbuds protecting them from engagement. And at the end laughter, vegetable eating, stream splashing, honest revelations that "nature is life." Ase-Amen.
*Letting in the love we have from our extended farm community as you support us in the huge endeavor of running the Black and Latino Farmers Immersion. You share your yurt, your tents, bake and deliver snacks, and give your time and words of affirmation. We feel held and grateful in our tired fullness.
*While sharing the "how to" of planting dill and cilantro, seeing through fresh eyes the miracle of the seed that becomes a plant that becomes our nourishment.
*Welcoming back for extended visiting apprentices of past years – Sindhu and Jordan. Sindhu is using many of the tools she learned here to run a farming/job training program for youth transitioning out of foster care and into adulthood. Jordan is working with herbs at the community coop and is co-facilitating this immersion with us.
*The beautiful ways that we integrate the hard work and intense learning of each day, by taking turns leading meditation-yoga-massage-journaling-story poem with plenty of laughter, dancing, and present-moment-connectedness.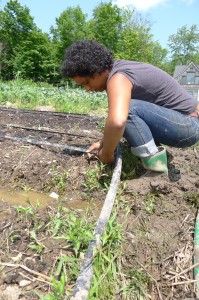 *The Kreyol word for this amalgamation of people and experiences is "soloba" and its also what we had for lunch just now – a remix of the delicious dishes prepared over the past couple of days. Yum!
I leave you with the words of Toni Morrison, which serve as the unofficial mission statement of this immersion program:
"See? See what you can do? Never mind you can't tell one letter from another, never mind you born a slave, never mind you lose your name, never mind your daddy dead, never mind nothing. Here, this here, is what a man can do if he puts his mind to it and his back in it. Stop sniveling,' [the land] said. 'Stop picking around the edges of the world. Take advantage, and if you can't take advantage, take disadvantage. We live here. On this planet, in this nation, in this county right here. Nowhere else! We got a home in this rock, don't you see! Nobody starving in my home; nobody crying in my home, and if I got a home you got one too! Grab it. Grab this land! Take it, hold it, my brothers, make it, my brothers, shake it, squeeze it, turn it, twist it, beat it, kick it, kiss it, whip it, stomp it, dig it, plow it, seed it, reap it, rent it, buy it, sell it, own it, build it, multiply it, and pass it on – can you hear me? Pass it on!"
Follow soulfirefarm