Contents of Share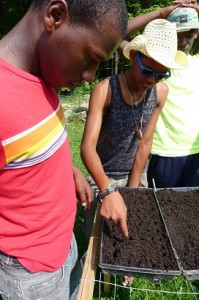 cauliflower (1-2 heads)
cucumber or Japanese cucumbers (1-2 fruits)
rainbow carrots (1 bunch)
Red Russian kale (1 bunch)
summer squash (1-2 fruits)
zucchini (2-3 fruits)
Italian or Thai basil (1 bunch)
green or yellow string beans (2 lbs)
salad mix (1/2 lb)
Optional: dozen eggs or sprouts
ANNOUNCEMENTS
Please RETURN YOUR BOXES.  You can leave them where you get your delivery.  If you break them down, please make sure not to tear or bend any of the tabs, or just leave the assembled box for us and we are happy to break it down.
We have some extra produce for sale if you are interested in getting more with your share for a party, preserving, or you just can't get enough.  Extras on the farm right now are string beans, kale, and green cabbage.
Pasture Raised Chicken is now available for pre-order and will be available August 16 fresh, or after that frozen.  Chickens are raised on pasture, all natural, young and tender. They are $4.25 per pound. Birds dress out at 4-6 pounds. We will have 50 birds for sale ONLY ONCE this season.  They can be picked up fresh or frozen. Please sign up HERE.
WASHING YOUR VEGGIES.  We do not extensively wash veggies before delivering them to you.  We will do some washing if there is a lot of dirt on greens and we always rinse root crops.  In general, this allows the food to stay fresher longer.  It also means you need to wash your veggies before consuming them.  For greens: fill a bowl with cold water.  Soak greens in water for a minute.  Drain water and repeat two more times.  Dirt will rinse to the bottom.  Bugs should float to the top.
Workday. Saturday August 16 – Chicken processing.  8-1.  1-3 Potluck.
If you are a shareholder, you have the option of volunteering 5 hours over the course of the season in exchange for an additional week of food in the fall.  Be in touch to schedule your work with us, or come to a workday.
All of our newsletters are archived on our website, along with lots more, including educational resources and more recipes.  Thanks!
Recipe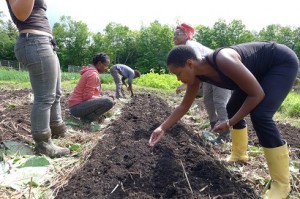 Sauerkraut – Wondering what to do with that cabbage still in your fridge?  (And you will be getting more in the next few weeks.)  Or even those extra scallions, radishes, or really whatever?  Try this basic sauerkraut recipe, and add more veggies and even spice it up with some garlic, hot peppers, and ginger if you want.

Traditional sauerkraut is not made with vinegar, but rather allowed to age in its own brine for several days and then stored for months to cure it.  This process is the only food preservation method that actually increases the nutritional quality of food.  The process, called fermentation (nothing to do with lactose in milk), results in some of the most delicious and health giving foods.  Lactofermented foods are rich with the same bacteria that are found in our digestive system and are responsible for effectively digesting our food so we can absorb and access all the nutrients food has to offer.  If you have ever taken probiotics, you may have heard of the most popular one, Lactobacillis acidolphilus.  That is where the "lacto" comes from in the term lactofermentation.
Here is our basic sauerkraut recipe, but the same process can be used with almost any low-sugar vegetables, and with the additional of spices and herbs.
Ingredients
2 lbs fresh cabbage
2-3 tsp sea salt (must be non-iodized)
Directions
Lightly wash cabbage.  DO NOT SCRUB the cabbage, as the existing enzymes and bacteria on the surface of the cabbage are essential to start the fermentation process.  Thinly slice cabbage and put in large container.  Add 1-1.5 teaspoon sea salt per pound of cabbage and massage into the cabbage.  This breaks the cell walls of the cabbage to allow the salt to draw out the water.  Let sit for 20 minutes of more.  You will notice a layer the container filling with brine and the cabbage "shrinking" in size.  Stuff the cabbage tightly into glass jars, using a spoon if necessary to reach the bottom of the container.  Leave approximately an inch of space above the cabbage, and make sure it is completely covered with brine.  If the existing brine in the jar is not enough to cover, add additional brine from your original container.  Lightly screw on lid, allowing air to escape.  DO NOT SEAL as pressure will build up.  Set out in a room temperature, out of the sun for 3-5 days.  The fermentation process creates enough gases that the brine will start bubbling over and out of the jars, so place a cookies tray or bowl under the jars.  After 4 days or so, the fermentation process has gone through 4 stages of bacterial and enzymatic growth, culminating in the acidophilus stage, at which point it can be eaten, or left to age.  Cooling the kraut will slow the process down to a minimum.  This can be done in your refrigerator, cool basement, root cellar if you have one, or burying it in the ground.  For real!  It is okay to try it at various times and continue to let it age.  We prefer ours after several months.  Also try other vegetables, chilies, caraway, garlic, ginger, whatever you can dream up.
If you are adding spices, garlic, hot peppers, onions, ginger, etc… Food process these into a coarse paste.  Add them after you have allowed the vegetables to brine, just before packing it into jars.  This allows for the full flavor of the spices to remain in the mix and not be leached out.
Recipe – Herb or Greens Pesto

Ingredients
1 cup packed fresh basil leaves
1 cup packed fresh parsley leaves OR 2 cups any green, such as kale
4 cloves garlic
1/4 cup nuts or seeds (sunflower, almond, walnut, etc)
2/3 cup extra-virgin olive oil
Kosher salt and freshly ground black pepper, to taste
Directions
Combine the herbs and/or greens, garlic, and nuts in a food processor and pulse until coarsely chopped. Add 1/2 cup of the oil and process until fully incorporated and smooth. Season with salt and pepper.  If using immediately, add all the remaining oil and pulse until smooth. Transfer the pesto to a large serving bowl.  If freezing, transfer to an air-tight container and drizzle remaining oil over the top. Freeze for up to 3 months.
Food justice News

Indigenous Seed Savers Gather in the Andes, Agree to Fight Climate Change With Biodiversity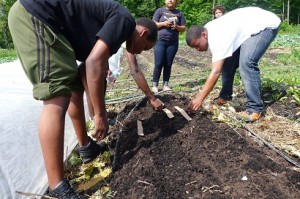 excerpt from article by Erin Sagen for YES! Magazine
read entire article here

During a series of talks held between April 26 and May 2, the farmers forged a unique partnership entailing the exchange of indigenous crop varieties and farming methods, which they hope will protect agricultural biodiversity in the face of climate change. The exchange will begin with potatoes—a sturdy crop that thrives in the mountains of China, Bhutan, and Peru—and will enable the farmers to experiment together from a distance, so they can find the hardiest, most resilient varieties.
Doing so will ensure better food security for the farmers' families and communities because having more crops that can survive the unknown, potentially destructive effects of climate change will increase their yields and mitigate strains on various resources.
Crop diversity is a serious issue but one commonly overlooked in the United States, where the food system tends to rely on just a few varieties of each plant species; traditional farmers in the Andes, on the other hand, might grow hundreds of ancient potato varieties. The world has lost 75 percent of its crop diversity in the last 100 years, according to the United Nations Food and Agriculture Organization.
But the tides are turning as climate change edges on, pushing science and tradition closer together to resolve common goals and slow the process of agricultural degradation. As Mamani said, "Scientists have been taught now how to collaborate with us. They have to respect our knowledge."

Farm News
Its hard to believe another week has passed.  With the abundance of the past week, I thought I would share a gathering of reflections about the happenings here at Soul Fire instead of writing something new.  Not to mention, the Immersion programs are a profoundly powerful experience for us all here, and we will happily re-live these moments.  We are also excited that Leah will soon be published in YES! magazine with a piece about the immersion programs.  Enjoy!
From Leah on last week's Immersion…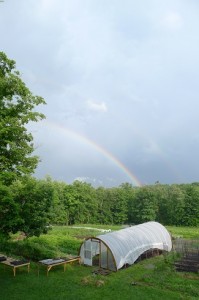 July 28

Words of wisdom from Toni Morrison guiding our 2nd Black and Latino Farmers Immersion:

"See? See what you can do? Never mind you can't tell one letter from another, never mind you born a slave, never mind you lose your name, never mind your daddy dead, never mind nothing. Here, this here, is what a man can do if he puts his mind to it and his back in it. Stop sniveling,' [the land] said. 'Stop picking around the edges of the world. Take advantage, and if you can't take advantage, take disadvantage. We live here. On this planet, in this nation, in this county right here. Nowhere else! We got a home in this rock, don't you see! Nobody starving in my home; nobody crying in my home, and if I got a home you got one too! Grab it. Grab this land! Take it, hold it, my brothers, make it, my brothers, shake it, squeeze it, turn it, twist it, beat it, kick it, kiss it, whip it, stomp it, dig it, plow it, seed it, reap it, rent it, buy it, sell it, own it, build it, multiply it, and pass it on – can you hear me? Pass it on!"


July 29


Highlights of the past 2 days… picking beans is "kale pwa" in Haitian Creole which also means to gossip, which we did, in the pouring rain… twerking before strategic planning class… group story poem highlighting the fact that tomato suckers are angle bisectors… foot race to the peace pagoda for walking meditation seeing water snakes and bumble bees… a cake after dinner just because its Tuesday and singing Stevie Wonder "Happy Tuesday to us…" watching PBS's Homecoming and discussing, through tears, the injustice of Black Land Loss and the imperative to regain what is the only real wealth – land – and our ability to be producers rather than consumers, and agents in our common destiny.


July 30


Blessed moments from today at Soul Fire's Black and Latino Farmers Immersion: sharing new skills around okra planting, drip irrigation and CSA packing; midday Thai yoga massage break with Carmen; whole group commitment to get the overgrown strawberries weeded; warm pond-side herbal path incorporating plant medicines from Garifuna-Ayiti-NY applied with soft forest ferns and lots of love; crop planning class where we strategized the specifics of our next steps as growers; 3 incredible hot meals at a big table decorated with laughter and wildflowers; spontaneous evening salsa dance party in the living room with a little aerials mixed in; call and response, drum-enhanced prayers and stories throughout. Noticing that Life begins at the end of your comfort zone.

July 31
We are Black and Latino farmers from Boston, NY, Honduras, Oakland, Haiti… We found our grandmothers here today in the pond and in the soil and cried tears upon hearing their voices, holding each other, wet with the now cooling water of herbal baths and reservoir swim. One brother explained, "Somewhere along the way I lost something and I am now remembering what it was…" Remembering the kindness with which we can treat each other, the soft, tender compassion that is in each of us. The earth has that – endless capacity to absorb and transform our suffering into beauty. Weeding mesclun in the pouring rain, pea sized hail, no flinching now, no pull to quit to the indoors, as we discussed commonalities in childhood traumas, of children birthed and lost, cancer, divorce, poverty, of the complexity of race perception and self-love, of learning to heal sometimes too late. The house piled high with the smells of plantain with black beans, rain-drenched sweaters, shea butter bug balm, damp hair from cold showers no longer difficult, church hallelujahs and belly laughter. Closing the night with a cipher where vulnerable, intricate poetry was shared, capoeira angola joda all voices forming the circle of play, Dior's freestyle praise of each person in turn, ending with a proclamation of truth "Each time I come here my heart opens a little bit more." And a double rainbow showed herself.
From Pearl Quick, a participant at the first Immersion program this summer and a guest chef at the second. I might add, as the editor of this newsletter, AND eater of many meals here… This meal she describes below was nothing short of a spiritual experience it was so good.  Thanks Pearl for infusing the food with so much love!
August 1

I could never explain how incredible it was to cook for such open, kind, funny, warm and profound people at Soul Fire Farm.Being a part of the Black & Latino Farmer Immersion for the second time as their guest chef was so beautiful. I was so nervous to cook vegan food but I rocked it out with the love of the land, the hands of my cooking team and just space to think creatively.
The meal consisted of:
-Braised collard, chard, kale greens
– Fried platano with a black bean, corn, tomato, and avocado salsa, – – – sautéed green beans and a
– curried quinoa
And for dessert:
– vegan apple cobbler with vegan vanilla ice"cream"
I am thankful for such incredible people and for once again experiencing the love and hospitality of Leah & Jonah and their incredible children Neshima & Emet.
Thank you for giving me parts of my identity, pride and self back.
Until next time.

A reflection from Leah on our new program, Project Growth, about working with young men caught up in the criminal in-justice system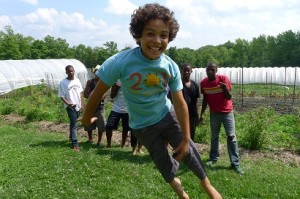 .
August 5
Feeling real hopeful about restorative justice right now. All this week Albany youth caught up in the criminal injustice system are learning and volunteering on the farm as part of "Project Growth," a restorative justice pilot with Albany County Courts. We decided with program leaders that the beautiful healing moments so far; learning from mistakes seeding daikon on 1.5″, discussing the Jim Crow origins of the anti-loitering laws under which most of these youth are charged, learning to cook veggie-rich food for 20 and liking it, excellent team work to transplant the kale despite its technical demands, overcoming fears to sit quietly in nature alone for 10 minutes and observe, deep critical analysis of the role of corporate media in shaping our diets, realistic planning conversations on how to get an engineering degree, reconnection with tactile land memories from childhood home of Cambodia… outweigh a poor decision of one participant that threatened to cancel the entire pilot. As Assata said "We must love each other and support each other! We have nothing to lose but our chains!"
Follow soulfirefarm