Help us continue our work! Get involved: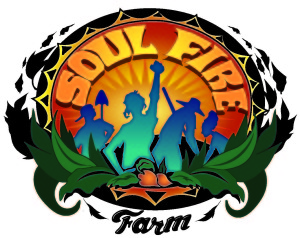 Looking for opportunities for radical wealth redistribution? Please consider making a donation to Soul Fire Farm. See our

program description and FAQ

for more information on how your donation can make a difference. Also, check out our

2016 Annual Report

.
We offer thanks to our 2017-2018 supporters:
New York State Health Foundation

Cedar Tree Foundation

Singing for Change

Farm Aid

RSF Social Finance

Jesse Smith Noyes Foundation

Northeast SARE

Claneil Foundation

New World Foundation

NRCS

Giving Tree Foundation

Leo S. Walsh Foundation

Gulf Coast Community Foundation

Dr. Bronner's

Graustein Memorial Fund

Overbrook Foundation

Nell Newman Foundation

Rockefeller Brothers Foundation

Morningstar Foundation

Nell Newman Institute.
Soul Fire Farm Institute (SFFI) is committed to dismantling the structures that lead to gaping disparities in our food system. Our food justice and sustainable farmer training programs are by and for communities historically most marginalized – people of color, low-income people, women, religious minorities, and those in the criminal justice system. Our programs include food justice training for youth, sustainable farming training for growers from racial minority groups, strategic development support for grassroots activists, a subsidized farm food distribution program for food desert neighborhoods, and public education and organizing on food justice.
We began our work in 2011 to further regional food sovereignty through education and organizing on sustainable agriculture, spiritual activism, leadership, and justice for people from marginalized groups. Soul Fire was started by a mixed Black-Jewish family from inner city Albany, NY who found that is was easier to acquire weapons and drugs in their neighborhood than healthy food. Committed to providing good food for their neighbors, they purchased land and started to farm.
We have since grown from a small family farm to a leading voice in the movement for food sovereignty. We have created model systems for sustainable food production, with weekly healthy food distribution for 80 families in marginalized communities; and trained over 1000 youth and adults in best practices in farming and food sovereignty; offered over 100 off-farm educational events at conferences and in the community; and published media for our collaborators in the movement with a readership of over 80,000. Until 2016, we did this work with 100% volunteer effort and donated land and resources. Highlights include our Restorative Justice Youth Training, which provides an empowering alternative to incarceration; the Black and Latino Farmers Immersion, which aims to reverse the dangerous decline of landowning Black farmers; the Freedom Food Alliance, using food as a tool for criminal justice reform; and our agroecology knowledge exchange effort with indigenous farmers in Mexico and Haiti. We are constantly innovating in response to the needs of the community.
Follow soulfirefarm