Youth and Intergenerational Education on Farm
Soul Fire Farm is committed to dismantling the oppressive structures that misguide our food system. Part of this work involves reconnecting youth to their innate belonging to land and restoring each person's rightful place of empowerment in the food system. We offer one-day educational workshops for youth and inter-generational groups.
To request to visit the farm or request that we come to you, please fill out THIS FORM.
Please read our Youth Program FAQ before coming out to the farm. It has many important details.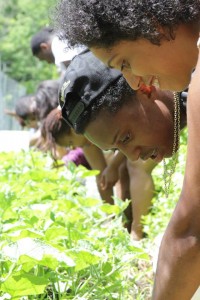 Curriculum
The following are activities used at Soul Fire Farm to deepen young people's understanding of the food system. To the extent possible, we base our curriculum on research that shows that young people make healthy choices when they LOVE their community and natural world and when they see that their own POSITIVE ACTION makes a difference.
Before using any of this curriculum in your own program, please read our integrity guidelines.
FOOD JUSTICE
MAMA EARTH
ORGANIZING AND LEADERSHIP
Real Talk:

A method for constructively sharing feedback and deepening working relationships.

Community Building:

These community building activities use song, dialogue, listening, and art to deepen connection between people.

Theater of the Oppressed:

Through series of exercises, games, techniques, and drama forums, the aim is to be able to understand the social reality and then to change it.

Build a Movement:

Youth have the power to be agents of change in society. We can customize activities ranging including appreciative inquiry, consensus decision-making, meeting facilitation, talking to policymakers, community mapping, and organizing focus groups.

Youth Food Justice Pledge: a commitment to personal and community food sovereignty
Below is a semester-long curriculum on sustainable agriculture based on case studies in southern Mexico. It is classroom-ready and can be used in its entirety or in part:
Reference Materials
Complete Seeds of Solidarity Curriculum
Index of Food Project Activities
Growing Young Leaders from East New York Farms
Other Worlds Sowing Seeds of Justice Curriculum
Annotated Bibliography on Structural Racism in the US Food System
Participant Thank You Note
I just wanted to extend my gratitude to you, your staff, and everyone that made the work day possible. The kids have not stopped bragging about the work they did and the people that were surrounding them this past Saturday.
Leah was extremely patient and caring for every child, and structured the day perfectly. I could not have thought that the day would have been so much fun. Each child got so much out of the experience that we did not realize they would get when going to the farm.
Multiple kids had conversations about the farm's purpose on the way home. They discussed that at home sometimes they don't get fresh fruit, and that other people are even worse off than them. Leah really did a great job explaining each and every point she made.
For Akim*, he got so much one on one genuine attention that he has been craving for so long. He often times is spoken to very negatively because his behaviors can be so impulsive and intrusive. The older gentleman that was working on the garden bed, took him under his wing for the day. He gave Akim* so many caring messages and had a really good time with Akim*. It was very nice for all of us to see. Both he and Lyla* were very proud of their masonry work that they did with the men.
*pseudonyms
Follow soulfirefarm