Leah Penniman, Co-Director, got her farming start as a teen with the Food Project in Boston, MA. She then worked with the Farm School caring for goats and teaching city kids where carrots come from. Leah also worked for and co-managed Many Hands Organic Farm in Barre, MA for several years, co-founded Youth Grow in Worcester, MA, and worked with farmers in Ghana, West Africa and Komye, Haiti. Her areas of leadership at Soul Fire include farmer training, youth educational programming, international solidarity with Haitian farmers, food justice organizing, and anything that involves heavy lifting, sweat, and soil.
Jonah Vitale-Wolff, Co-Director, apprenticed at Live Power Farm in CA after working on farms throughout New Zealand, Spain, and Central America through the WWOOF program, and was hooked. He returned to his northeast roots to build skills as a farmer in this particular climate by working over many seasons at Many Hands Organic Farm in Barre, MA. Jonah also coordinated the city-wide community gardens program in Worcester, MA with the Regional Environmental Council, and later collaborated with Leah to start Youth GROW, making urban agriculture central to his understanding of the food system.
Soul Fire Farm is a project of Jonah and Leah's hearts – of family and relationships, and the profound ways in which the sacred connection to land creates a powerful vessel for social change and personal transformation, growth and healing. Jonah finds the open sky and bird song foundational for a good life, but not unless he can share it with friends and community. Jonah is also an accomplished timber framer, natural builder and educator with his former company Hudson Valley Natural Building.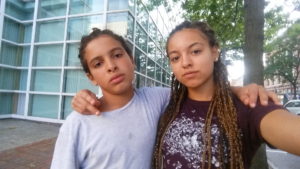 Neshima and Emet Vitale-Penniman got an early start with growing, assisting parents and friends with tending chickens, planting seeds, and cleaning garlic. The children excel at CSA packing with exceptional attention to detail, positive attitudes, and usually – singing. Neshima also brings her passion as a harpist to the farm, as well as her spirited ways of moving her body through gymnastics, aerial silks, and just playing around. Emet is a student of traditional West African drumming, and regularly graces the sound waves of the farm with his poetry, singing, rhymes, and has been known to spontaneously break dance at the slightest sound of a beat.
Larisa Jacobson, Co-Director, spent time working on youth support networks, immigrant and low-income housing issues in Brooklyn, and intersectional health disparities in Oakland before love of learning from the land led her deeper into the vital role of growing and cooking food as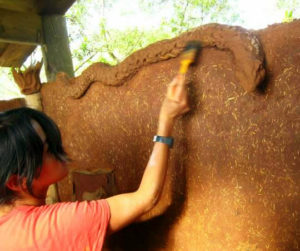 acts of cultural survival and celebration of identity, family, and home. She studied the sacred importance of water and land stewardship at Instituto Tonantzin Tlalli in Mexico, worked and taught at the University of California Davis Student Experimental Farm, and witnessed the magic of youth-led food sovereignty organizing as a grower/crew leader at the Food Project. Most recently, she managed a community food access farm outside Boston, where she was committed to facilitating land access for youth and elders to grow food in public housing communities. She holds reverence for art, music, and food as medicine and for lifting up the stories and agency of those in the in-between spaces. She joined Soul Fire as Farm Manager in 2017.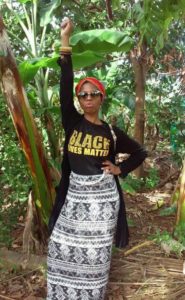 Amani Olugbala, Assistant Program Director, is a storyteller who weaves music, film, speech and poem into art that highlights social injustice, honors the ancestors and demands for change. This, in an effort to uplift the spirits of the marginalized and promote love and service as necessary acts of rebellion against isolation and disconnection. An artist, farmer, educator and community organizer Amani uses artistic expression, urban agriculture and social awareness to impact change and foster a sense of empathy and inter-being in local urban communities. Amani started out at Soul Fire Farm as a participant and later facilitator of the Black and Latino Farmers Immersion.
Gabriela Álvarez, Kitchen Manager, approaches her role of chef as a culinary artist and healer. Her work sits at the intersection of cooking, wellness, social justice, and alchemy. Gabriela began her culinary career in 2012 and has since cooked predominantly with community-based organizations and grassroots movements. She offers nourishment as a tool for resiliency and connection. In 2013 Gabriela began facilitating cooking workshops as a Just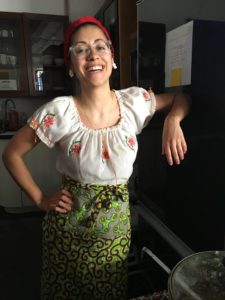 Food Community Chef and continues to teach youth classes at El Puente. In 2015 she founded Liberation Cuisine, a catering company dedicated to preparing meals collectively with sustainable ingredients and practices. Her menus are constantly evolving hand-in-hand with her studies of astrology, numerology, tarot, food energetics, and traditional food preparations. Her relationship to land and food are deeply connected to her homeland of Puerto Rico, where she visits frequently. She has been the Kitchen Manager for the Black and Latinx Farmer Immersion Program since 2015.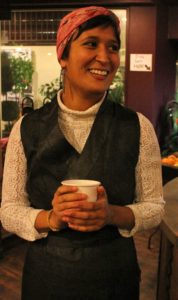 Before joining the Soul Fire team as Assistant Farm Manager, Damaris Miller spent years growing a practice of justice that is land-based, internally transformative and action oriented. Most recently this journey led Damaris into the Himalayas to work with Khoryug, a grassroots network of Tibetan Buddhist monastics mobilizing to protect their local environment and develop resilience in the face of climate change. This work brought Damaris throughout South Asia teaching, organizing and collaborating with Khoryug monks and nuns to activate their monastic and lay communities toward reducing environmental harm, supporting their ecosystem and preparing for a changing climate. Previous to this work, Damaris apprenticed on a 4 acre organic vegetable farm in North Carolina and cultivated both a love for rural farm life and a commitment to sustainable agriculture and racial justice.
Follow soulfirefarm